A.R.T. And Arnold Arboretum Create Experience That Centers Healing And Resilience
This article is more than 1 year old.
Visitors to the Arnold Arboretum will soon have the chance to embark on a self-guided journey of discovery with "The Arboretum Experience," a collection of audio plays, movement mediations and live pop-up performances. A collaboration between the arboretum and the American Repertory Theater (A.R.T.), the experience starts Aug. 21 and centers on wellness, healing and resilience.
The idea for the sprawling event began with a conversation between artists representing various disciplines, people from local indigenous communities, musicians and more. The A.R.T. set up the convening in January for the group to muse about what could happen in the park.
"Here's this beautiful space that we might be able to enliven; enact something special," says, Summer L. Williams, director of the experience and co-founder and associate artistic director of Company One Theatre. The process, she says, was "communal and generative."
The core creative team for the experience includes Williams, playwright Kirsten Greenidge, musician Tim Hall and choreographer Jill Johnson. A host of other artists also participated as writers, actors, dancers and more.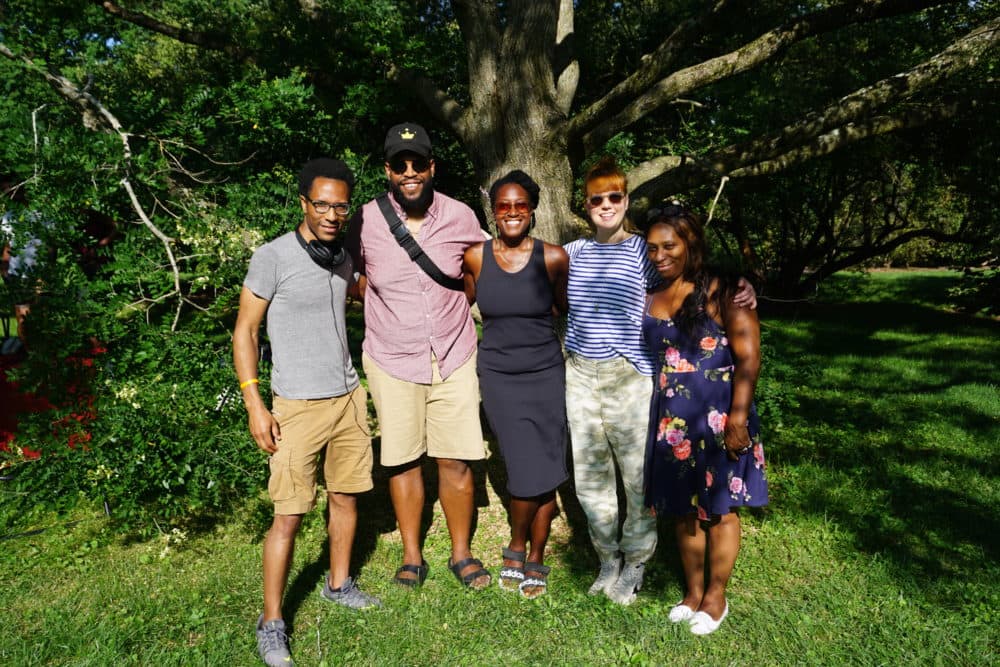 The A.R.T., which aims to produce theater that sparks dialogue and spur transformation, was looking for a way to incorporate the arboretum into a piece that could speak to this cultural moment, Greenidge says, not necessarily just the pandemic, but "a re-emerging."
"They were looking to convene in real time in space for some sort of theatrical bent or performance event," Greenidge says. That was the starting point for talking about what the arboretum means to people, what public space that incorporates nature means to people especially in this moment, during the pandemic, after stricter lockdowns in Massachusetts and also in the wake of George Floyd's death and the protests, and the racial reckoning of last spring and summer, she explains.
Greenidge helmed the audio play portion of the experience. She has worked steadily through the pandemic on other audio and online ventures and led a writer's room — a definite departure for the theater-maker — with playwrights MJ Kaufman, Elliot Norton Award winner Melinda Lopez, Sam Marks, Mwalim *7) and Eliana Pipes to generate the narratives.
All the playwrights met for a writer's retreat one Saturday in June to discuss the themes that the core creative team brought up in January. Then, the group hashed out basic storylines and characters, and Greenidge took the ideas and synthesized them into some of the things the core group determined they wanted in the piece.
"We knew we wanted the top of Bussey Hill portion of the Arboretum to be a focus, we knew the number of actors we wanted to work with," she says. Also, there's a part of the park where three paths converge that the group started calling "Club Intersection" that appears in some of the plays as well as a beloved dogwood tree and lilacs.
Greenidge gave the writers assignments based on what was hashed out, and about a week and a half later, they handed in their work, about 20 pages each. Later, Greenidge coalesced all the stories into scripts which she says was "enormous, crazy and unwieldy."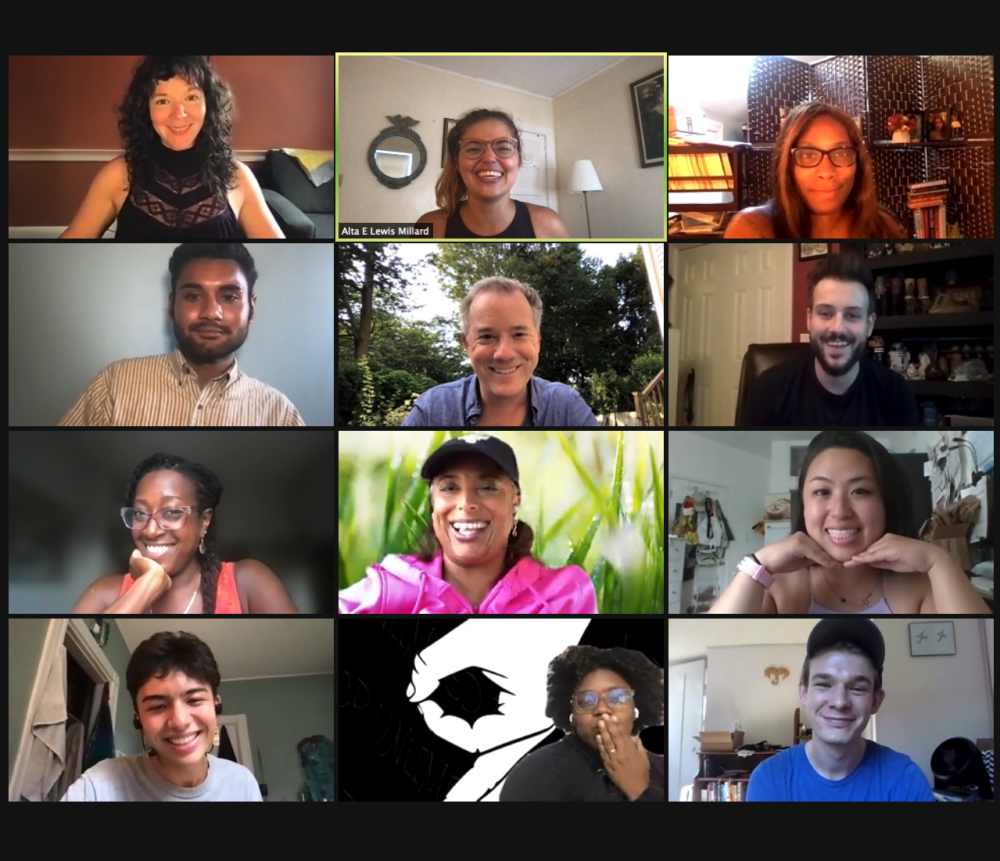 The conjoint approach resulted in four plays — a myth, a proverb, a ghost story and a fairytale — each averaging 40-45 minutes that are accessible to various age groups.
As listening audiences wander through the Arnold Arboretum, they will meet Ramona, a little girl who searches for the park's famed lilacs; three friends who discover more about each other and themselves than they intended; Ellis, a trans teen dragged to the park for family portraits by their pushy mom; and Major, a yellowwood tree who learns the ropes from elder trees, and how to find meaning within himself.
They are some "wise old heads, those trees. They share a lot of history…that people might not be aware of, or in this context, [history that] resonates with who these trees are," Greenidge says. It may sound strange, she admits, and they were careful "not to anthropomorphize them, but they are distinct, and each tree has its own kind of vibe. That's what this piece captures."
Williams recalls feeling the joy and delight of listening to the fairytale featuring Major and his friends. The story is meant for younger audiences, but when "suddenly the trees are talking, it feels like magic because sometimes, when you're in the Arboretum and you look up, and you're still enough, it feels like you just might experience that," she says.
For parkgoers eager to move their bodies or enjoy some meditative breathing, Johnson and a small team of choreographers created 10 to 13 narrated movement mediations throughout the park. "Some are meant to be individualized, so it might be 10 or 15 minutes so people can pause if they think: 'Oh, actually, this breathing exercise really helped me. I just want to sit on this bench and watch the world go by."
Williams likens the movement section to listening to an audiobook being read by the author. "There's something about the tone and the quality of it that will feel really intimate and personal," she says.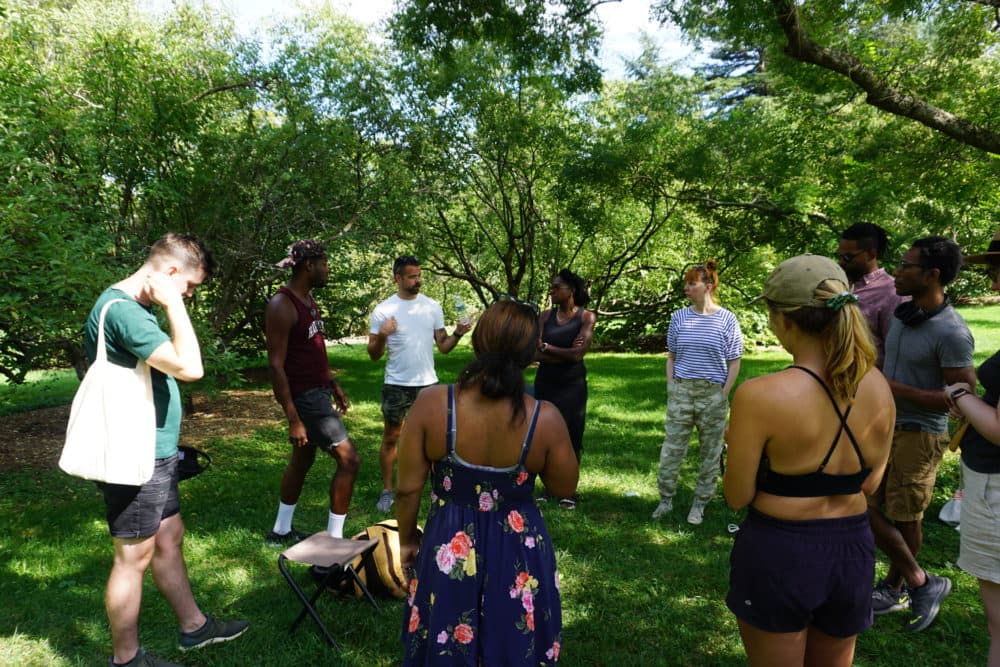 The line-up for the pop-up music and dance performances hasn't been announced yet, but Williams says they will be focused on gathering people together in a fun and joyful way, i.e. a live musician, local artist, or a dance troupe with a DJ.
She's fascinated with the differences between Franklin Park, where people are inclined to turn on or turn up their music, and the arboretum, which "carries a little bit of that museum quality," she says. Williams wants to bring some of that vibrant energy to the latter because "it belongs there, and it's right."
Johnson agrees. In earlier planning conversations, the group discussed what some of the "wrestlings were within the space and how we might joyfully [and safely] disrupt those conventions," she says.
Ultimately, "The Arboretum Experience" offers people a chance to enjoy what's on offer individually or in groups.
For Greenidge, she hopes that "as people walk through, they're able to experience this space that allows one to maybe reclaim some sense of self, some sense of humanity…in this very verdant fertile place."
---
"The Arboretum Experience" runs Aug. 21 through the fall. Visitors can access audio components and additional information by scanning a QR code with their mobile device. Mobile devices will be available on loan to visitors on select dates, to be announced. The event is free and open to the public.