A Forgotten Figure Of Film History Remembered In Documentary 'Searching For Mr. Rugoff'
They say nobody builds statues of critics. I suppose the same goes for exhibitors and distributors and all the folks working behind the scenes to find films of interest and put them in front of you. The late Donald S. Rugoff — or "Mr. Rugoff" as he was known to his employees — owned and operated a cluster of cinemas on New York City's tony Upper East Side during the 1960s and early '70s that pretty much invented the template for what we know today as art house moviegoing. A man of terrible manners, impeccable taste and unparalleled promotional savvy, Rugoff figured out how to sell an entire generation of uptown sophisticates on difficult foreign language pictures and scrappy American indies, turning art films into bona fide cultural events. He changed the way movies are marketed and made, and I'd never heard of him until last week. Rugoff died penniless in 1989, rumored to be buried in a pauper's grave on Martha's Vineyard, a figure forgotten by film history. Until now.
Indie cinema icon Ira Deutchman — founder of venerable distributors Cinecom and Fine Line Features — got his first job out of college working for Rugoff's Cinema 5 company back in 1975, taking orders and no small amount of abuse from the man himself. Deutchman's marvelously informative and unappealingly titled documentary "Searching for Mr. Rugoff" is a portrait of his cantankerous old boss, culled from interviews with former Cinema 5 employees as well as legendary filmmakers like Lina Wertmüller and the late Robert Downey Sr., who owe a big chunk of their careers to the mercurial mogul's marketing genius. It's a compulsively watchable crash course in movie history, occasionally interrupted by Deutchman's present-day detective work in Edgartown, Massachusetts, trying to piece together details of his mentor's messy final years.
By all accounts a hilariously slovenly man, Rugoff nonetheless keenly understood the refined aesthetic of his target audience, converting the dumpy theaters he inherited into sleek, modernist palaces modeled after museums. If he was going to sell upper Manhattan's elite on the idea of movies as works of art, they'd better be presented as such. (Stories abound about Rugoff, usually wearing remnants of a pastrami sandwich, furiously firing his ushers if he saw so much as a stray candy wrapper on the floor of his elegant lobbies.) The cinemas showcased elaborate, handcrafted diorama window displays promoting the latest releases, irresponsibly exorbitant expenses that sent a priceless message to passersby: these films are important.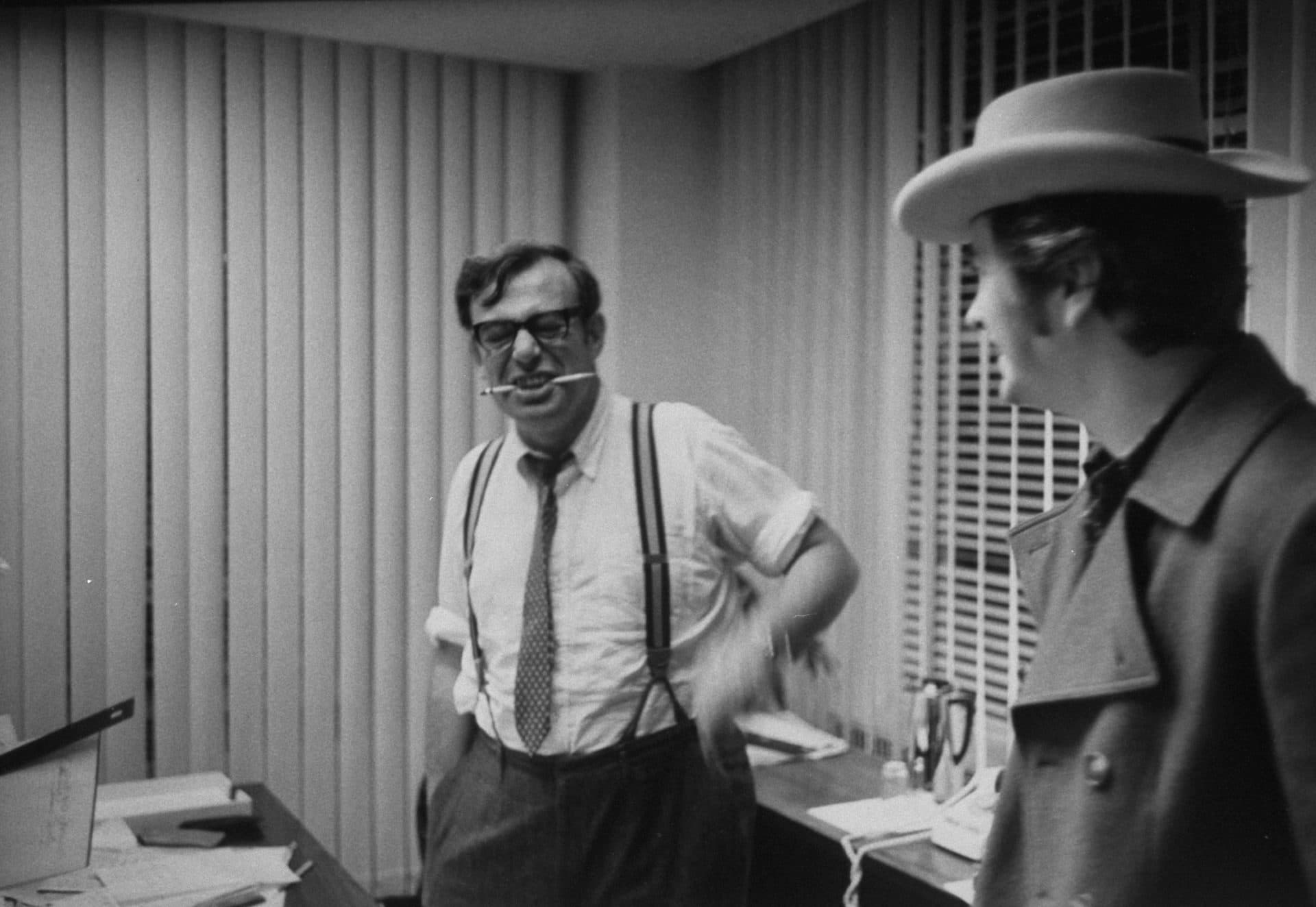 The movies distributed by Cinema 5 were a fascinatingly eclectic crop, ranging from Ingmar Bergman's "Scenes From a Marriage" to "Monty Python and the Holy Grail," titles united only by their oddball curator's good taste and insatiable curiosity. Rugoff was just as comfortable showing audiences the four-hour French Resistance saga "The Sorrow and the Pity" as he was pushing the bodybuilding documentary "Pumping Iron." Downey Sr. tells a story about the distributor sitting through his scabrous underground advertising satire "Putney Swope" and telling the director, "I don't get it, but I like it."
At the height of his powers, Rugoff had the outré junkie decadence of "Andy Warhol's Trash" selling out a cinema across the street from Bloomingdale's. The grosses for his films were goosed by a combination of graphically innovative print advertising and carny barker stunts like Cinema 5 staffers traipsing around the Upper East Side in chainmail, clomping coconuts together to promote the Python picture. Curiously, Nicolas Roeg and David Bowie's future cult classic "The Man Who Fell to Earth" was one of the few movies his masterful marketing couldn't crack, bombing in multiple, pricey incarnations.
Rugoff's behavior was so anti-social and erratic most believed the rumor that he had a metal plate in his head. (His widow is on hand here to dispel that tall tale. Turns out it was just his personality.) Making his directorial debut, Deutchman perhaps overestimates our interest in watching him fiddle with microfiche machines on Martha's Vineyard. "Searching for Mr. Rugoff" suffers from some rookie mistakes like canned music, chintzy title cards and a corny Steve Jobs quote kicking off the proceedings. But what makes the movie essential viewing for film aficionados is its subject's unshakable conviction that even the wildest and most unconventional pictures can and will be appreciated by an audience that's been properly prepped to accept them on their own terms. That's the duty of exhibitors, distributors, critics and everyone else who's made a career out of sharing films with other people, and for some of us it's a sacred vocation. It makes perfect sense that when Rugoff passed away he was in the process of trying to build a new movie theater out of an old church.
---
"Searching For Mr. Rugoff" starts screening Saturday, Aug. 21 at the Coolidge Corner Theatre. At the request of the filmmakers, all proceeds will be donated to the not-for-profit theaters presenting the film.