5 Things To Do This Weekend, Including An Outdoor Play And Slam Poetry Event
Alexa, play "September" by Earth, Wind & Fire. We've already made our way into a new month, and this song is so obviously a must to play. Wishing everyone a happy September full of laughs, and for those who's favorite season is fall — it's right around the corner! My suggestion would be to get outdoors as much as you can before the weather (or COVID) pushes us back indoors. In this weekend's roundup of events, I've included a few outdoor events, like Nilou Moochhalla's public art installation, a slam poetry event celebrating community,  and Gloucester Stage's play "Reparations." If you'd rather be inside, there's also an exhibit that has an interesting take on masks.
Through October
Arlington Commission for Arts and Culture (ACAC) artist-in-residence Nilou Moochhala created a public art installation that explores the impact that COVID-19 had on the community of Arlington. Moochhala has set up a space that invites reflection and healing at Menotomy Rocks Park. Moochhala did this by suspending 100 drawings symbolizing meditation flags all throughout the pine trees in the area. Half of the meditation flags were created during the pandemic. The other half was inspired by community members of Arlington and included quotes from interviews paired with drawings. Moochhala will later donate all of the interview material to the Robbins Library COVID-19 archive.
---
'Dazzleship' at The Umbrella Arts Center
Through Sept. 12
The exhibit, "Dazzleship," has a theme of exploration at the center with the question "How has the COVID-19 pandemic affected your work?" The exhibit was curated by Michael MacMahon and will be presented at The Umbrella Arts Center's Main Gallery. The title is derived from the idea of dazzle camouflage that is meant to be used to mislead enemy forces about speed and direction of a ship, rather than conceal it. The artwork in this exhibit ranges from paintings, sculptures, animation and more and explores the uncertainty in the direction in which art is heading.
---
Friday, Sept. 3- Sunday, Sept. 19
Directed by Myriam Cyr, this production from Gloucester Stage will be performed outdoors at the Windhover Performing Arts Center in Rockport, Massachusetts. The play is about Ginny, a successful book editor who invites a Black aspiring author, Reg, to her apartment. She wakes up to find that a tender night is turning into a tumultuous morning after he threatens to reveal a deep secret. This play will keep you on the edge of your seat as the drama unfolds before your eyes.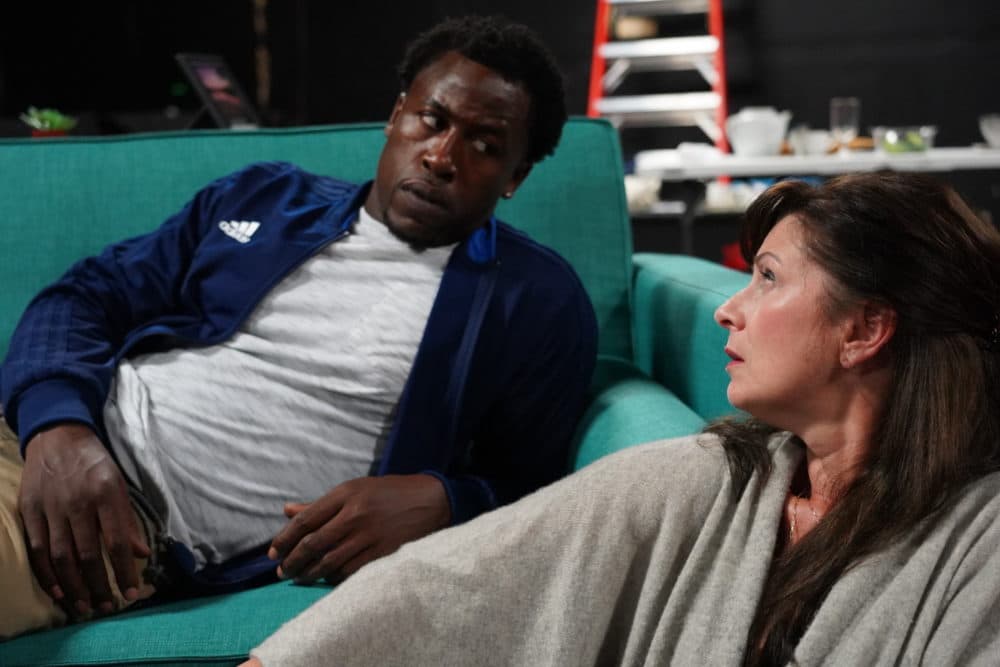 ---
Friday, Sept. 3
Boston-based artist Liette Marcil reinvents masks through ceramics and acrylics on canvas. After over a year of wearing masks, Marcil found inspiration in them and all that they represent and obstruct. Throughout her work, she incorporates the use of geometric shapes quite heavily and in this exhibit, she readdresses the interpretation that we already have of the reality of both the seen and unseen.
---
Saturday, Sept. 4
ROYA, a new nonprofit organization with the goal of building a creative community for social advocacy, has put together a night for the community to cultivate togetherness. The spoken word soiree at Starlight Square will be packed with community artists, poets, writers and creatives. There will also be live music to set the mood and if you have something to share, you can sign up for the open mic. If you want to get a sense of the slam, check out the curated playlist for the event here.