A Quiet Start To Early Voting In Boston, Voters And Candidates Say It's Lack Of Publicity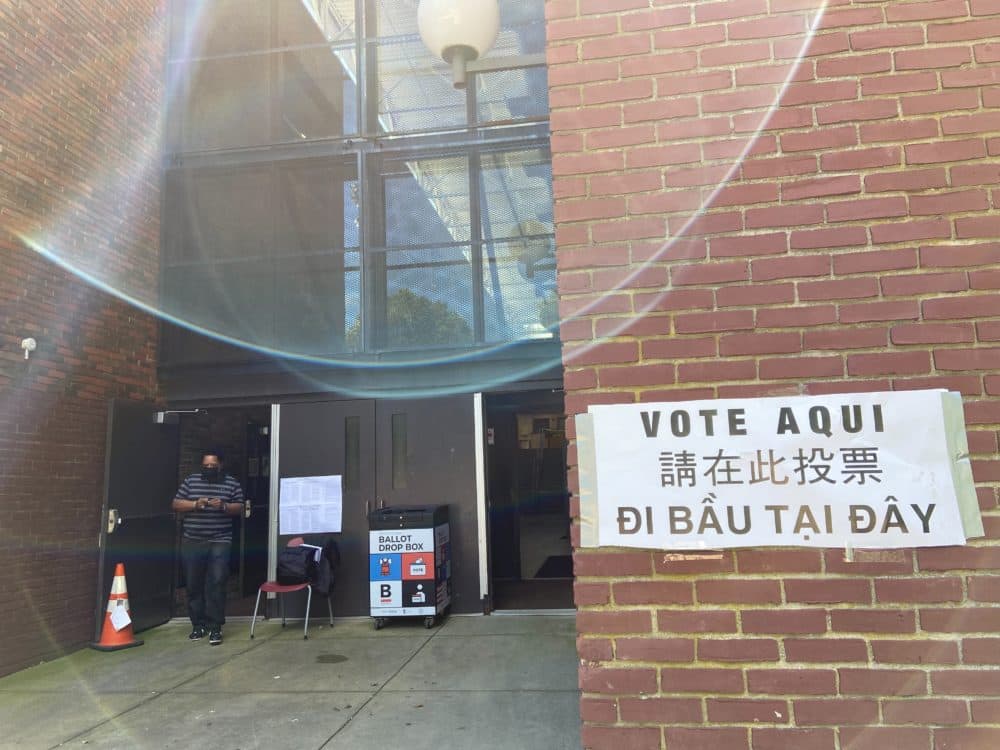 It was a quiet, modest start to Boston's early voting for the city's preliminary mayoral election. Voters and candidates alike mentioned a lack of publicity contributing to the less-than-stellar turnout.
For Roxbury resident Michael Fedo, it was a serendipitous convenience. He was outside, enjoying the day and saw the campaign signs at the Shelburne Community Center.
"I thought 'now's the time, there are no lines, let me get in here and get my vote casted,'" he said.
Fedo, wearing a mask, said the COVID-19 delta variant was also a reason for him deciding to cast his ballot early, in order to avoid the potential crowds on Election Day. He voted for City Councilor Andrea Campbell for mayor and Brandy Brooks for city council.
"They both had the most actionable plans for Mass and Cass, for neighborhood development, for mental health," Fedo said. "To trust in our elected officials, they need plans, they need something that is more than just threadbare or barebones. I wanna know what you're going to do and how you're going to do it. And we really don't have time to do much open-air debates. COVID's changed a lot of that."
Voter Ed Digirolamo, who also cast a ballot at the Shelburne Community Center, wasn't willing to share who he voted for Saturday. But, he explained why he decided to take advantage of the opportunity.
"About five or six years ago, [on Election Day] I got out of work late and then the traffic was horrific and I barely got to my voting spot in time," he said. "Things like that happen and it's a good idea to get it out of the way."
But if it were up to at-large City Council candidate Nick Vance, Election Day would be a holiday.
"What got me out here to vote early is to make sure that I had the free time and the  energy to come out. I think people should vote early so they don't have to do it on an election day, which unfortunately is still not seen as a day off. For many of us, we still have to work" he said. "It's just unfortunate to see such low numbers of early voters."
Vance said he and other candidates have "been calling the city for weeks" to ask where the early voting places would be so they could have volunteers stationed there. He said he didn't find out where early voting locations would be until Thursday.
"That didn't give us a lot of forewarning. I think that's a crying shame," Vance said. "A lot of people are just now finding out. I've been receiving calls all morning, like 'wait, I can vote today?' Where can I go?' We're starting to send these little screenshots to people to show them where they can vote. But the city should have did that."
WBUR's attempts to get perspective from city and state election officials on early voter turnout and data were unsuccessful Saturday.
A few miles away, in Allston, mayoral candidate Michelle Wu spoke to constituents outside of the Jackson Mann Community Center.
"It's been slow but steady across the city," she said of early voter turnout, after visiting several polling locations including the one in Roxbury Saturday. "People are excited when they're coming out, even if it's not a rush at the door, it still means we're creating many more options to get out the vote and that's what matters."
Like candidate Vance, Wu said her campaign had to scramble to inform voters. She also theorized that early voting starting on Labor Day weekend wasn't conducive to big voter turnout.
"As we build on this, year-by-year, we'll get it right," she said. "In this moment, we need to aim for far more than what we've been seeing. Coming out of the pandemic; dealing with our climate crisis; addressing our housing and affordability crisis. We need everything on the table and everyone at the table."
Wu chatted with Brighton resident Bertha Davis, who said she's "somewhat excited" about the mayoral election, but she didn't start her day intending to cast a ballot.
"I came out, because it was a nice day and I like to walk a lot," she said. "At first, I wasn't going to vote until I saw [Wu] and decided to get it out of the way. . .  I see her on TV all the time and this is the first time I saw her in real life."
Davis said she ended up casting  a vote for Wu. She's apparently not alone. The Boston Globe recently reported that Wu is seeing a double-digit lead in the polls.
Early voting ends Friday, September 10. Election Day is September 14.