Boston Mayoral Candidates Spar In Second Debate In As Many Nights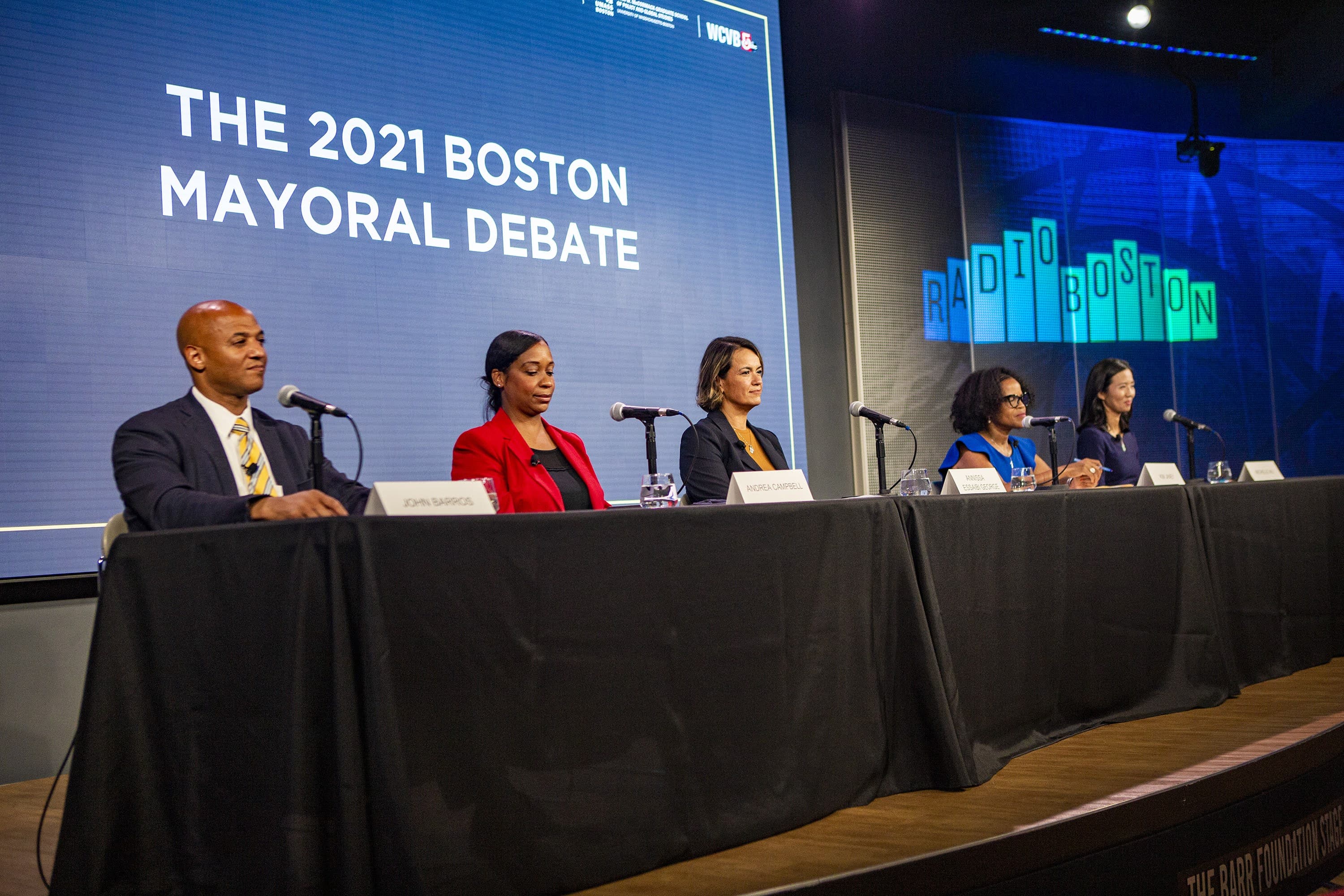 Boston's major mayoral candidates squared off Thursday night in a debate at WBUR's CitySpace.
The event comes less than five days before polls open in Boston's preliminary election, which will narrow the mayoral field to two top contenders for the general election in November.
Candidates answered questions about the ongoing pandemic response, the crisis of addiction and homelessness in the area near Massachusetts Avenue and Melnea Cass Boulevard, housing and more.
The candidates all agreed that the problems at "Mass and Cass" were a top priority, but they differed over how the situation got so bad, and who could have done more to prevent the alarming growth of people struggling on the streets.
"Everyone up here, they covered that district. That was their jurisdiction," Campbell said. "They took no action."Essaibi George, repeating a line from Wednesday's debate, said she and Wu worked together to form a committee to address the situation at Mass and Cass, but said Janey disbanded the group when she became council president.
"When then-council president Janey took leadership of the body, she dismantled that committee," she said. "It is not a coincidence that we have gone to a place of chaos. People are suffering. A community is struggling. We've got so much work left undone."
Janey objected to Essaibi George's claim, saying she rolled the committee into a larger public health board."I think there's a lack of understanding of the complexity of the issue to suggest that a city council committee correlates with what is happening on the streets," Janey said. "We know that COVID has made things worse. We also know that this issue has been growing since 2014."
Housing also dominated the conversation, with candidates offering several proposals to address the lack of new and affordable construction in the city. Wu has been the only candidate to endorse rent control as a tool to address the cost of housing, and made the case again Thursday night.
"The pressures of our housing market are at emergency levels," Wu said. "And so the real question isn't why I'm the only candidate; it's why the field isn't acting with the same sense of urgency. There is a multi-layered housing crisis here. We need to produce more housing. We need to ensure we're using every power we have so that we are moving to address that emergency as well."
Barros, who has been critical of Wu's rent control proposal, said the councilor has pinpointed the right problem — a housing shortage driving up prices — but is offering the wrong solution.
"She still can't articulate why rent control would help solve that. The reason is rent control would not help solve that. It would create a further shortage of housing," he said. "We have a [housing] shortage crisis in Boston. We are growing in population and we can't provide housing, which is why housing is too expensive. We've got to provide more affordable housing rates that people can buy."
Polls suggest City Councilor Michelle Wu is leading the race and well positioned to grab one of the two run-off spots. But there is a fierce competition for the other spot between Councilor Andrea Campbell, fellow City Councilor Annissa Essaibi George and acting Mayor Kim Janey. The fifth major candidate, John Barros, a former economic director for the city, has lagged in the surveys.
Thursday's debate was moderated by Radio Boston host Tiziana Dearing and Boston Globe columnist Adrian Walker.
The debate was sponsored by WBUR, The Boston Globe, WCVB Channel 5 and the John W. McCormack Graduate School of Policy and Global Studies at UMass Boston.
It was the second debate in two nights for the five major candidates. The politicians jousted over issues like education and police funding in a mostly cordial televised debate on NBC10 Wednesday evening.
This article was originally published on September 09, 2021.