'Queens Girl in the World' settles in beautifully at the Central Square Theater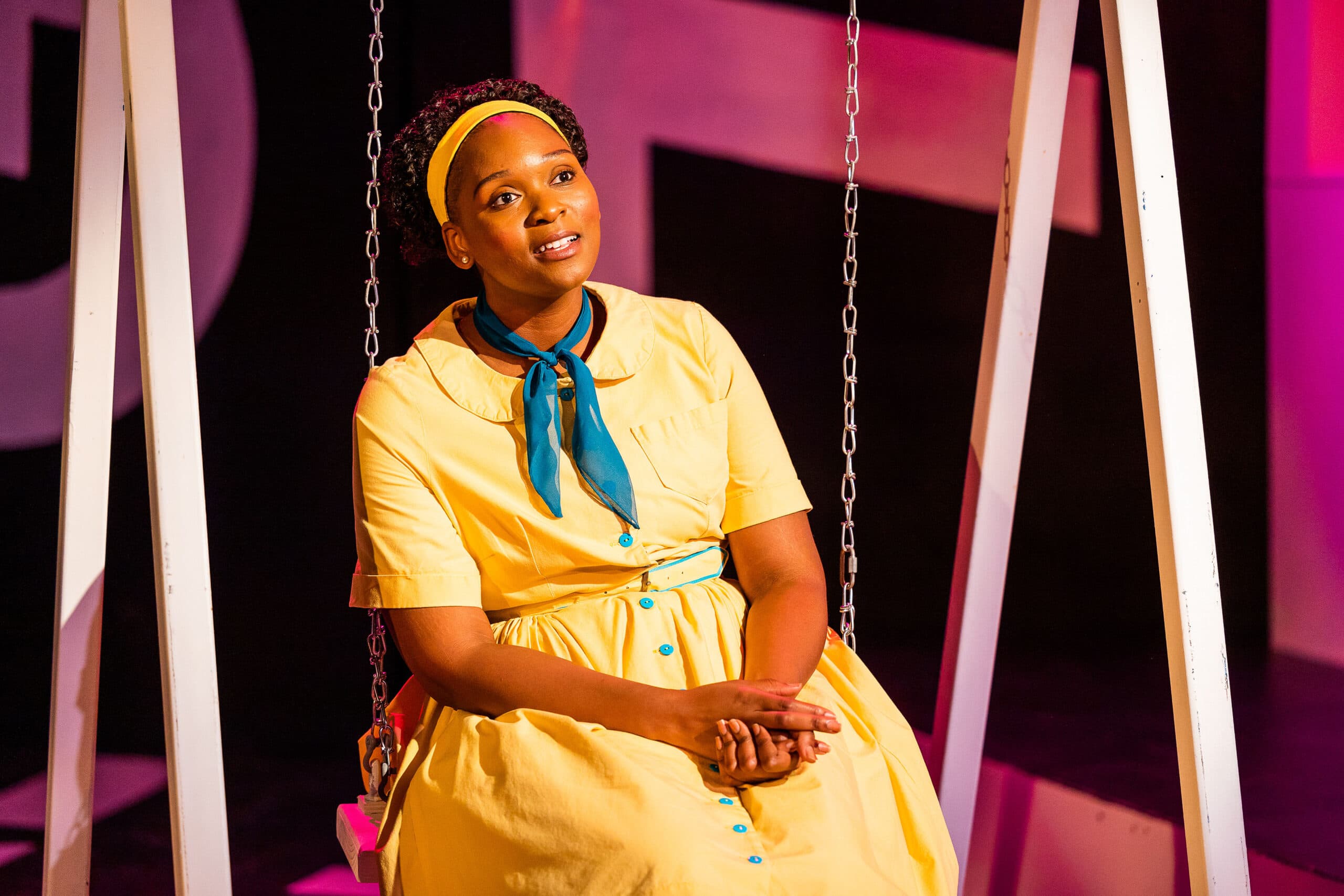 This article is more than 1 year old.
How does a young woman find her place in the world?
That's the question that anchors Caleen Sinnette Jennings' play "Queens Girl in the World" at the Central Square Theater (through Oct. 31). The shimmering narrative focuses on Jacqueline Marie Butler, a young girl growing up in East Elmhurst, Queens, New York, learning to straddle two unlike environments in the 1960s.
Jasmine M. Rush soars as Jacqueline, a mild-mannered adolescent whose bubbly narration lets audiences in on her cream-soda-and-salt tasting first kiss, her friendship with her annoying best friend by proximity, Persephone Wilson, and all that her parents hope for her. Rush embodies more than a half dozen characters with distinction and ease as she pulls audiences through Jacqueline's life on Erickson Street.
Most of the story is told from Jacqueline's stoop, which is surrounded by blue hydrangeas. The bright white set — a house with a short lamppost in the yard, complete with a functional swing — is the work of Diggle, who recently constructed a public mobile unit for The Public Theater's "Shakespeare: Call and Response." Diggle built the set for the first staging of the narrative with Rush and director Dawn Simmons over the summer. The word "girl" repeats in front of, above and beside the house. (Simmons is co-producing artistic director of the Front Porch Arts Collective, who are staging the play with The Nora@Central Square Theater and the Hangar Theatre Company in Ithaca, New York.)

Rush's Jacqueline bursts with the curiosity of youth, drinking in the sounds of the city from her front porch, trying to keep up with the more aggressive, more knowing Persephone. She's preoccupied with her flat chest and her simmering crush on Earl Waddlington whose "eyes are diamonds set in the black velvet of his skin." Two days after spending a few tender moments with him — a walk, some time talking, and that secret fluffy-soft lip dance — Jacqueline learns she's going to a new school in Greenwich Village.
Her parents have big dreams for Jacqueline Marie, as her mother calls her, and they want her to learn more about the world, which is on the cusp of change at the play's start in June 1962.
Soon, Jacqueline is thrust into a new world at a private Jewish school, the Irwin. She goes from being the smartest kid at her public school, P.S.143, to being tutored by Rebecca Myers. Jacqueline meets Brooklynite Karen Rubin, a fascinating character with a deviated septum, a taste for crème de menthe and an older brother Peter who is away at college. Karen's inquisitive nature finds Jacqueline explaining everything about herself, including why she uses lotion to combat ash and why she puts grease on her scalp and hair.
While this loosely semi-autobiographical tale — the first in a trilogy by Jennings which includes "Queens Girl in Africa" and "Queen's Girl: Black in the Green Mountains" — is a coming-of-age story, it's also a story about code-switching where a person modifies his or her speech and other things depending on the environment.
Jacqueline feels the urgent need to morph and is "afraid of being the wrong me in the wrong place… Daddy's always exactly who he is, wherever he is. How do I do that?" She enjoys her time at her new school, but wonders constantly if she's turning into a white girl to please her new friends.
Her mom, Grace Lofton Butler, with her smooth voice and crisp English demands the best of her in every way, from enunciation to her character. Her mom encourages her to see how "vast and beautiful the world is." Jacqueline is mesmerized by her. When Grace tries to explain Jacqueline's anticipated menstrual cycle, Jacqueline doesn't understand. Instead, she gets lost in her mom's wonder, saying, "The sky and her voice are like twilight-covered taffeta."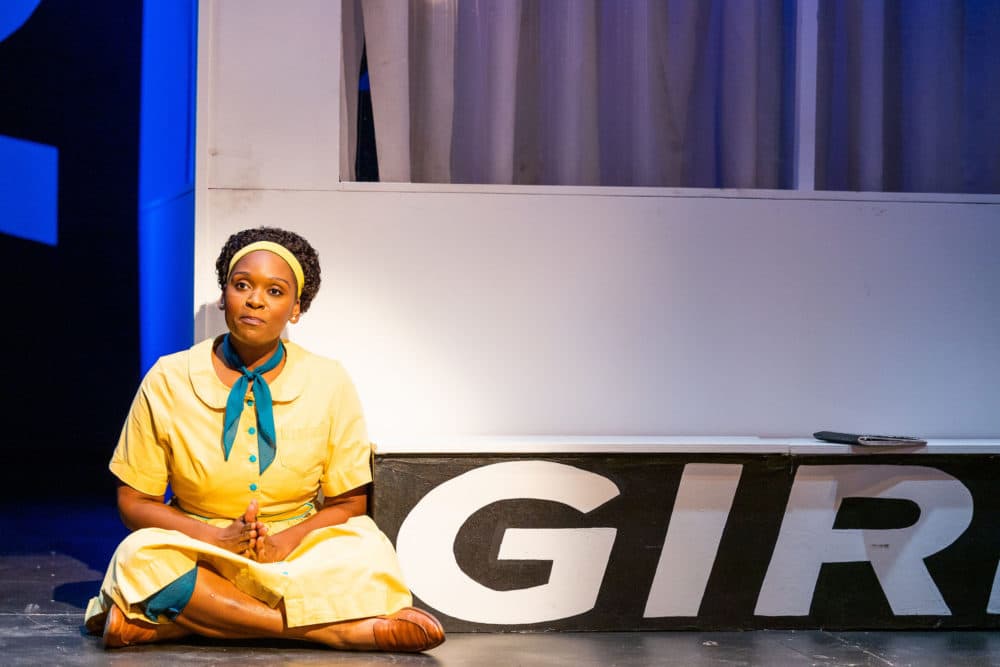 Throughout the production, "Blue Moon," "The Loco-Motion" and many other songs from the era get woven into the story. History does too. Jacqueline's dad is outraged by the murders of civil rights activist Medgar Evers, President John F. Kennedy, Martin Luther King Jr. and Malcolm X, whom Jacqueline had the pleasure of meeting at her house one day.
"You turn the other cheek and they beat you; you stand up for your rights, they kill you. A Black man in America knocks on a door that will always be locked," her father Charles laments.
These events foreshadow what's to come for Jacqueline and her parents. Frustrated, Charles and Grace decide to make another change in their search for a better life. It's unclear whether things will get better on their new path. Still, in just under 90 minutes, the layered, wayfinding tale outlined in nostalgia highlights how each character seeks a way to thrive in this vast and beautiful world, even when it's simultaneously dark and complicated.
---
"Queens Girl in the World," at Central Square Theater through Oct. 31, is co-produced by The Nora@Central Square Theater, the Front Porch Arts Collective and the Hangar Theatre Company in Ithaca, New York. Audiences must show proof of vaccination or a negative COVID-19 test and wear masks.