Here are 18 theater productions to see this fall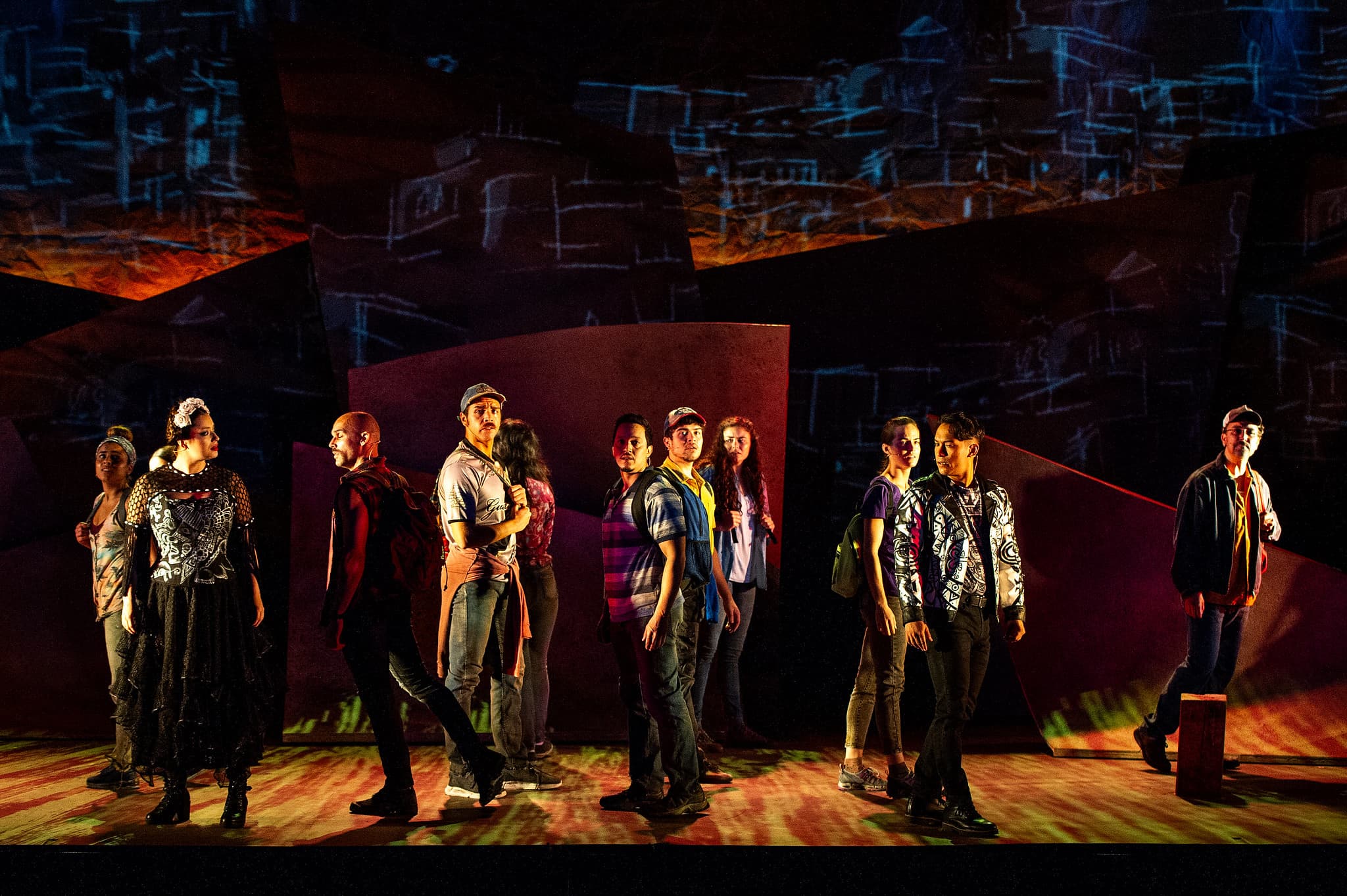 This article is more than 1 year old.
After more than a year and a half, indoor theater has finally returned in full force. Though the circulating delta variant and newly named mu variant are causes for concern, 14 local theaters have banded together to enforce a vaccine and mask mandate to help keep visitors and staff safe. Virtual storytelling and audio plays are still available from some companies (and may always be considering the ongoing pandemic), but in-person offerings including reboots from the classic canon, stories of movement and migration, and the emergence of new narratives and voices are aplenty.
Through Oct. 17
"'The Merchant of Venice' is one of Shakespeare's masterpieces — especially as it applies to the themes of justice and mercy, as well as the character of Shylock," says Chris Edwards, Actors' Shakespeare Project (ASP) artistic director. In this reboot of the classic tale, stellar actor Nael Nacer stars as Shylock and Arlekin Players' Igor Golyak directs. Their rendition uses commedia dell'arte to acknowledge the anti-Semitism in the play. The production got its start just before the pandemic and was shut down after only two preview performances. Since then, two of the roles, Nerissa and Bassanio, have been recast. Though the vision and the approach of the show remained the same, what has changed, especially in light of the pandemic, says Mara Sidmore, ASP's managing director, "is all of us, which, given the nature of live theater, means that both the performers and the audience, and therefore the relationship between the two, are different." [Read the review here.]

---
Through Oct. 17
Barrington Stage Company and Calpulli Mexican Dance Company collaborated on this musical, centering on a group of migrants crossing the southern border. "A Crossing" takes a closer look at all of the dangers the group faces along the way as well as the personal impacts they must consider once on the other side. The story, written by Mark St. Germain, features traditional Mexican folk song arrangements and a score by George Sáenz.

---
Through Oct. 16
For nearly two decades, novelist Bella Baird has lived in isolation. When she meets a bright but mysterious student in her creative writing class, everything changes. As their friendship blossoms, their lives intertwine, and things get complicated in this Tony Award-nominated tale by Adam Rapp. 2019 Elliot Norton Award winner Jennifer Rohn and Shakespeare & Company trained Nathan Malin star, and Bryn Boice directs the 90-minute narrative. [Read the review of the play here.]

---
Through Oct. 31
Jacqueline Marie Butler is a Black teenager growing up in the Motown-infused 1960s in New York. The story follows her journey from her neighborhood in Queens to a predominately white private school in Greenwich Village during the civil rights movement. Dawn M. Simmons directs this one-woman play—which was performed over the summer in New York—starring Jasmine M. Rush, co-produced by The Nora@Central Square Theater, The Front Porch Arts Collective and The Hangar Theater.
---
Oct. 7-24
Two urban Indigenous sisters bump into a bilker as they dig into their culture and figure out what it means to honor who they are at Kamloopa, the largest powwow on the West Coast. The sisters look to their ancestors for answers and reclaim their power in this tale by Indigenous playwright Kim Senklip Harvey. "This transformation story, Harvey says, "is an offer for all of us to be bold and passionate about having the courage to fully become ourselves." After the live performance wraps, the production will be available to stream Nov. 1-7.

---
'Witch'
Oct. 15-Nov. 14
Huntington Theatre Company
In the Huntington's "Witch," outcast Elizabeth Sawyer has the chance to make a deal with a devil named Scratch to make her dreams come true. Will she turn over her soul to get what she wants or resist Scratch's allure in this comedy by Jen Silverman? The story is a fresh take on a 1621 Jacobean comedy. Rebecca Bradshaw, whose curious about "people and the choices they make," directs.
---
'Lifted'
Wilbury Theatre Group
Oct. 21-Nov. 23
Josh Short directs "Lifted," playwright Charlie Thurston's modern take on Icarus. Set in a dystopian future, recently extinct birds return and fly a teenage boy, Max, into the sky. Will Max return? Is this a sign of something bigger? After his abduction, Max's twin brother, his girlfriend and dad search for meaning in their own lives and set out to search for Max. Daraja Hinds (Wilbury's "God Talks to An Agnostic"), Victor Neto and Jim O'Brien (Wilbury's "The Race") star. The production will be staged outdoors at the WaterFire Arts Center in Providence, Rhode Island.
---
Oct. 23-Nov. 14
Whitney White, an Obie Award-winning artist, explores what it's like to be a Black woman through one of Shakespeare's most memorable characters in "Macbeth In Stride." Whitney and four other actors will perform in this part-concert-part-theater piece. Though this offering focuses on Lady Macbeth, Whitney will helm four other productions, each delving into other female Shakespearean characters. The A.R.T. has other dynamic music-centric offerings including "Ayodele Casel: Chasing Magic" (now through Oct. 9) and "Phoenix Rising" (starting Nov. 19).
---
'BLKS'
SpeakEasy Stage Company
Oct. 29-Nov. 20
Figuring out life in your 20s can be challenging, but nothing is too complicated with the help of friends. In the comedy "BLKS," directed by ARTery 25 member Tonasia Jones, Octavia enlists her two besties for a night on the town after a major health scare. Throughout the evening, the women embark on numerous adventures that test their bond.
---
Oct. 30
United Bank's efforts to buy up foreclosed real estate in Boston's Black community is at the center of Francisca Da Silveira's "can I touch it?" Shay, a single mom, community leader, and entrepreneur who owns a beauty supply store financed by the bank, must choose between her company or standing up against gentrification. The live virtual reading of the play, which is still under development, is one night only. The full production will be staged in summer 2022.
---
'Hadestown'
Broadway in Boston
Nov. 2-14
Audiences journey to hell and back in "Hadestown," a Tony-Award winning musical by Anaïs Mitchell, where the gods from two mythic tales — Orpheus and Eurydice and King Hades and wife Persephone — are at the center. The popular play took 16 years of development from 2004 to its Broadway opening in 2019. Mitchell and a small group of thespians premiered the original version of the play in 2006 in Vermont. The show's world is much like our own, the poor reign over the rich, there's suffering and poverty. But Orpheus hopes for a brighter future and aims to do something about it. Some of the other gods are harder to convince.
---
Nov. 12-13
Jazz musician Wayne Shorter and Grammy-winning artist esperanza spaulding join forces to create the world premiere of "Iphigenia." The subversive ArtsEmerson offering is "an intervention to opera as we know it," that upends the traditional story of the sacrificial daughter of Greek myth.
---
Nov. 12-Dec. 5
A love story that lasted five years is dissected and recanted for audiences by the couple themselves. Theatergoers will meet Cathy, who starts her story at the end and works backward, and Jamie, who tells his story chronologically about the relationship, in this Leigh Barrett directed musical. If you haven't seen this production onstage before, you might have caught the 2015 film adaptation starring Anna Kendrick and Jeremy Jordan.
---
Nov. 16-21
"Zoo Motel" is an interactive virtual theater offering performed live for no more than 25 people at a time. In the show, created by Thaddeus Phillips ("Red-Eye to Havre de Grace," "17 Border Crossings") and artist Steven Dufala ("HOME"), audiences must check into virtual rooms. According to a review, there's a preshow email that contains a room key, welcome brochure, a map and more. There are talking objects and multiple stories centered on human existence.
---
'Witness'
Arlekin Players Theater
Dec. 2
"Witness," a virtual documentary-style theater offering, details the migration of Jews throughout history. The play, set on a boat in digital space, was written by Nana Grinstein. It's based on interviews with Jewish people around the world that were conducted by Arlekin company members, combined with historical records, documents, and other research. The immersive narrative directed by Igor Golyak aims to shed light on several stories, including those of migration, displacement, home and identity.
---
'Teenage Dick'
Huntington Theatre Company
Dec. 3-Jan.9
In Mike Lew's dark comedy, "Teenage Dick," a boy with cerebral palsy runs for president of Roseland High School. But what will it take for him to win? The Tony Award nominee Moritz von Stuelpnagel ("Hand to God" on Broadway) directs this modern-day spin on "Richard III."
---
Dec. 5-Jan. 9
"WILD: A Musical Becoming" is a musical fable that focuses on a single mom (Idina Menzel) who is trying to save her farm while her daughter is working hard to save the world from climate change. The play, inspired by the climate crisis, was developed by Tony and Obie Award-winning playwright V (formerly Eve Ensler of "The Vagina Monologues"), Grammy-nominated songwriter Justin Tranter, and songwriter Caroline Pennell. Diane Paulus directs.
---
Dec. 7-12
What happens when there's no rehearsal, set, or director for a play? Audiences will find out with "White Rabbit, Red Rabbit" by Iranian playwright Nassim Soleimanpour, in which a different actor opens the script and performs without practice. Soleimanpour refused military service in Iran and was not allowed to leave the country until 2013 when he was granted a passport. Soleimanpour uses this play to tell his life's story.