So far this year, schools report far higher rates of COVID-19 in students, staff
Massachusetts public schools have found and reported almost 15 times as many cases of COVID-19 among students and staff as they had at this point last year.
After four weeks of classes, the state tallies 8,502 total cases — 7,388 among students and 1,114 among staff — compared to just 578 in the same period of the 2020-21 school year.
While increases in the number of students learning in-person and in school-based testing account for part of that disparity, some public health experts and local officials take it as a sign that the state can't yet let its guard down when it comes to controlling the virus's spread.
Changes to state regulations mean that nearly all students are in school buildings this October, compared to about half as many by this point last fall. But Julia Raifman, an assistant professor at the Boston University School of Public Health, says the virus has changed, too.
"[The delta variant] is very transmissible, and it's clear that it's transmitting among children," Raifman says. "And while children are lower-risk than adults, we've seen record-high hospitalizations and deaths of children across the country" with the variant.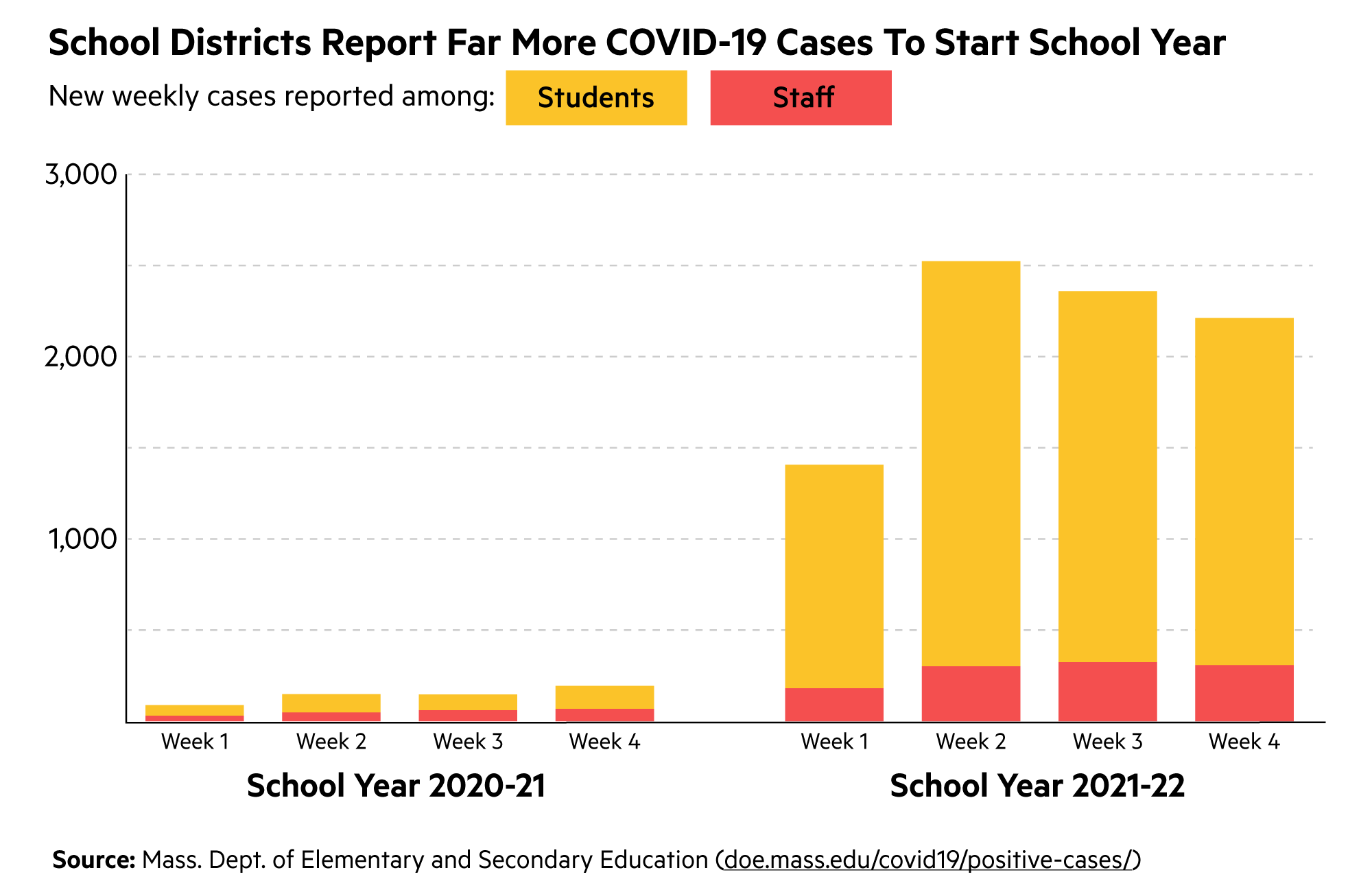 Though the hospitalization and death of children from COVID-19 are still quite rare, CDC data do suggest that, nationally, this September was the worst yet for children ages 0-17, with 81 deaths from the virus. But in Massachusetts, the same data shows no known deaths of COVID-19.
But Raifman adds that children's health outcomes are not the only potential ramification of high case counts in schools.
She notes, for example, the unusually high numbers of deaths among people of parenting age, from 25 to 44. "There's also the concern of what happens to everybody when children have to miss school, when parents have to miss out on work to take care of their kids, or if they become sick," she added.
State officials say this fall's numbers may be further inflated by the reopening of large districts for in-person learning and the expansion of a pooled-testing program to include 2,200 schools — twice as many as participated last year.
In a statement accompanying the latest reports, they note that "pooled testing data in this report show low positivity rates, less than 1 percent, and instances of in-school transmission are rare."
School-based reports reached their peak in the second week of classes, and have decreased in each of the last two weeks.
Nevertheless, Raifman — who oversees a Boston University database of state COVID-19 policies — hopes that both parents and policymakers will exercise caution in the weeks ahead. She supports the use of a mask mandate in schools, but adds that parents and communities should adopt "data-driven" masking policies like the one used in Nevada, which is enforced and loosened depending on local rates of spread.
"Children ages five to 11 will soon be eligible for vaccines," Raifman says, "so any deaths or severe disease that we prevent in the next few months until they can begin receiving vaccines may be prevented forever. It's certainly worth really leaning in to prevent illness in children now."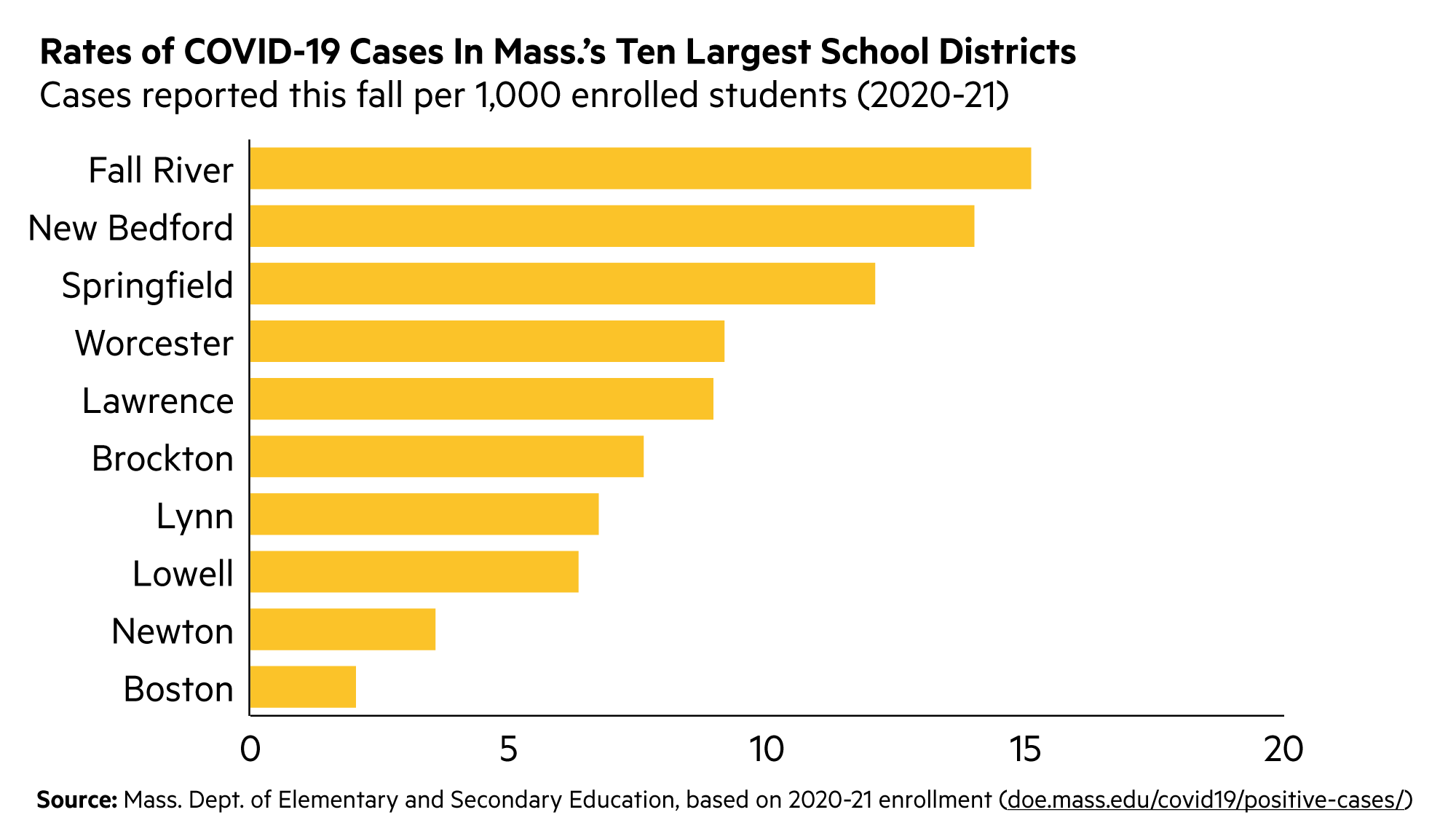 Comparatively hard-hit districts like Worcester are hoping to do just that, according to school committee member Tracy O'Connell Novick.
The Worcester Public Schools are planning another round of vaccination clinics in secondary schools, paired with information for families about the vaccines and work with the professional unions on mandatory vaccinations or weekly testing, Novick says.
Novick notes with regret that among students who already qualify "our vaccination rates aren't where we need them to be, and we just need to keep working on that." As of last week, the vaccination rate for Massachusetts residents age 12 to 17 was still among the lowest of the state's age groups, at around 72%.