Runners and attendees prepare for a different Marathon Monday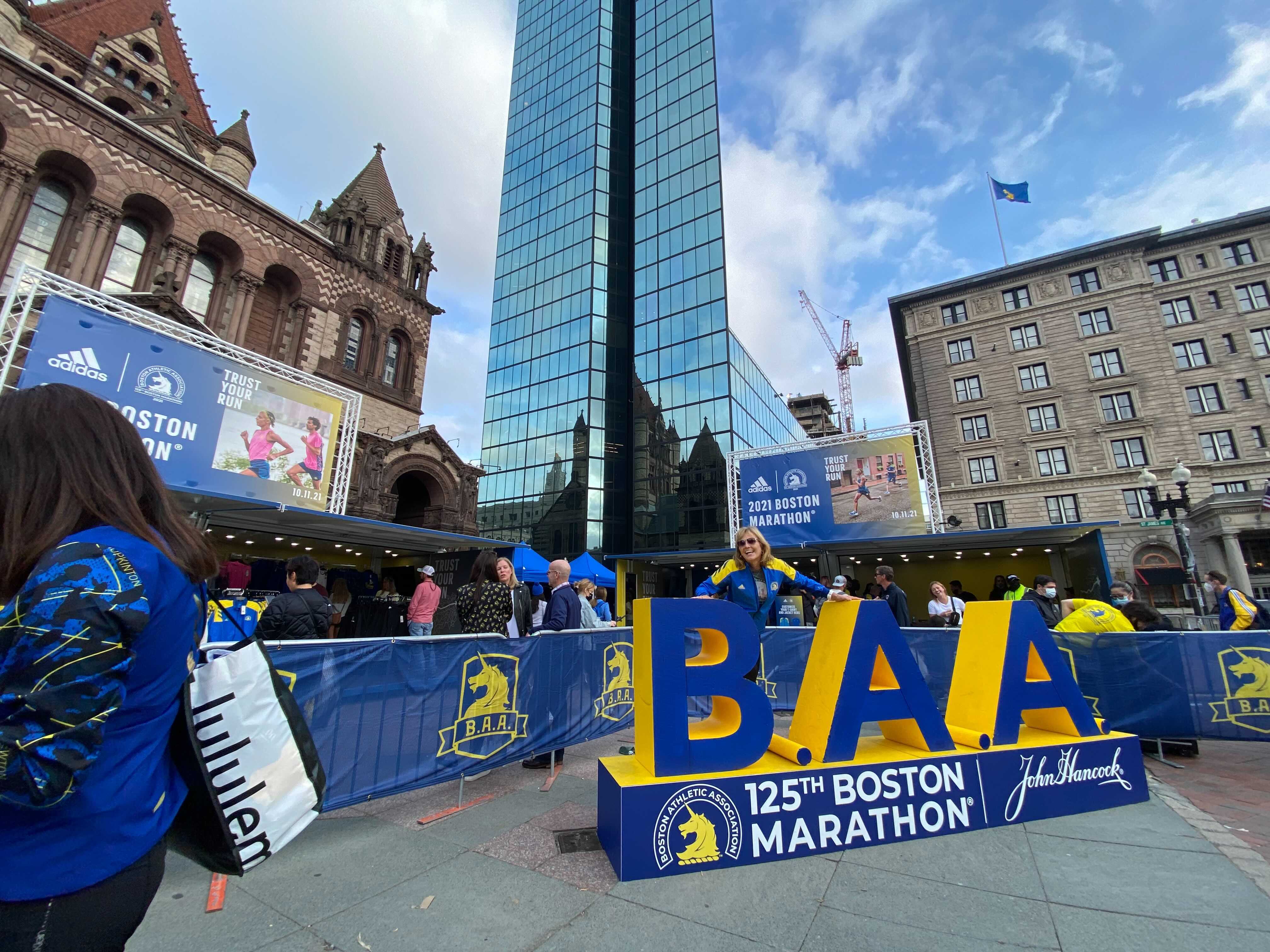 In the heart of Copley Square, nestled in the Back Bay of Boston, sits a temporary fair of sorts. There are exhibits and artifacts showcasing past runners, two stages, and even an area for cornhole.
It's all setup for the Boston Marathon, which is obviously a bit different this year — one difference in particular is that it will take place in October. Only days away from the race, runners milled around near the finish line on Boylston, picking up their jackets and soaking it all in.
With the autumn's turning leaves framing the course rather than the flowers of April, race conditions are much different. Runner Lillian Smith says she likes fall running.
"I'm excited that it's in October. I think the weather is going to be amazing — better than April, more predictable, you know?" she said. "Even though the field size is smaller, I think that so many people want to come out. We've been locked up for a year."
Smith is a charity participant running in honor of her mother, who died in 2015. She'll be one of many charity runners hitting the course this year.
This year's marathon isn't just different for those running, but also those coming to show support. Some of the bars along Boylston, once coveted for their views of the final stretch and finish line, closed during the pandemic. For some attendees, this means getting creative.
"My husband is going to probably just try to get on the train and hit us in different spots," said runner Jill Washington. She came to Boston from Chicago and is running the marathon for the first time.
"He'll track me on the on the app and just try to go to different spots to watch," she said.
Tanner Watson, on the other hand, will be supporting his wife, Kailani, from some more comfortable surroundings.
"We're staying at Hotel Commonwealth, so my plan is just to stand outside the hotel or look down from the hotel room."
For those looking to watch in person, the city is asking people to avoid big crowds and wear a mask.
A group of friends running the marathon soaked in the sights and happenings on Saturday. Each qualified for last year's race, but ended up running it separately and virtually because of the coronavirus. Jenna McHugh says they're excited to be in Boston in-person and together with their friends.
"We've already been stopped numerous times. [People are] just saying, 'Are you running? Thank you for coming. Good luck. We're so excited you're here!'"
McHugh said that support is what makes Boston a must-run race, even in a pandemic.