Boston mayoral candidates make Dorchester campaign stops ahead of 1st head-to-head debate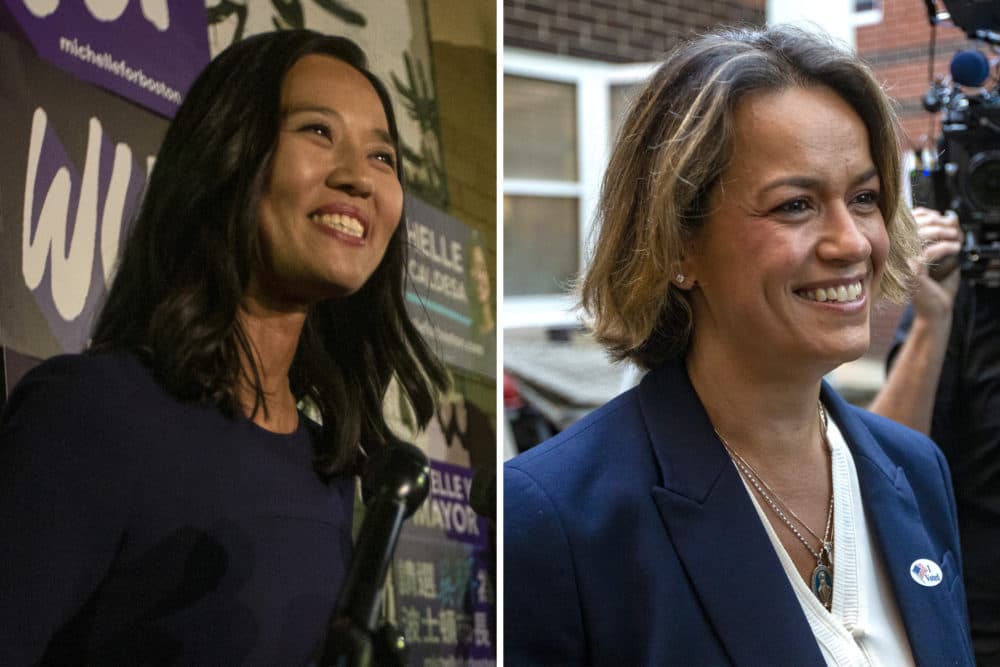 Boston's two candidates for mayor are sharpening their differences as they try to attract new support ahead of the November election.
City Councilors Michelle Wu and Annissa Essaibi George both campaigned in Dorchester Sunday. It's a key neighborhood for both candidates — acting Mayor Kim Janey was the top vote-getter in Dorchester, Roxbury and Mattapan's majority-minority precincts in the preliminary election, according to a WBUR analysis.
Wu got a boost Sunday from progressive advocacy group Right to the City VOTE!, which endorsed her in front of her Blue Hill Avenue campaign office.
The group had previously endorsed Janey in the mayor's race.
"There is a stark choice on the ballot in November," Wu said in front of a few dozen supporters. "A choice between a city hall that will take on those big bold solutions, fight for what we know we deserve and need, or just continue to nibble around the edges of the status quo."
Speaking after the event, Armani White, the group's executive chair, said he liked hearing a mayoral candidate talk about big reforms like rent stabilization and making the MBTA fare-free.
"The advocacy matters," he said. "What we do [in Boston] is felt throughout the state. So if Michelle Wu's behind it ... the rest of the state is going to notice that and hopefully follow her leadership."
A few miles up the road at the Catholic Charities' Teen Center at St. Peter on Bowdoin Street, Essaibi George addressed a Cape Verdean town hall of about 100 people.
Essaibi George methodically laid out her plans for investments in affordable housing, public safety and school configuration, pausing so each part could be translated into Cape Verdean Creole.
Addressing an audience question, Essaibi George reiterated her commitment to spending $100 million of federal COVID-19 relief money to support Black-owned businesses.
"I am committed as mayor to fulfilling that promise," she said. "And the promises I've made over the course of this campaign have been few, because I'm committed to fulfilling them for the people of Boston."
Wu and Essaibi George will face off in their first head-to-head debate Wednesday.