In two fall art exhibits, quilts offer more than just warmth
Quilts are familiar. They're soft and warm. They're comforting and intimate throughout our entire lives, enveloping our bodies in the cradle, and in some cases the grave.  Now in two fall exhibits, we have an opportunity to appreciate quilts for more than just their homespun familiarity and the warmth they can provide on a cool night.
At the New England Quilt Museum in Lowell, "Quarantine Quilts" explores the panic, fear and isolation many of us have experienced since the emergence of COVID-19. The exhibit features the handiwork of 27 contemporary quilters, supplemented with three additional quilts made during the pandemic of 1918 from the museum's own collection. The quilts are by turn humorous, poignant, wryly despairing and sometimes hopeful.
In a quilt entitled "There Was One Left," stitched by Patti Louise Pasteur, we see the image of a masked and gloved woman in a store aisle. The shelves are empty, but the woman triumphantly wields the spoils of victory under one arm — that is, a package of toilet paper. In another piece entitled "Social Distancing" sewn by Patricia Kumicich, we see two women bumping elbows before a background of dire newspaper reports about COVID-19. Kumicich, who does screen printing and photo transfers, prominently accentuates a headline that reads: "All I can say is I'm scared." In a third quilt, entitled "Chaos & Uncertainty" by Victoria Findlay Wolfe, we see colorful circular forms that feel happy and joyous, until we notice that those innocuous orbs have little projections resembling the protein spikes of the coronavirus. The circles are interspersed with red crosses, the international symbol associated with medicine and first aid.
"I was swirling around inside not being able to focus those first few weeks in early March 2020," explains Wolfe of the project in Sider's book, "Quarantine Quilts."
"I really needed something tangible to say 'that is what I'm feeling.' I find quilt-making to be the best way to get anxiety out of my body and head. This is my second COVID quarantine quilt because one just wasn't enough to work through all the changes of emotion."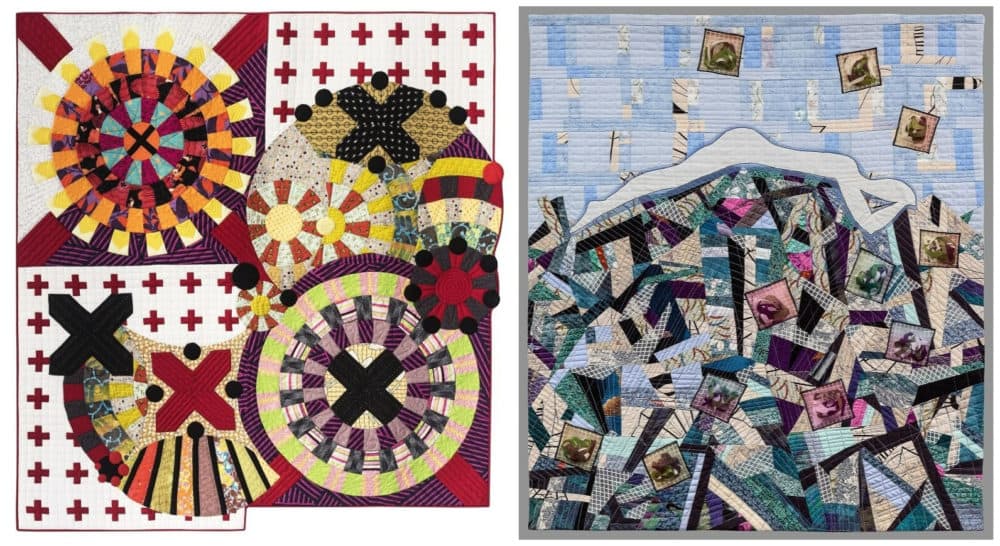 "Quarantine Quilts" is an offshoot of a book project of the same name by contemporary quilt artist Sandra Sider, editor of Art Quilt Quarterly and curator at the Texas Quilt Museum. Sider was living in the Bronx when the pandemic hit New York. Fearful of the illness she saw around her, she decided to pack up her car with food, books and art supplies and retreat to rural Pennsylvania with her husband for six months.
"I started thinking about all the people I network with, all the colleagues, mentees," says Sider. "I just thought, what are they doing? What is going on? And I mean internationally, not just in this country. And so, I put out a call for entries."
Sider received more than 225 responses to her query asking artists to create work about life during quarantine. She got entries from Taiwan, Australia, Spain, Italy, Switzerland, France, Great Britain and Canada. The variety of quilts was astounding. One woman created a piece around wastewater epidemiology, since her daughter worked at a Boston company testing city wastewater for traces of COVID-19. Another, showing a slumped figure, focuses on the theme of exhaustion.
"There was one artist who did this wonderful lettering of cut-out great big primary letters," says Sider. "I couldn't really see what it read across the quilt. But when you back up, it says, 'don't panic,' 'be brave.' And it's very, very powerful because it looks like something that you might see on a kindergarten wall because of the bright colors, and yet it's a very serious message."
Sider chose 27 quilts that were to appear in an exhibit at the Houston International Quilt Festival, but when that exhibit was canceled due to COVID-19 concerns, she decided to turn the exhibit into a book, adding 70 more quilts for a total of 97. The book morphed into the exhibit now on view at the New England Quilt Museum through Dec. 31. After sifting through so many entries, Sider says the message that resonated most with her was "the idea that we're all in this together."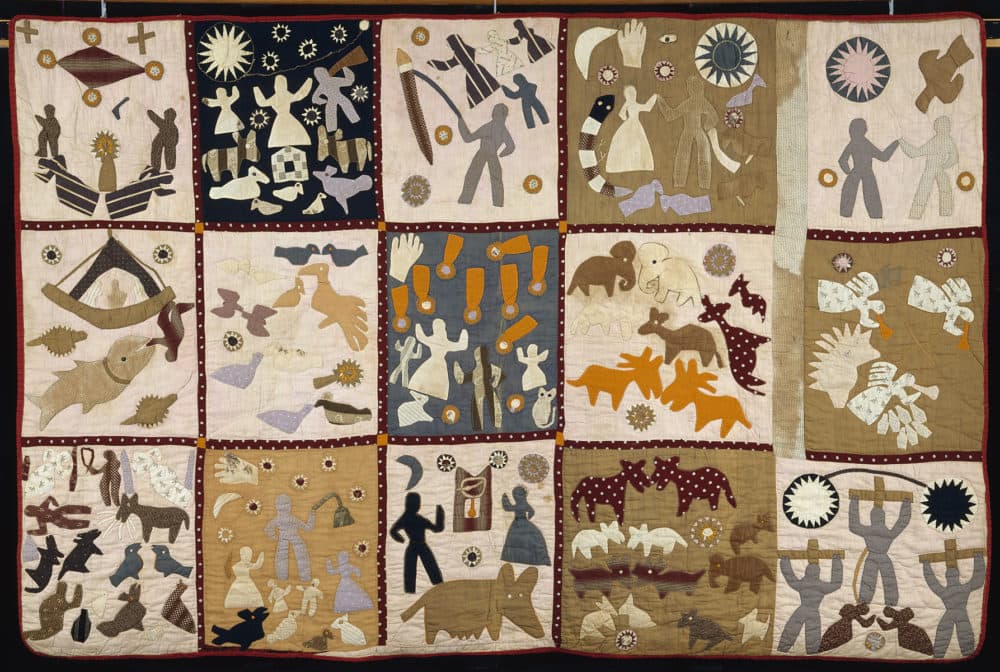 Meanwhile at the Museum of Fine Arts Boston, "Fabric of A Nation: American Quilt Stories" also showcases quilting but with a special focus on how the medium has historically evolved to become not just an artistic and decorative form but also a forum for sharp social commentary. Like the exhibit at the New England Quilt Museum, it also grew out of a publication, but incorporates 50 quilts from the 17th century all the way up to the modern day.
The show, running through Jan. 17, is laid out in a loosely chronological way, with bedcovers arranged by themes, including sections dedicated to unknown makers, industrialization, the Civil War and the legacy of slavery.
"It's not a unique American art form but quilting really became associated with Americanism and domesticity and home and women making these incredible quilts," says Jennifer Swope, associate curator at the MFA.
Visually, the exhibit is a panoply of variety, with quilts ranging from muted whole cloth bedcovers made by unknown hands to Navajo blankets from the 1800s, to an abstract, geometric "modernist" Amish quilt from 1940, to fluid narrative and pictorial quilts, some made hundreds of years ago and others just last year. Some were destined for the bed, others made specifically for display on walls.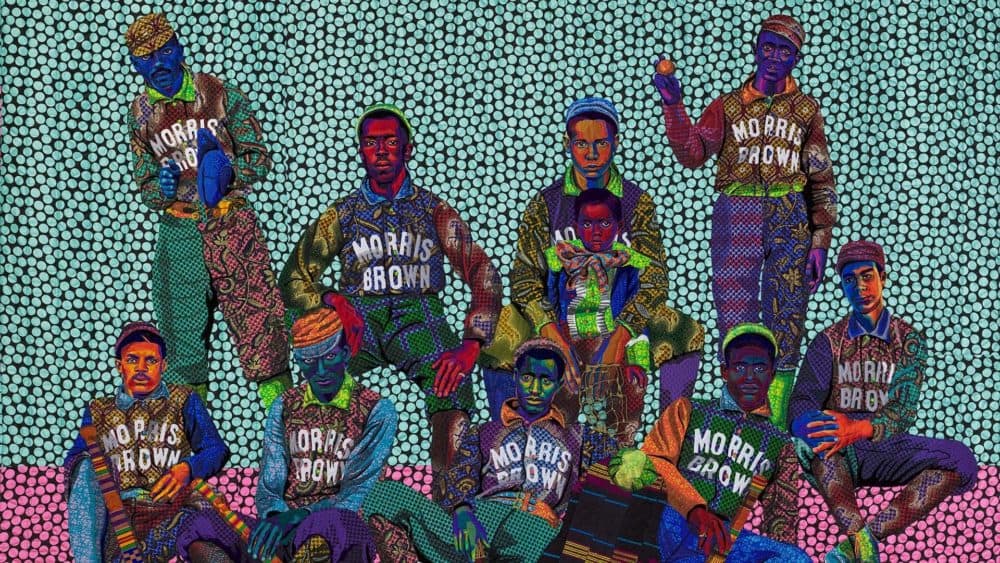 Early on, we encounter a 2019 quilt from Bisa Butler, a New Jersey fiber artist known for her work celebrating Black life. Her piece "To God and Truth" is based on an 1899 photograph of the African American baseball team of the historically Black university Morris Brown College in Atlanta. The figures are fashioned out of vividly printed West African cloth, alluding to the team's proud legacy as part of the African diaspora. We also see two quilts by former enslaved Harriet Powers from the late 1800s. They illustrate several biblical scenes including the crucifixion of Christ. Also in the show is the 1975 red, white and blue "Vote" quilt by Gee's Bend, Alabama quilter Irene Williams. The word "vote" is repeated many times and reminds us that while African Americans have long struggled to cast a ballot, the struggle continues even today.
The show includes the work of several contemporary artists, some, like Sanford Biggers and Faith Ringgold, who have made a mark in mediums outside of textiles. The work of contemporary quilters speaks most clearly to social justice issues. Artist Michael C. Thorpe, who grew up in Newton before moving to New York, has a quilt in the show emblazoned with the bold words "Black Man." It was created in 2020 after the murder of George Floyd. Carolyn Mazloomi's stark black and white quilt entitled "Strange Fruit II" of 2020, like the Billie Holiday song, depicts a lynching scene with black bodies hanging from trees. Carla Hemlock's quilt "Survivors," made between 2011 and 2013, presents the figures and names of the 48 First Nations and Indigenous groups that survive today.
In short, while many of the quilts on display are the traditional idealized rustic "Americana," many others are analytical, critical and socially aware. These are not your grandmother's quilts.
"Essentially, the exhibition asks these bigger questions about what America is, and who Americans are," says Swope. "We want to bring people into these difficult and challenging conversations, but use an art form based on textiles, which is a disarming medium."
To paraphrase a sentiment of quilter Mazloomi, quilts can be a soft place for some hard conversations.
"Quarantine Quilts" runs through Dec. 31 at the New England Quilt Museum in Lowell. "Fabric of a Nation: American Quilt Stories" runs through Jan. 17 at the Museum of Fine Arts Boston.