Most Boston voters would have to move to buy a home, poll finds
More than half of likely Boston voters believe they would have to move to another neighborhood to buy a home in the next five years, according to a new WBUR poll.
The poll (toplines/crosstabs) found just a quarter of likely Boston voters said they could purchase a home in their current neighborhood in the next five years.
West Roxbury homeowner Rachel Poliner said the city's next mayor must prioritize the cost of housing for Boston to maintain a diverse population.
"I bought my house in the late 1990s, and there's no way I could afford to buy into this neighborhood now," she said.
Poliner added that she wants the city to enact policies to create more affordable and varied housing throughout the city.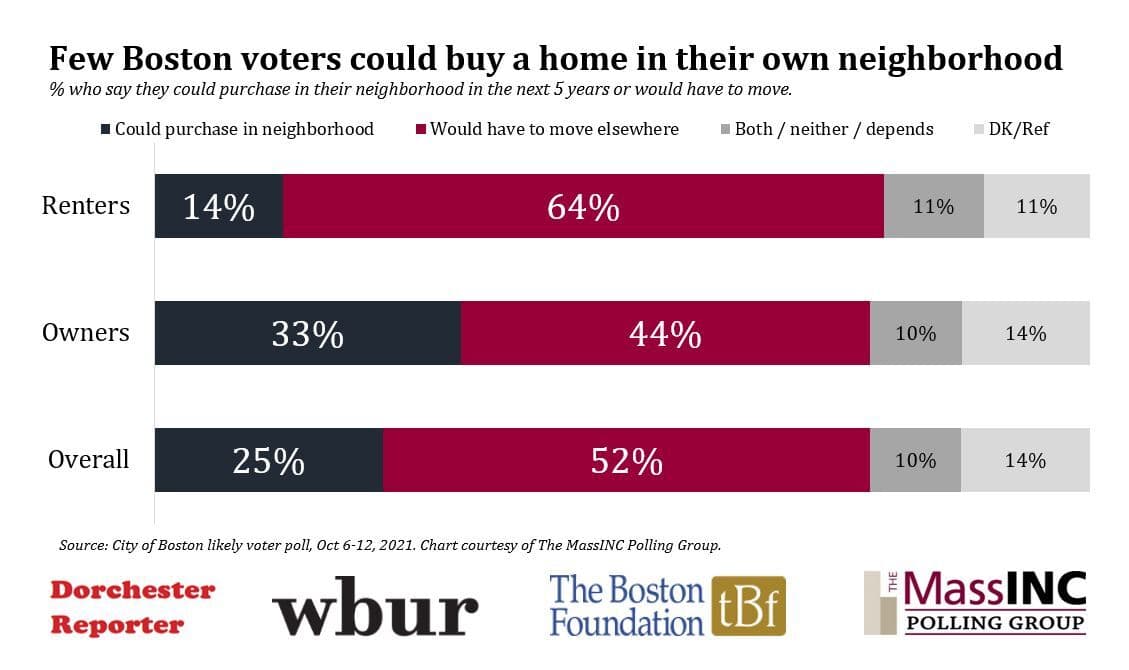 The poll found the high cost of housing was particularly troublesome for renters and people of color. While 46% of white respondents said they would have to move to buy a home, the number climbed to more than 60% for Black, Latino and Asian voters surveyed.
MassINC Polling Group conducted the survey of more than 500 voters for WBUR, the Dorchester Reporter and the Boston Foundation. It carries a margin of error of plus or minus 4.9 percentage points.
Overall, three-quarters of voters called controlling the cost of housing a major priority. But the issue was particularly important for people backing Councilor Michelle Wu for mayor. About 85% of Wu's supporters rated housing costs a major priority, compared to just 45% of Annissa Essaibi George's supporters.
The survey also found that people of color and women were more likely to consider the cost of housing to be a key concern.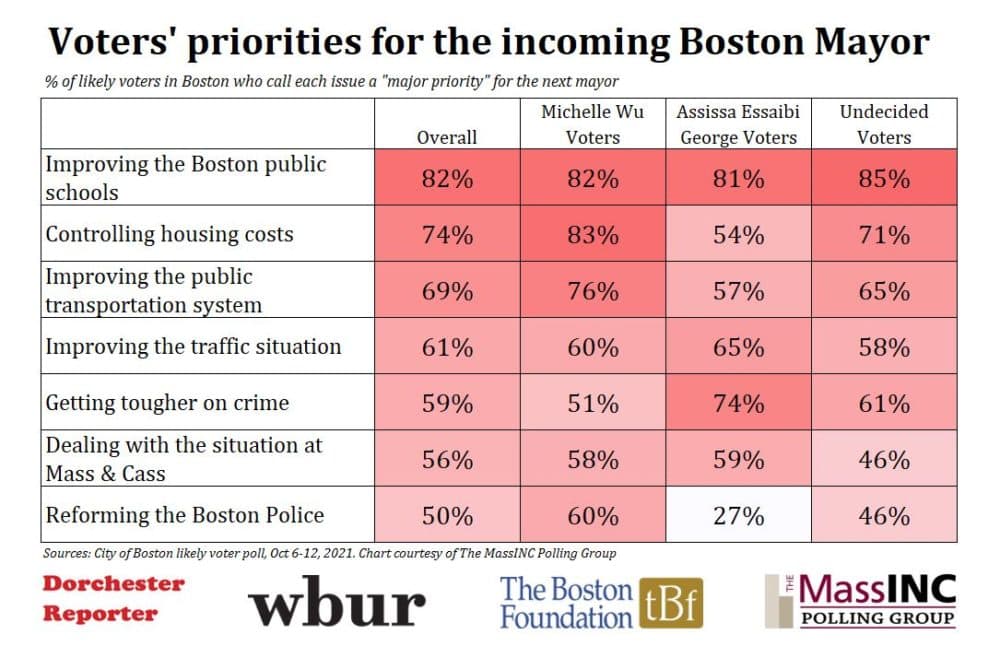 But Hyde Park homeowner Frank Rodriguez, who works for the city, was among the 26% of voters who didn't think reining in housing costs should be a major priority.
"I find that housing in the city of Boston is affordable, at least for me," he said.
Rodriguez said he grew up public housing projects and thought the city's housing policy was already on the right track.