About 4% of Mass. employees have not complied with Baker's vaccine mandate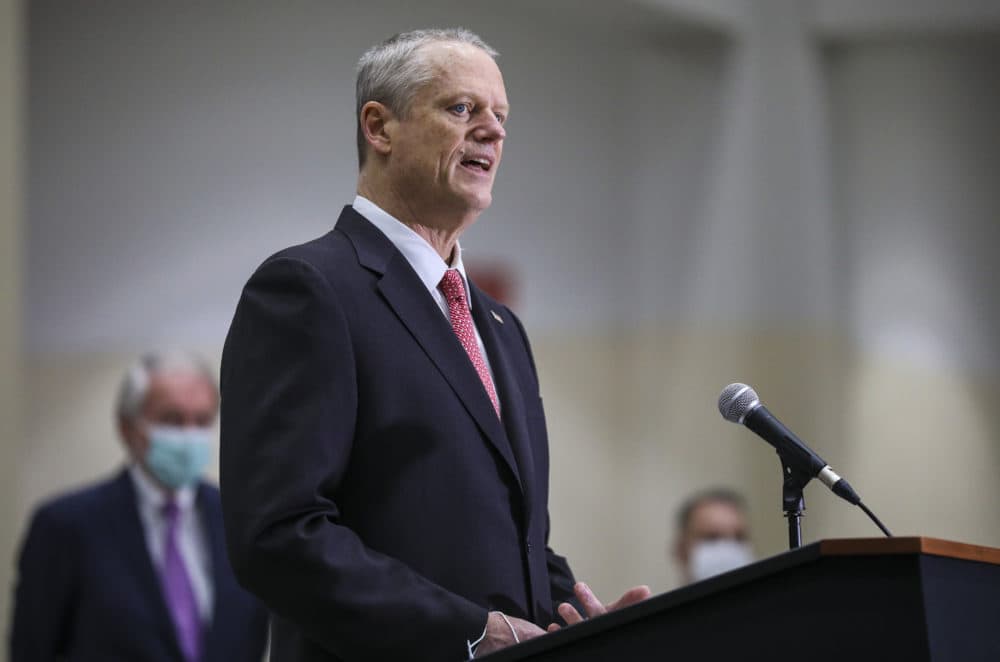 This article is more than 1 year old.
About 96% of executive branch employees have complied with Gov. Charlie Baker's COVID-19 vaccination mandate, according to the administration.
More than 40,000 state employees in Massachusetts have either attested to being vaccinated or applied for a religious or medical exemption. But state officials said 1,571 workers, about 4% of the executive branch employees, have yet to comply with the mandate, which went into effect on Sunday.
The administration says if state employees don't comply with the new policy, they could be fired. The state didn't provide a more precise breakdown of where the 1,571 employees work. But it said the workers could ultimately be fired if they don't show proof they are vaccinated.
"In the coming days, the Administration will work with the small number of employees not in compliance and implement progressive discipline if necessary," the administration said in a statement. When pressed for a more specific timeline on Monday, Baker told reporters: "After we've worked our way through the process."
Unvaccinated managers will get a five-day unpaid suspension before termination, and unvaccinated unionized employees will get up to 15 days of unpaid suspension before termination if they do not get the shot.
On Monday, Michael Cherven, the head of the State Police Association of Massachusetts, said his members have not yet heard when officers who fail to comply with the mandate will be fired. The Baker administration has said more than 90% of state police employees are in compliance.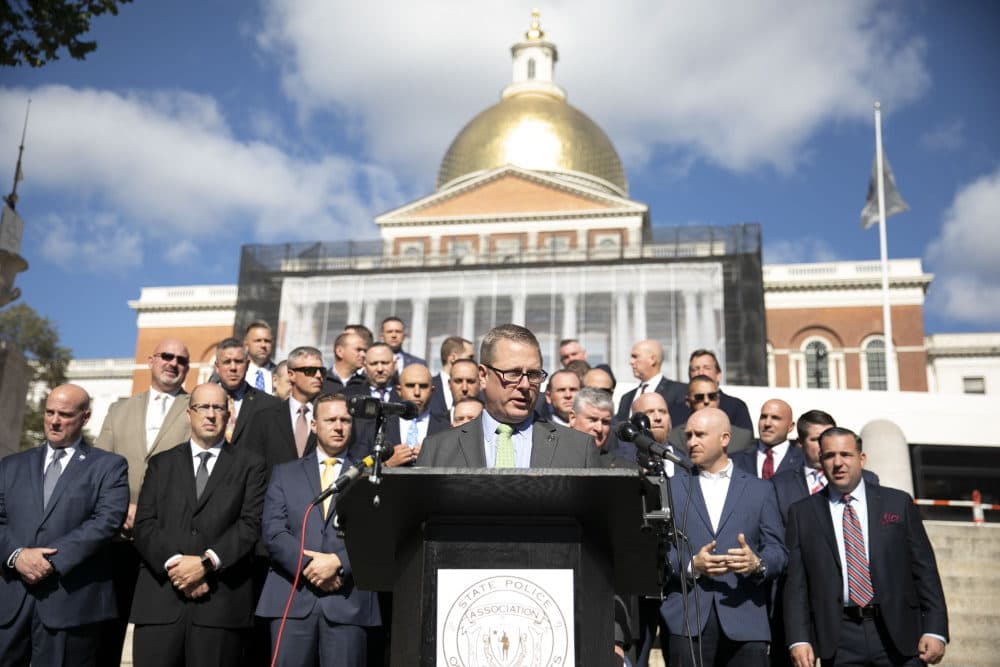 Labor unions representing both the State Police and Department of Correction have unsuccessfully gone to court to block the mandate. And union officials have expressed concern with the way the state has been handling requests for waivers.
About 40% of the state's unionized correction officers are not vaccinated, according to paperwork filed in the lawsuit from the Massachusetts Correction Officers Federated Union.
After a judge declined the correctional officers' request to block the mandate, MCOFU Executive Secretary Corey Scafidi posted a letter on the union website saying that there should "have been a more thoughtful approach to this disaster."
"Not inmates, nor support staff, vendors, attorneys nor visitors will be held to the same standard as you all," the MCOFU letter reads. "The Executive Board will continue to deliver our message that firing you is no way to thank vital first responders once hailed as heroes by this same administration."
The DOC says it is enforcing the mandate, but did not elaborate or provide number of correction officers who are not vaccinated. In a statement, the DOC said it "continues normal operations at this time with regular programming and services available to those within the Department's care."
State officials said they do not anticipate "any significant staffing shortages" due to repercussions from not complying with the mandate. However, Baker activated the National Guard to step in at correctional facilities if needed.
In Boston, acting Mayor Kim Janey recently ordered 18,000 city workers to either be vaccinated or be tested weekly. As of Oct. 15, the city said 541 employees were on unpaid leave for not complying with the new policy, about 3% of its workforce,  according to the mayor's office.
With reporting by the WBUR Newscast Unit and State House News Service
This article was originally published on October 18, 2021.