Boston's Chinatown, Hawaii through a native islander's lens, and funny artists on the docket at BAAFF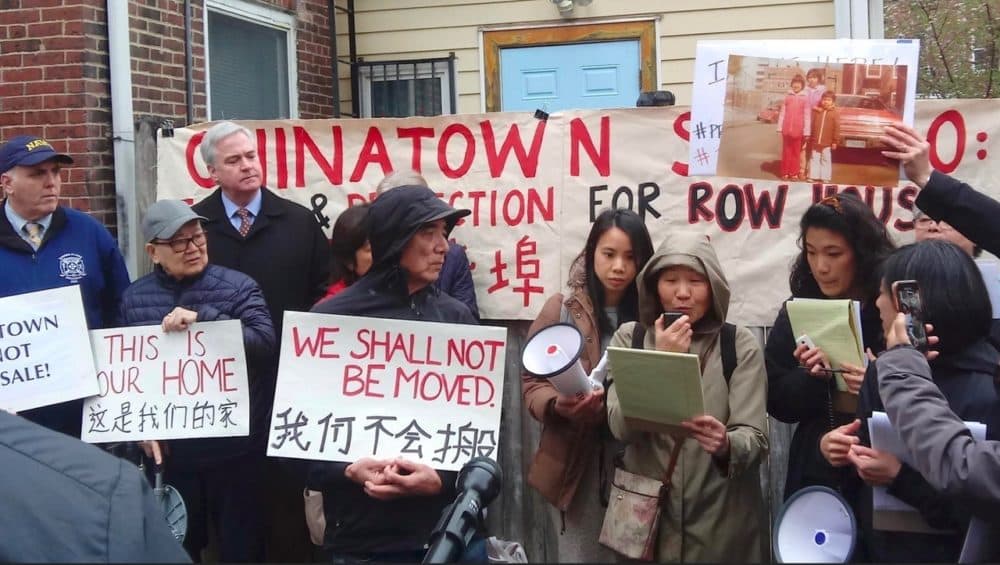 This article is more than 1 year old.
One segment of the Boston Asian American Film Festival's opening night film tells the story of the historical and cultural hub located just blocks from where BAAFF films typically screen. In the documentary "A Tale of Three Chinatowns," leaders from Boston's Chinatown, including Cynthia Yee, Paul Lee, Lydia Lowe, Tunney Lee (now deceased), and many others recount the neighborhood's past and describe its impact on their lives.
Over a string of archival photos, they discuss how waves of development, from highway construction to the creation of the "combat zone," disrupted their once insular community. Some recall that when brownstone doors led to the street, kids could easily find playmates and nearly all attended the nearby Quincy School. In the film, Yee says, "Every day around 2 you'd see a parade of fathers all going to work at the restaurants." Then on their days off, "they'd take us to 'our park.'" Only later did she realize the Boston Common was also a tourist attraction.
Boston's Chinatown could become just an attraction, or a location where Chinese Americans no longer live or work, warns several interviewees. At first glance, the footage of chain store signage in both English and Chinese may seem like an appealing cultural nod in Washington D.C.'s Chinatown. Yet, "the plan to preserve only involved facades," says UMass Boston professor Andrew Leong.
He calls for better policies in Boston and elsewhere to prevent what he calls such "Disney-fication." As a growing residential and commercial sanctuary for new immigrants and past generations of Asian Americans alike, the film offers Chicago as a hopeful counterpoint.
Over the summer, BAAFF leadership opted to keep New England's largest showcase of Asian American cinema entirely virtual, taking place this year from Oct. 20 through Oct. 24. "A Tale of Three Chinatowns" streams only on Wednesday, Oct. 20 and will be followed by a livestream Q&A with filmmakers Lisa Mao and Penny Lee.
Though challenging, last year's experience planning and hosting a film festival during a pandemic has come in handy, according to BAAFF founding director Susan Chinsen. "This year we know exactly. We have a formula. We can get it done," she says. Plus, streaming reduces the stress of a last-minute pivot. "Making a plan then having to change it is the worst," she says of event management.
While Chinsen anticipates resuming an in-person festival next year, she says this year's lineup of fiction, non-fiction, and short format films capture "a wide range and diversity at the core of who the film festival is."

One example includes, "Waikiki," the first feature film written and directed by a native Hawaiian. Chinsen says it was important to give this film a platform because "there's a huge conversation about Asian American and Asian Pacific Islanders being lumped together." Like "Three Chinatowns," Christopher Kahunahana's powerful debut also critiques capitalism and dispossession but through a fictional, hallucinatory weekend with a young Hawaiian, desperate to find her own place. (Streaming includes a director Q&A.)
Despite working three jobs, Kea (a commanding Danielle Zalopany) still can't afford to rent a room in Honolulu. But she needs to escape an abusive relationship. She accidentally crashes her van into a man who may or may not be a wanderer named Wo, a protective ancestral spirit, or a reflection of herself. Wo sticks around as Kea scrounges for cash in a wasteland of back alleys and concrete, shown in stark contrast to the island's inner waterfalls or in her flashbacks of she and her grandmother among ocean waves.
The interplay between the natural and manufactured — thoughtful and in no way overwrought — questions home, inheritance, and white persons' wealth with a point of view that went missing in the storylines of "White Lotus" and "The Descendants," also set in Hawaii. Original, well-crafted, and compelling, "Waikiki" started playing festivals in 2020 and hasn't yet, as far as I can tell, received its due. It's exactly the kind of film audiences might miss, if not for BAAFF.

The same could be said of the sideways and often funny documentary, "Who is Lun*na Menoh?" (It has an underdog spirit I've seen championed at Salem Film Fest and Newburyport Documentary Film Festival so maybe it will turn up again.) Ultimately, it's a biopic about an offbeat Japanese conceptual artist living in Los Angeles. But it's also more. And a bit less. The films-within-film approach effectively questions the relationship between artists, supporters, critics, and process but could've revealed more about how Menoh pulls off her elaborate exhibitions, both in terms of technique (she seems capable of anything) and woman hours. Of note is Menoh's brilliant decades long project of collecting and exhibiting dirty white collars. Here again, with "Who is Lun*na Menoh," BAAFF gives a deserving story a new platform. It closes the festival on Sunday, Oct. 24 with a Q&A with director Jeff Mizushima.
After BAAFF wraps up for 2021 Chinsen will resume programming the "Shared Stories" series, a collaboration with Roxbury International Film Festival (RoxFilm) and Boston Latino Film Festival (BLIFF). In fact, "A Tale of Three Chinatowns" played RoxFilm in June. Chinsen noticed the commonality with how it, along with "A Reckoning in Boston" (a past "Shared Stories" title), touched on the impact of Boston's housing crisis on people of color. BLIFF director Sabrina Avilés is currently working on a documentary that raises similar questions in Chelsea. Chinsen says she can't wait to one day screen these three films screen together.
"This is the reason why our film festival exists. To present films as art and to change the way people think about the world and each other," she says.
Boston Asian American Film Festival runs virtually from Oct. 20-24.