State encourages health centers to preorder pediatric COVID vaccines ahead of their approval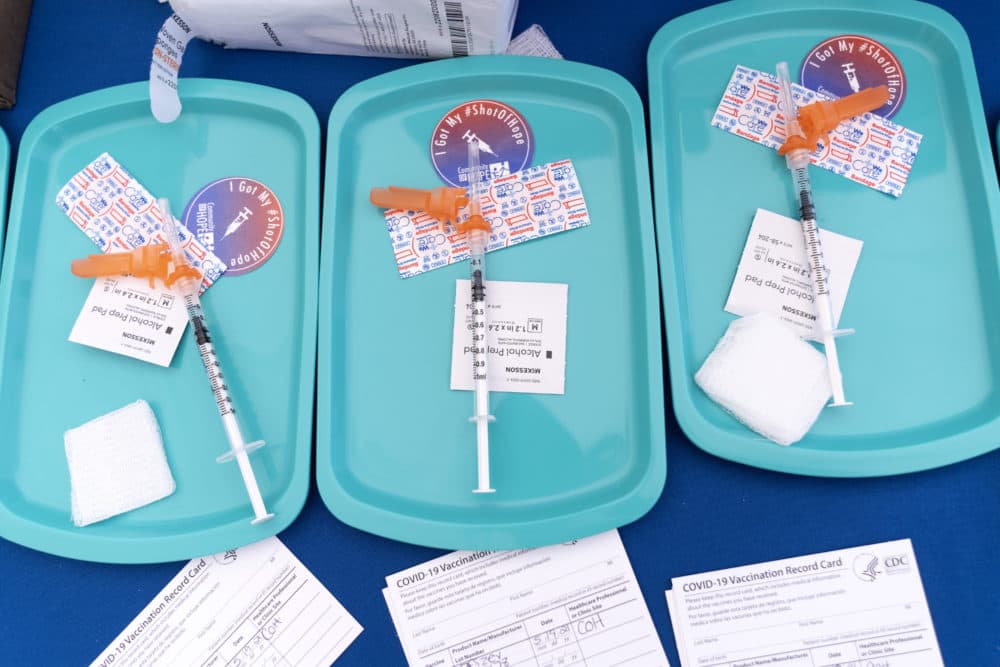 This article is more than 1 year old.
Friday is the state deadline for pediatricians and all other health care providers who care for children to preorder the pediatric COVID vaccine. The state is encouraging preorders in anticipation of the Pfizer vaccine likely becoming available for kids ages 5 to 11 in the coming weeks.
"We are getting ready," said Marylou Sudders, the commonwealth's secretary of Health and Human Services, at a legislative hearing on Thursday.
Sudders said, so far, 289 health care providers have submitted orders, including community health centers, mobile providers, hospitals and pediatrician offices. She said this group represents about 700 locations around Massachusetts.
The state expects that initial vaccine orders will actually arrive on or before the day federal regulators give their official blessing. However, shots will only be permitted after both the Food and Drug Administration (FDA) and then the Centers for Disease Control and Prevention (CDC) meet to assess the data and make a final determination to authorize the pediatric vaccine.
"Typically, you don't order the vaccine until the CDC weighs in," said Lloyd Fisher, a pediatrician and president of the Massachusetts chapter of the American Academy of Pediatrics. "But I know that there's so much interest in getting this vaccine out and administered as soon as possible that they're allowing this ordering to be done a little bit earlier."
Across Massachusetts, there are roughly 515,000 children ages 5 to 11 who would become newly eligible for the vaccine. This age group will receive one-third the dose that adolescents and adults are being given. The pediatric shipments will come in 100-dose boxes and each vial will include 10 doses. The minimum order is 300 doses. The vaccine can be stored at standard refrigeration temperatures for up to 10 weeks.
Sudders said she expects the pediatric vaccine will get approved sometime in the first week of November. Massachusetts' initial allocation of doses will be 360,000, with 180,000 going to retail providers and 180,000 going to health care providers.
Sudders said her goal is that, within 30 days, 90% of the pediatric doses sent to the state will have been administered.