Free transit had benefits but may not be sustainable, Worcester study concludes
A new report from the Central Massachusetts Regional Planning Commission revealed that the Worcester Regional Transit Authority outperformed most of its peer agencies in the state when it came to recovering ridership lost during the pandemic.
The finding comes after the agency offered fare-free service starting last spring, and is now considering other options as the policy is set to end in December.
The commission looked at bus ridership between April 2020 and June 2021 for 12 regional transit agencies in the state and found the WRTA averaged 67% of pre-pandemic ridership during that time, topping the other agencies — including the MBTA.
"I can't speak to being fare-free for the entirety of that period had an effect on that, but it is an interesting correlation," said Jack Narron, an associate planner at the commission.
The report also found that free fares offered benefits such as more equity, since there is no barrier to entry for riders, and faster boarding. However, one of the downsides the commission found is that foregoing fares long term could lead to big financial losses.
WRTA administrator Dennis Lipka estimates the loss in fares will cost the agency nearly $6 million by the time the policy ends in December. The agency has been relying on federal pandemic assistance to fund the program but would need additional help to continue it. When the free fare policy sunsets, Lipka hopes to reinstate fares and move the agency to a new fare payment system
"I think a new system would allow us to lower fares and make fares easier to pay and at the same time replace the revenue," Lipka said.
The idea of free public transit has become a significant issue in Boston's mayoral race.
Last August, acting Mayor Kim Janey implemented a pilot program to provide free service on the Route 28 bus, which runs from Mattapan Square to Ruggles Station. The pilot expires in November.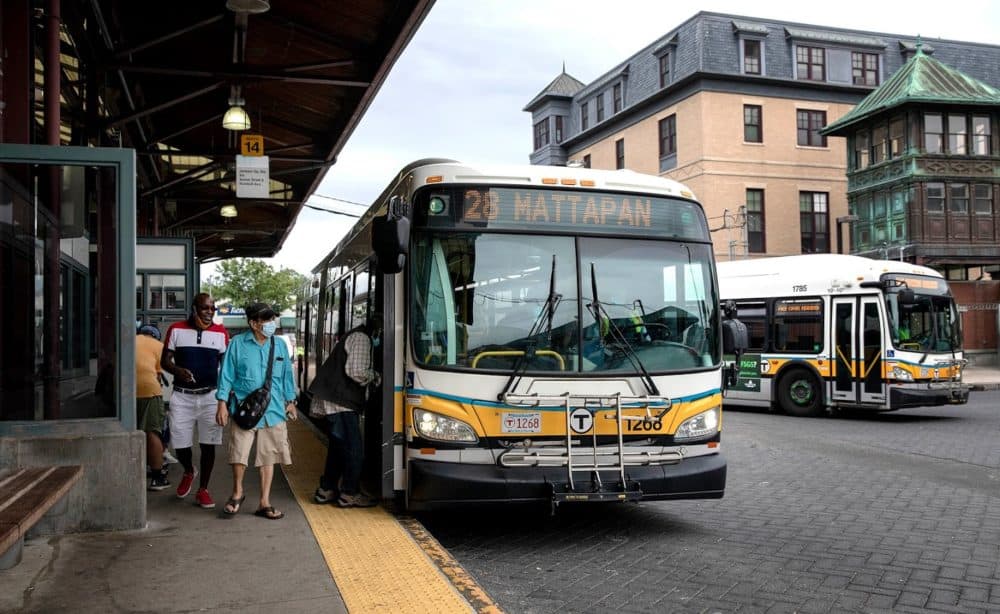 Mayoral candidates Michelle Wu and Annissa Essaibi George went head-to-head on the issue during a debate on Tuesday.
"Certainly we should look at several bus lines that connect some of our city's residents to the core, to opportunity," said Essaibi George, who has opposed the idea of broadly free public transit. "But to make the MBTA free, who is going to pay for that? That's a 2.3 billion yearly investment (…) it is unfair to ask the people of Boston to pay that price tag"
Wu, who has made free public transit one of her campaign platforms, rebutted.
"We're already paying the price tag for transportation that doesn't work," Wu said, "that leaves people stranded when our cars and buses are too crowded, or are not coming to the right places, or people can't afford it."