'Black Brew Dialogues' confronts the lack of diversity in Massachusetts' craft beer industry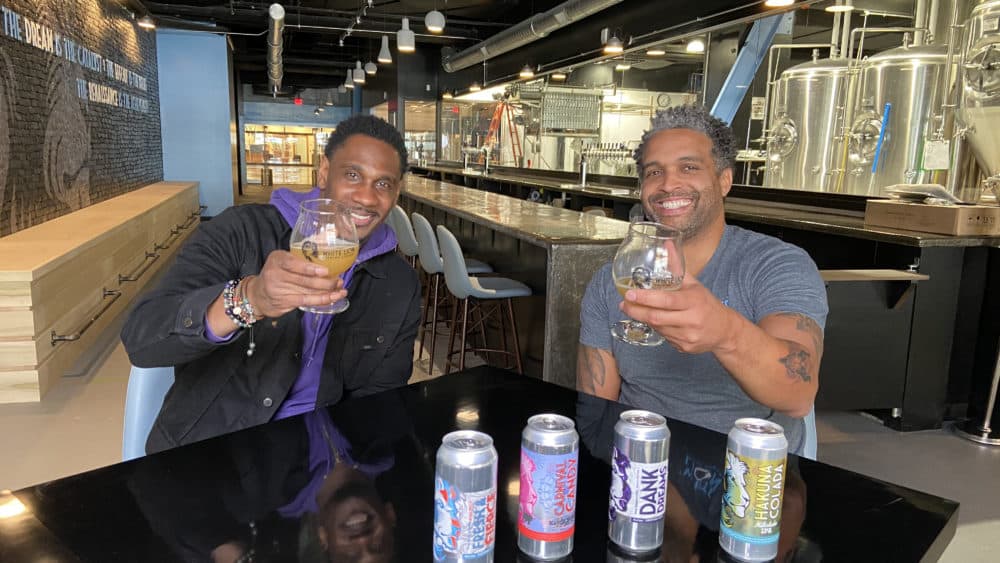 This article is more than 1 year old.
Like a lot of beer geeks, Collin Knight is on a mission to visit as many local tap rooms as possible with the goal of experiencing what's fresh. His favorite style is New England IPA, and he's been on the hunt for new hoppy variations over the past seven years or so.
But in 2019, after being invited to join the Massachusetts Brewers Guild's diversity and inclusion committee, Knight started thinking more deeply about the problems the organization was trying to address.
"I cared about beer first and foremost," he recalled, "and I kind of ignored those things that are always present within this space and me not necessarily feeling included."
Go to most any brewery and you'll see how white their spaces are — both behind and in front of the bar. With hopes of unearthing why that is, Knight pitched a new travelogue streaming series to the guild that he believes could spark conversations about why so many people don't feel welcome to either work or drink at local beer companies.
"It is called the 'Black Brew Dialogues,' but this is about all marginalized groups within the brewery culture," he said. "LGBTQ-plus, women, disabled people — we want to look at all of these different aspects because it's about diversity inclusion within the beer culture."
Knight hopes his travelogue concept will be a conduit for getting craft beer lovers and brewery owners to openly question why disparities exist across the industry – in everything from hiring practices, company culture and marketing. Through candid conversations he has faith the community can come up with strategies to do better, together, in the future.
The slickly-produced new pilot opens with Knight, who's long been an improv actor, setting up the premise.
"When I go to neighborhood breweries or breweries across the state, I can't help but realize that there's not a lot of people who look like me in these tap rooms," he tells his viewers.

Before heading to a brewery in Springfield, Knight speaks with Waleska Lugo-DeJesus, the CEO of Inclusive Strategies LLC, a company that helps businesses with diversity and inclusion efforts. She tells him about the city's history and contextualizes Springfield's current population, which is 40% Puerto Rican and 26% African American. Then Lugo-DeJesus reflects on the difficulties that come with trying to untangle how racism impacts integration in schools and at local business.
Knight acknowledges Boston's enduring segregation issues, and asks how breweries can make positive change. Lugo-DeJesus tells him companies of all kinds need to understand their communities, and it's no longer OK to just say they want to hire people of color but no one is applying.

Then Knight heads over the White Lion Brewing, one of about a dozen breweries in the state — out of 214 — founded by a person of color. He gets a tour with co-owner Ray Berry before they settle in to talk over a glass of beer.
"We do not label ourselves as a Black brewery," Berry said, "we are a brewery that happened to be started by a person of color. With so few Black and brown people in the trade, it easy for a conversation to 'define' the deficiency rather than have collective thought on how to address it. That's why it's rewarding to have the Mass Brewers Guild at the forefront of this evolving conversation."
The guild's executive director Katie Stinchon has been hosting programming and trainings to address inequities in the state's industry. She remembers back to 2019 when members began asking why there wasn't more diversity at their events.
"We were kind of just looking around the room and we were like, 'Wow, where were all the people of color?" she said, adding, "You know, when we look at the data that 80-percent of craft beer drinkers in Massachusetts are white — what can we do to move that needle and what can we do to be more welcoming?"
For Stinchon the travelogue represents a novel way to engage with brewery owners by meeting them where they are.
"I think it can be daunting for a business owner to think about taking on diversity inclusion efforts, especially if they're a small brewery in a rural area with maybe a handful of employees," she explained, "but there are incremental steps, there are small changes that you can make to build towards a more inclusive culture."

Sitting down to share a pint – as Knight does in the pilot with White Lion's Ray Berry – could help chats about uncomfortable subjects unfold more casually and feel less confrontational.
"We're able, for lack of a better term, let our hair down and just kind of have real conversations with each other," Knight said, "and kind of be honest with each other about how we truly feel. And that's what I wanted."
Knight recognizes that some brewery owners might not be motivated to take part in his "Black Brew Dialogues."
"If you're a big brewery already making a ton of money and, you know, it's white space, that white space is really about green," he said frankly. "So you have to be a different type of brewer and a different type of company to be interested in a show like this and to want to do the work."
"Black Brew Dialogues" was conceived before the Black Lives Matter movement ignited awareness of disparities across all industries. And the travelogue was in the works before Massachusetts brewer Brienne Allan's 2021 Instagram post ignited a reckoning in the global brewing industry by revealing endemic incidents of sexual harassment and racism.
Knight has high hopes for furthering the dialogue in productive ways. He and Katie Stinchon of the brewers' guild said they've talked at length about ensuring the travelogue does not come across as some sort of exercise in "cancel culture." Instead they want it to invite all perspectives to the table, including those of Black beer consumers who feel there isn't a place for them in the state's tap rooms.
"Black Brew Dialogues" is the first travelogue produced by the brewers guild. You can find the pilot on HopForwardEquality.com.