The Brattle and Coolidge Corner celebrate femme fatales and doomed detectives with 'Noirvember' film series
This article is more than 1 year old.
It's a month to give thanks for cigarettes and chiaroscuro lighting, for sardonic voice-overs and unhappy endings, for doomed detectives and frisky femme fatales. November is "Noirvember" at the Brattle Theatre and the Coolidge Corner Theatre, with both venues celebrating some of the most stylish and cynical crime pictures ever made. If you like watching hard-boiled, heartbroken guys getting played for patsies in smoky rooms with ceiling fans and Venetian blinds, these next few weeks are an embarrassment of riches, with a total of 20 terrific noirs screening between the two cinemas.
Throughout the month, the Coolidge is devoting their primetime evening Big Screen Classics slots to 1950s favorites like "Kiss Me Deadly" and "In a Lonely Place," alternating with the Coolidge After Midnite's exploration of the 1990s neo-noir revival, including VHS-era staples "King of New York" and "The Last Boy Scout." The Brattle is spending Thanksgiving week on the 75th anniversary of 11 films from 1946, an exceptionally robust year for film noir that included "Gilda," "The Blue Dahlia" and "The Postman Always Rings Twice."
Earlier this summer, local Arts Fuse critic Gerry Peary was conducting a Facebook poll of the best American film noirs, asking his colleagues for ranked ballots of their favorites. As I am apparently the only movie critic in the world who hates making lists, I was completely flummoxed by Professor Peary's assignment and told him to "just put 'Touch of Evil' down ten 10 times." Orson Welles' mutilated 1958 masterpiece was hailed by the French critics of "Cahiers du Cinéma" as the greatest B-movie ever made, and a perfect choice to kick off the series at the Coolidge on Tuesday, Nov. 2.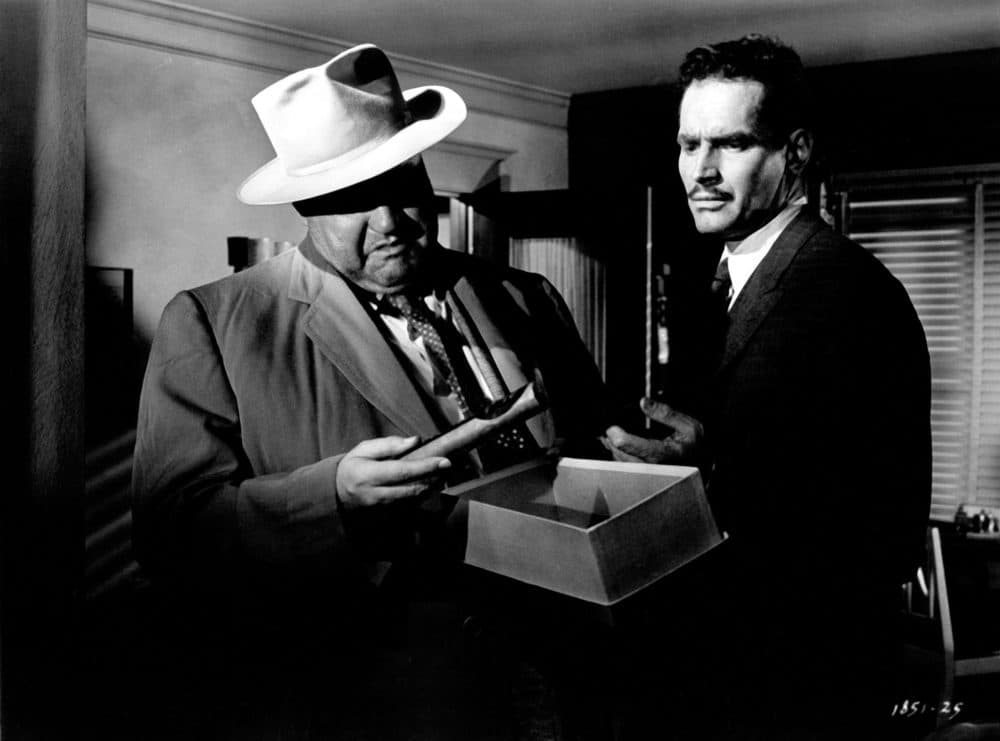 Welles' characteristically contentious return to Hollywood after 10 years in European exile was originally supposed to just be an acting gig, playing crooked police captain Hank Quinlan opposite stalwart star Charlton Heston in an adaptation of the Whit Masterson potboiler, "Badge of Evil." Heston cajoled the studio into letting Welles direct as well as rewrite the script, transforming a standard cop picture into a freewheelingly baroque meditation on moral ambiguity, featuring some of the most astonishing cinematic technique since "Citizen Kane." There may be better movies than "Touch of Evil" but few are so thrilling to watch, as Welles and cinematographer Russell Metty's low-angle, deep focus photography and extravagant shadowplay turn the dime-novel plotting into a phantasmagoric pulp circus.
Often imitated but never topped is the dazzling, three-and-a-half-minute single-shot opening sequence following a car with a bomb in its trunk crossing the U.S.-Mexico border, setting all the characters and storylines in motion with a swaggering showmanship that rightly became the stuff of legend. Less talked about is a shot later in the film that runs twice as long, a motel room interrogation covering 12 pages of dialogue with eight or nine actors choreographed in such intricate fashion that as they move around in front of the camera they create a full variety of two-shots, wide angles and closeups without any editing required. It was the first scene Welles filmed on the first day of production, hoping to keep meddling studio executives off his back by being three days ahead of schedule after shooting a single scene. It worked, for a little while.
Heston notes in his autobiography that Welles was wonderful with actors and technicians but seemed to go out of his way to antagonize the executives. And in Hollywood — just like everywhere else — the suits always win. The studio re-cut "Touch of Evil" against the director's wishes, banishing it to the bottom half of a double bill with Hedy Lamarr's "The Female Animal." But the French were onto it right away, with young punk jurors Jean-Luc Godard and François Truffaut naming "Touch of Evil" the best film at the 1958 Brussels World's Fair. Welles never made another movie in Hollywood again.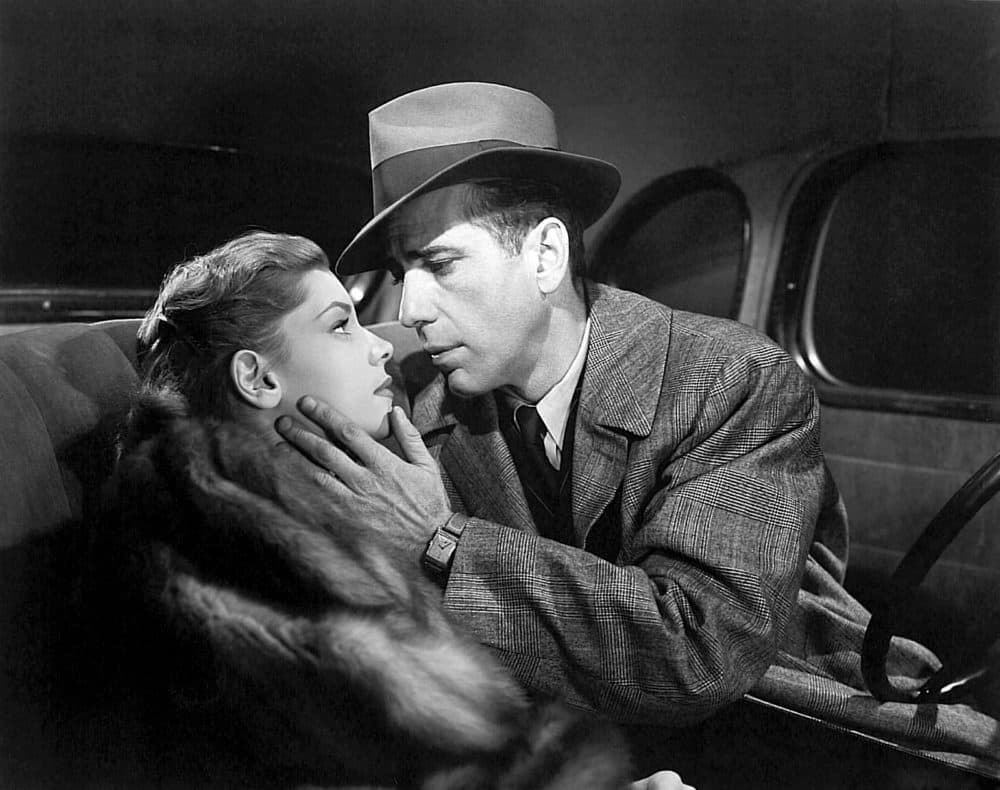 The great noirs run almost entirely on atmosphere and charisma, with the details of their plots falling pretty far down the list of what's important about these pictures. I suppose I could explain exactly what happens in "Touch of Evil" if I had to, but there's no way I could tell you what the heck is going on in "The Big Sleep," director Howard Hawks' absurdly entertaining adaptation of Raymond Chandler's first Phillip Marlowe novel. A tale of bad girls and blackmail, the Brattle's Thanksgiving Day treat was famously re-worked in post-production, with a lot of story stuff scrapped and additional flirtation scenes filmed to capitalize on the white-hot chemistry between stars Humphrey Bogart and Lauren Bacall. With banter like this, who cares whodunit? On the set, Hawks and company were parsing out the mystery and became baffled as to which character could have killed the chauffeur. The director sent a telegram asking Chandler, who famously confessed that he had no idea. If the guy who wrote the book isn't going to be troubled by such trivialities, I don't see why audiences should worry.
An overlooked gem closing out the Coolidge After Midnite lineup, director Kathryn Bigelow's 1990 psychodrama "Blue Steel" stars Jamie Lee Curtis as a rookie NYPD flatfoot who becomes an object of obsession for a Wall Street gun nut (Ron Silver) whose life she saves while foiling an armed robbery. Released the year before "The Silence of the Lambs" and "Thelma and Louise," Bigelow's dreamy expressionism baffled multiplex audiences who had no idea how to process such a firm, feminist statement dolled up in slick, genre movie duds. It's Bigelow's most autobiographical film, bluntly confronting the struggles of a woman in a male-dominated profession, while also keying into the "Zero Dark Thirty" director's career-long obsession with abuses of institutionalized power. The film's cobalt fetishism is a nifty modern analogue to '40s filmmaking conventions, all long shadows and gleaming shafts of light, with character names like "Nick Mann" that could be out of an old detective paperback. "Blue Steel" works according to the anxious nightmare logic of the darkest early noirs, that strangely comforting sense of impending doom.
"Noirvember" runs from Nov. 2 through Nov. 30 at the Coolidge Corner Theatre and from Nov. 19 through Nov. 25 at the Brattle Theatre.