Meet theo tyson, the MFA's new fashion curator
Growing up in Germany, Georgia, South Carolina, Texas, California and Alabama, theo tyson learned quickly that fashion was both a way to assimilate into a culture, and mark your unique identity.
"When I was in Germany in middle school, I'm wearing shiny shoes, harem pants. When I got to the States, I was just weird," tyson says with a laugh.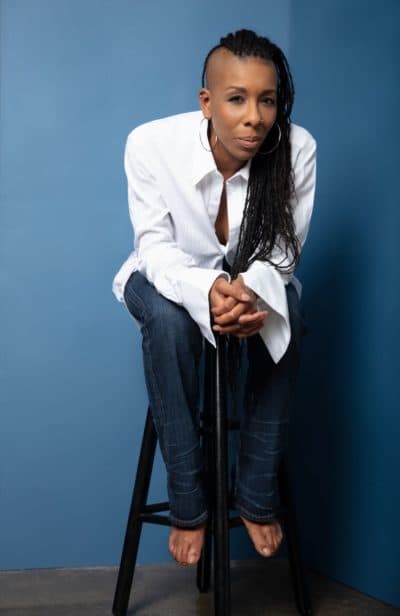 tyson began their new role as the Penny Vinik Curator of Fashion Arts at Boston's Museum of Fine Arts this week, where they hope to engage people who may have never stepped foot into a museum, to inspire all people to engage with the arts.
They had a winding path to the MFA. After earning a business management degree from Alabama A&M University, tyson worked in capital wealth management, automotive customization and restoration, in retail for Bloomingdale's and Victoria's Secret. They owned and operated trinity productions, an event production and experiential strategy company specializing in fashion show production.
"Fashion is, by default, an inclusive space," tyson says. "I don't want people to think they need to have a Ph.D. or be a rocket scientist to engage with fashion art, or the arts as a whole"
They give off a cool professor vibe. They're down-to-earth, self-depreciating, funny — really, funny, actually. They don't want to be seen as the archetypal academic museum authority figure, though. They don't like the word "lecture." ("I don't want to present myself as an authority. That plays too much into this patriarchal idea of authority.")
"Museums fully need to be decolonized. We all belong in these spaces. Showing up for myself also means showing up for other Black folks, other queer folks, others that aren't well-versed in the canon," tyson says. "We need to be more relatable and dismantle the siloed view of curators, and understand we all have something to offer."
---
Lauren Daley: How did you get into fashion curation?
theo tyson: I've always been into fashion, but not curation or museums. My beginning is in retail — from Victoria Secret's to Bloomingdales — working with people who wore the clothes versus the theories behind why they wore them.
Then in 2016, my partner at the time asked what I wanted to do for my birthday. I said, "I want to go to Savannah to see the Vivienne Westwood exhibition." She was not into museums, just FYI. She was like, "OK, if that's what you want to do."
We went to SCAD Museum of Art. I was standing in front of a hand-pieced macrame masterpiece embroidered with these beautiful Swarovski crystals, and the light hit it — I had a big crocodile tear. I was just staring at it, thinking: "I don't understand what's happening right now, but I need to figure out how to do this."
Wow.
So I decided to go back to school at Savannah College of Art and Design. I went back to school after not being in school for a while, we'll put it that way. I was nontraditional. I was like, "Where are the No. 2 pencils and scantrons? What's happening?"
[laughs] Right.
Art history was a requirement. I had a wonderful professor, Emily Webb. She pulled up a picture of the painting "Madame X" by John Singer Sargent.
Other students were talking about composition, paint-strokes. I said, "I don't know that language — but I do know there's a dress, and the way she's wearing it means this." It was my point of entry. It was self-discovery and learning new languages. Fashion is a language.
How did fashion speak to you through that painting?
I understood Sargent was trying to show a sense of status — the draping, the neckline, the waistline, the bodice. The decision for Madame X to wear that dress, the decision Sargent made in painting it — those are the things I'd seen in real life. It's what I call "The Fitting Room Chronicles" — I've experienced this with people at Bloomingdale's. When you're standing in the fitting room with someone in their skivvies, and they're telling you what they want to put on their body, they're telling you who they want to be. Fashion is armor. It's what we put on to protect ourselves and present ourselves.
It's fascinating how fashion plays into identity.
I don't even know if fashion plays into our identity — it performs our identity for us.
Good point. And has it always been this way since the dawn of fashion?
Oh my god, yes. We don't even have enough documentation to support how fashion has impacted our current lives and how much it should be a part of not just history, but historiography.
What do changing styles say about our culture? The way a hemline might rise, or when women started wearing pants?
Or men stopped wearing heels.
Exactly.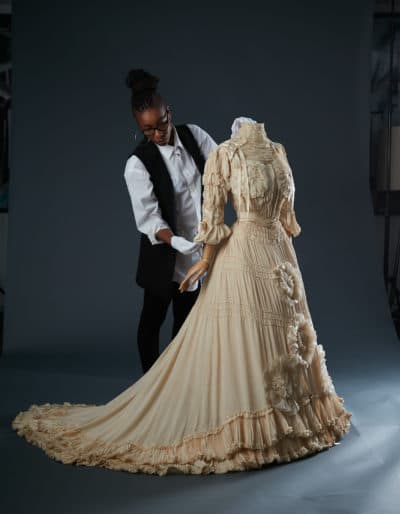 It's a power play. And I won't bore you with my full-on soapbox about white heteronormative patriarchy...[For example] there's a whole conversation on pink and blue — pink used to be the most masculine color.
My time at the Boston Athenæum was spent studying 19th-century photography, specifically, looking at the way Black women self-fashioned for a sense of humanity and equity. Fast forward to the 20th and 21st centuries: we have T-shirts that say "f--- the patriarchy." Fashion as a way to communicate — not just your personal identity, but your public identity, your political identity — still stands. From miniskirts to not wearing a bra, to women wearing suits, men wearing skirts. All of that culminates in that idea of the power fashion has.
I didn't know pink was once seen as masculine.
Strange, right? Or that men used to wear heels, and powder their faces, put rouge on their cheeks. We can see all of our quote-unquote forefathers in wigs. It's like, 'Dude, what are you doing?'
[laughs] What do you think of when you get dressed in the morning?
How do I want to be perceived? How do I want to be received? Because those are two different things. I can tell you what I wore to my interview at the MFA. I wanted to present myself as professional, as qualified in respect to having knowledge of fashion and art. I also wanted to present me.
I wore a black-on-black camouflage tuxedo suit, a white Edgar Pomeroy couture shirt with French cuffs. I did not put in cufflinks, so the cuffs hung down past my fingertips. A black tie from Target, and a pair of Christian Dior black and white Spectators. Braided my hair into a mohawk. It was an armor.
Do you always tend to wear all black or white?
Always. My personality is colorful enough.
What I'd like to do in this role is to show that assimilation isn't a denial of identity, it's a reclamation of humanity. I get to wear these clothes because I get to be whoever the f--- I want to be.
What's the first show you have planned?
Oh, you can't ask me that. [laughs] I have 20 shows in my head...
For the MFA to essentially show up for me is huge. A woman — Myriam Negron — worked in HR at the MFA; she has since retired. I remember being on the phone for the official job offer. She told me, "This is my last day at the MFA. You are my legacy hire."
Wow.
I'm going to try not to get emotional. For her to acknowledge that my participation in fashion had the potential to create a legacy, had the potential for change — I'm choked-up. What do you do with that? You do the best you can. You invite everyone in. Because a legacy is what you leave behind, an offering for others. We're doing it in a way that embraces queerness. We're doing it in a way that embraces blackness. We're doing it in a way that embraces inclusivity and intersectionality at its core.
Interview has been edited and condensed for clarity.