Wu promises changes to Boston's strategy on tent encampment and special court session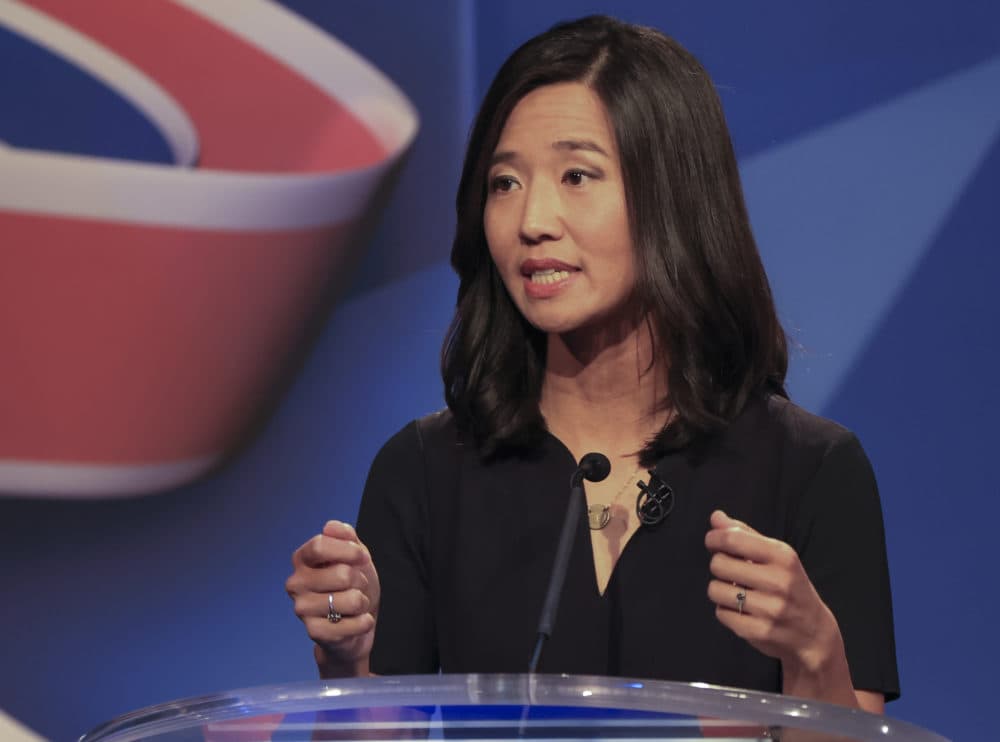 This article is more than 1 year old.
Michelle Wu, the mayor-elect of Boston, says she will make a few changes to how the city is handling the tent encampment at Massachusetts Avenue and Melnea Cass Boulevard.
Speaking after a meeting at city hall, Wu said the so-called "Mass. and Cass" area, where the city has begun a campaign to clear tents and debris from streets and sidewalks, is a "top priority." It was the subject of her team's briefing Thursday with city departments as she prepares to take office in less than two weeks.
Among the potential changes she is considering is how people are brought to the new special court session operating inside the Suffolk County jail. The court began operating this week to process people who have outstanding criminal warrants and frequent the tent encampment.
Wu said she is looking into reports that Boston police arrested a woman who was in a line for methadone treatment Wednesday and brought her to the court. Wu said the so-called "Community Response Court Session" should help people get services, and she believes no one should be arrested while waiting for treatment.
"That would be unacceptable," Wu said. "There is a clear understanding from the folks who were at the table today that this is not something that should ever happen."
The mayor-elect also said her administration is looking into the scope of the court session, and how it might address outstanding warrants from jurisdictions outside of Boston. Boston Municipal Court Judge Paul Treseler, who oversees the session remotely, ordered four of nine people processed this week to remain in custody to deal with warrants from other communities.
While she expressed concerns about the special court session, Wu said she does not expect to make significant changes to the tent removal process recently outlined by acting Mayor Kim Janey. That process involves notifying people before tent removals, offering to store their belongings and removing tents only when those living in them can be offered shelter.
Wu promised to make housing a priority and said she is working with the state and other communities to create more transitional housing for people with substance use and mental health issues.
"What we know has worked in the past is when individuals are connected to transitional housing," Wu said, "whether that is through vacant hotel rooms that are repurposed and wrapped around with medical and public health services, or in buildings that can be retrofitted to have more of a hotel or apartment-like setting."
Wu, who takes office Nov. 16, said she is working to quickly hire a "Mass. and Cass" chief to oversee efforts in the neighborhood.