Workers in Lynn call for more local investment as GE prepares for major split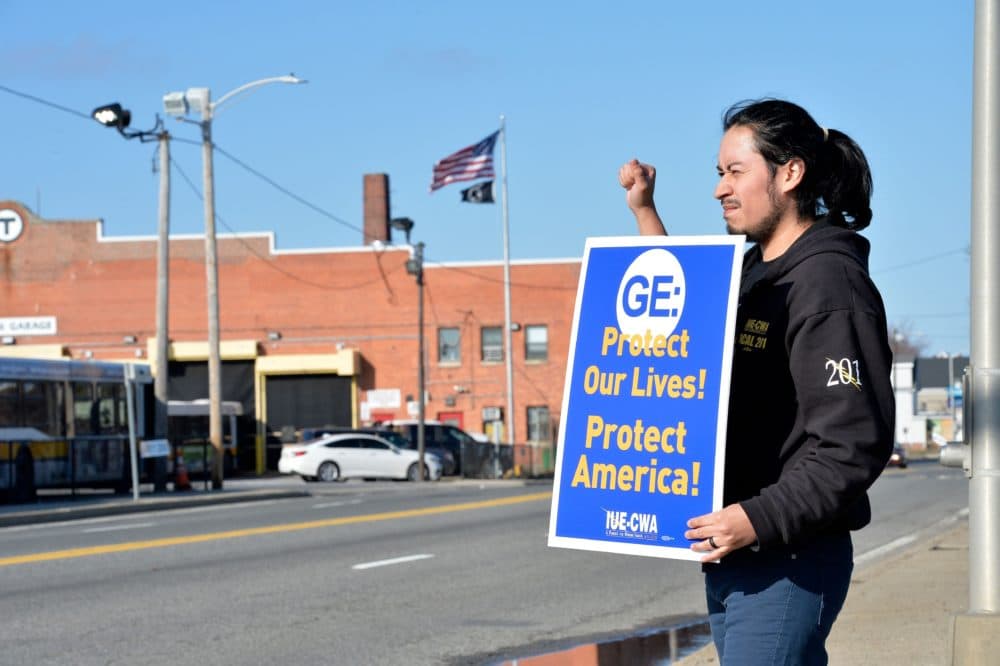 Union workers at GE's jet engine plant in Lynn are calling on the company to make more investments in the facility as the Boston-based conglomerate plans to split into three separate companies.
GE announced last week that it will spin off its health care and energy divisions, and keep aviation, it's most profitable division, under its name.
The company touts the facility as a vital site, but engine mechanic Jeff Cruz said he and his co-workers are uneasy about the change.
"We're definitely nervous, because we don't really know what it's going to mean for us yet," he said.
Adam Kaszynski is the president for IUE-CWA Local 201, the union representing workers at the Lynn facility. He said the union workforce has dwindled from 13,000 members in the 1980s to 1,175 today. In all, about 2,500 people currently work at the Lynn plant.
As the workforce shrank, he said, GE outsourced work away from the factory. A GE aviation spokesperson said the company has hired about 500 employees in Lynn since 2017 and is looking to bring on more people.
The company also said it has invested more than $70 million in the Lynn facility since 2017, and is on track to add another $30 million by the end of this year.
Kaszynski said the union hopes GE's announcement "leads to a deeper conversation with GE and with the union and with local politicians" to bring more investment to Lynn.
"We're at a crossroad for the future of our plant," Kaszynski said. "And without investment in our 100-year-old plant, things will keep going the way they have been, which is overseas and outside of Lynn."
This article was originally published on November 15, 2021.