Traveling this Thanksgiving? Here's what to know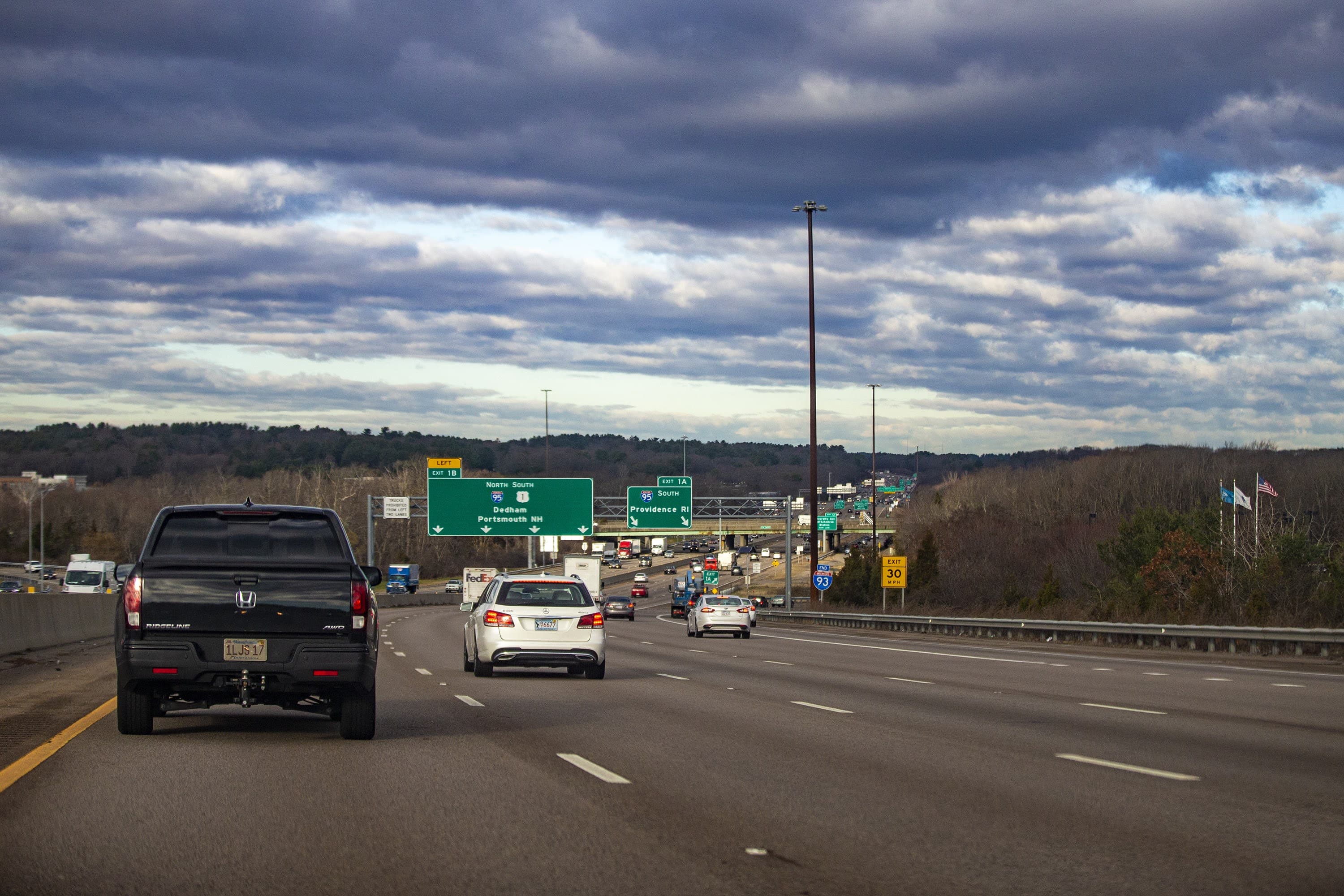 This article is more than 1 year old.
Massachusetts roadways and airports will soon be stuffed with Thanksgiving travelers.
Travel projections for this year's holiday aren't quite back to pre-pandemic levels — but they're close.
AAA Northeast forecasts over 1.2 million Bay Staters will travel for Thanksgiving 2021. That's up more than 15% from a year ago. And most of those people will drive rather than fly (excluding President Joe Biden, who will reportedly be jetting off to Nantucket).
Millions of state residents begin their travel with a tool we didn't have last year: tried-and-true COVID-19 vaccines (and now, boosters to boot). That means gatherings and group celebrations are much more feasible — and as a result, more people will be striking out to enjoy them.
Even though it's a far cry from 2020, when Gov. Charlie Baker warned residents to celebrate Thanksgiving only with the people within their households, officials say they're growing more leery of another possible holiday surge.
It remains to be seen how rising case totals will affect residents' plans. For now, more people on the move means more travel headaches. As Massachusetts Transportation Secretary Jamey Tesler put it, "When roadways and public transportation are crowded, trips will simply take longer."
Here are some tips if you're planning to leave home for Thanksgiving.
If you're driving
Even armed with better immune systems (if fully vaccinated) and fewer travel restrictions, many people may still feel most comfortable behind the wheel of their own car.
If that includes you, take note: Wednesday will be very busy out on the roads.
"Tuesday evening is also a very busy time on the Mass Pike and on other busy roadways throughout the Commonwealth," says Mary Maguire, a spokesperson for AAA Northeast.
To help mitigate traffic, MassDOT will suspend construction statewide from 5 a.m. Tuesday, Nov. 23, until 9 p.m. Monday, Nov. 29. The department will also extend hours for the high-occupancy vehicle (HOV) lane on I-93 between Boston and Quincy:
2 p.m. to 7 p.m., on Tuesday, Nov. 23
1 p.m. to 7 p.m., on Wednesday, Nov. 24
You can of course use your preferred travel app to monitor traffic conditions and adjust plans accordingly. MassDOT has its own official traffic app, and you can also dial 511 for the latest state updates.
"There's no point in sitting in a backup if you can delay your departure a bit and have smooth sailing," Maguire says.
Massachusetts residents have been facing steep prices at the pump lately. Maguire suggests shopping around for the most competitive gas price and topping up your tank before you skip town.
New England weather can also turn on a dime, so make sure your car is ready to handle any conditions.
One more issue out on the roads this time of year? Impaired driving.
"We do see a tremendous increase in the number of crashes and fatalities on busy holiday weekends — the Wednesday before Thanksgiving, very dangerous, especially when it comes to impaired driving. So make sure that you're really putting safety top of mind," Maguire says.
State alcohol regulators say starting on Tuesday there will be random rules-enforcement checks at bars across Massachusetts. The Alcoholic Beverages Control Commission's "Operation Safe Holidays" will focus on establishments that have previously been the last to serve a convicted drunk driver. (The program runs in conjunction with a similar federal program underway from Thanksgiving Eve to New Year's Eve.)
If you're flying
If there's one thing you should expect while flying this holiday, it's other people — and lots of them.
Airports nationwide are gearing up for huge booking increases compared to last year's pre-vaccine Thanksgiving. Reopened international borders also mean busier terminals compared to 2020. And across the board, flying is just different than it was before the pandemic.

Massport expects upwards of 900,000 people to pass through Logan Airport heading to and from holiday destinations. Massport Director of Aviation Ed Freni says there are a lot of new flyers at Logan this year, especially families.
"Be patient, take your time, be prepared when you come here," Freni says. "We have people that will assist you through the terminals. We just want you to relax and be prepared as you go through the different processes of check-in and at [the] TSA checkpoint and boarding the aircraft."
Maguire says the day before the holiday tends to be the busiest for flying. But there are ways you can use technology to keep your trip on track.
"Make sure that you've signed up for the email and text alerts that your air carrier provides, and make sure that you've downloaded your carrier's app, so that if you do need to make a change at the last minute, that may be the quickest way to make that change," Maguire says.
Maguire recommends giving yourself even more time than you would for a non-holiday flight. (In general, TSA suggests arriving two hours before domestic trips, so you could use that as a baseline.)
The TSA website also walks through which items can and can't come with you on board, including certain holiday foods.
A last reminder: plan to grab that mask. Under federal regulations, face coverings are still required inside airports as well as on flights. If you want an extra layer of pandemic protection, you can pay to get a COVID test right at Logan. That's available at the Terminal E arrivals level and Terminal C's departure level. (Here's where to book an appointment.)
With reporting from WBUR's Dave Faneuf and Fausto Menard

This article was originally published on November 19, 2021.