6 holiday markets to find creative presents on the spot
The holidays are upon us! Whether you're interested in buying a gift for a loved one or simply wish to have a celebratory day out with friends, December is a time for festivity. Greater Boston is home to a number of winter markets where you can peruse, be amused, and explore. We've highlighted some of the most spectacular and vibrant ones in the area, so stop by a stall, pick up a snack, and take in the revelry and mirth around you, a feast for the eyes and ears.
Postponed. (We'll update this post when the market has been rescheduled.)
If you're looking for unique and unusual artwork, consider Cambridge Arts Holiday Market. The pieces for sale, such as jewelry made from watch pieces or computer parts, are made locally in Cambridge. In addition to finding treasures like framed origami and books of poetry, you can admire handmade soaps, quilts, ceramics and postcards designed by a cartoonist. All the creators must either be Cambridge residents or work there, so the connection to the city's community makes this market distinctive. The fair, featuring many nontraditional holiday items, is hosted by the Cambridge Arts Council, and it was created in part to support neighborhood artists, according to director of Community Arts Deena Anderson. Visitors do not need to worry about supply chain issues, she said, as everything is carefully crafted in town.
---
Through Jan. 30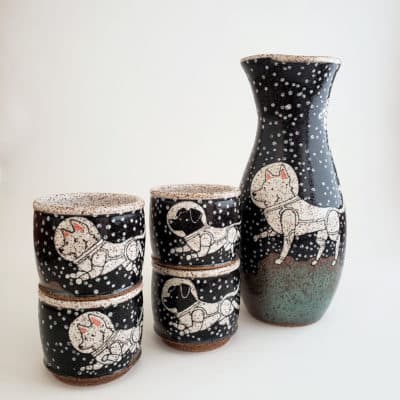 You can admire (and shop!) the art without setting foot outdoors through CraftBoston's holiday offering, now returning for a second online stint. Nearly 90 makers – both upcoming and established – are highlighted by New England's premier juried craft show. Rhode Island ceramicist Ian Buchbinder has created joyful ceramics that lovingly depict animals in astronaut gear, displayed on mugs and sake sets. You can see the work of Natick's Stephen Strout, who makes detailed food presentations and cutting boards, while Somerville's Ruchika Madan fashions clay tiles that draw inspiration from natural patterns and textures. The show will also include educational and entertainment programming, such as demos, conversations with the artists, and workshops where viewers can learn techniques. Nearly 90 artists will be featured, with works ranging from home décor, to wearable textiles, to sculptural works. The exhibition is curated by jurors who look for examples of the highest quality of fine craft in each field.
---
Through Jan. 2
When the season turns to winter in Boston, the Boston Seaport transforms into Snowport, a frosty wonderland that first launched in 2019. Snowport features outdoor games to enjoy in the cold weather, such as curling, light-up bocce, and life sized versions of Battleship, Jenga, and more. Worth visiting is the outdoor, European-style market, featuring 60 local makers, selling apparel, accessories, toys and games. You'll find classic puzzles, hand blown glass artwork, and handmade ornaments that can be personalized. Try a Belgian waffle, over the top hot chocolate with add-ons, or a glass of mulled wine. Tuscan Kitchen's wood burning oven will be on site, producing pizzas, calzones and paninis, while Breezy Hill Orchard will serve hot apple cider, gingerbread cookies and doughnuts. Come by on December 3 for Light Up Seaport, when a giant Christmas tree will be lit and the Boston Children's Chorus will perform songs.
---
Dec. 5, Dec. 19
Making a comeback since the pandemic shutdown of last year, the Somerville Flea Holiday Market has you covered when it comes to vintage clothing, housewares, prints and posters, bath and body items, and a plethora of other goods. Owner Greg Ghazil said that this market is similar to the outdoor Somerville Flea, only that it has a slant towards the holidays. Having originally been held in a small warehouse in Union Square, in 2012, the market has since been hosted by the The Center for Arts at the Armory on Highland Avenue. The energy, according to Ghazil, is meant to be laid-back, creative, and cool. The venue's café will dole out sandwiches, coffee, salads, cookies and other lunch items. If you head over this winter, you can find an antique, or other artisan creations, such as pottery, woodworking pieces, jewelry and leather accessories.
---
Dec. 3-Dec. 12
The SoWa district is known for its arts and design community, and this year's winter festival will be injected with a healthy dose of creativity. Venture into the Power Station on Harrison Avenue, and you will enter an evergreen forest, where you can pick out a tree to take home. The festival offers a full shopping experience, with 105 local art and food vendors. At the Brasserie Café Counter, you'll find a French inspired menu, featuring crêpes and stews. The Artist Loft Lounge, decorated to feel homey and inviting, is a place where you can sip a cocktail and book a portrait session with a local photographer. Outside, in the Winter Wonderland, there will be food trucks and fire pits where you can settle down with a beer from Jack's Abby Beer Garden. And of course, when you stroll down Thayer Street, a pedestrian-only walkway, you'll be able to visit studios, showrooms, and galleries, while taking in some brightly lit holiday window displays.
---
Weekends, until Dec. 19
In Central Square, Starlight Square has been home to Popportunity, an economic development initiative created by the Central Square Bid and Flagg Street Studio, on weekends. The 13 businesses there truly run the gamut, and shoppers can pick up fabric and clothing from Senegal, coffee from Ethiopia, and hand painted animal figurines. There is something for everyone, with independent retailers selling art, home goods, clothing, and vintage wares. The market celebrates global foods and exciting flavors, with vendors such as Barry Hot Sauce selling kitchen ingredients and Mumu's Pikliz offering Haitian condiments. Jamaican food is being served, but visitors are encouraged to dine at restaurants on their outdoor patios. Meanwhile, there is a great amount of public art to be enjoyed, with over 30 murals displayed throughout the district. With holiday music playing in the background, the market has a fun and family friendly feeling to it and is sure to brighten up the season, while we all see the first fall of snow.