Ryan Landry and his Gold Dust Orphans return to the stage with 'A Grinchley Christmas Carol'
Last year, at about this time, playwright Ryan Landry was not chatting up something he'd been presenting every year since 1994: A comical, outrageous Christmas-themed musical at a Boston club. With 2020 being the year of the COVID-19 lockdown, Landry had retreated to an earlier, solitary passion: painting.
This year, as the pandemic has lessened and venues have opened, he fired up the playwrighting juices. Landry and his troupe, the Gold Dust Orphans, will stage "A Grinchley Christmas Carol" Dec. 2-19 at the Iron Wolf Theatre, a 265-capacity venue within the Lithuanian Club in South Boston. It's directed by Gold Dust veteran Kiki Samko. Some of the characters are in drag, some not.
It is, of course, Landry's twist on the classic Charles Dickens short story, one twist being that it marks the return of one of Landry's popular long-running characters, Mrs. Grinchley. She is to Landry what Madea is to Tyler Perry. Landry says she's appeared in seven or eight of the holiday musicals he's put on since 1994's "How Mrs. Grinchley Swiped Christmas." If, for a moment, you thought that Landry might have cleaned up his act to appease the censorious tenor of these times, well, perish that thought.
"Absolutely not!" Landry says on the phone from his Provincetown home. "I would never in a million years. No one's going to make me feel shame for having fun. I think this whole new movement is just neo-Puritanism. There are not many layers to this thinking — 'Our way or you're out!' It's going to bite 'em in the a--, but right now they're having their fun so let them have their fun."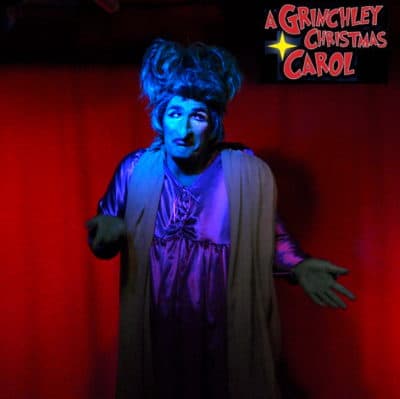 Landry is a film buff and often draws from movies or movie characters to construct his musicals. Other Christmas outings include "Joan Crawford's Christmas on the Pole," "Who's Afraid of the Virgin Mary?" "Silent Night of the Lambs," "A Nightmare on Elf Street" and "Christmas on Uranus," the last production in 2019.
For this show, Landry says, "I follow the line of 'A Christmas Carol' but with the Grinch's widow in the Ebenezer Scrooge role. And then she goes back into her past. It's familiar territory in that respect."
And yet (spoiler alert), says Landry, "In the first few minutes of the show, she kills the Little Match Girl and pours battery acid on Bob Cratchit's hands and sticks them in a waffle iron and burns them. It goes uphill from there."
How awful is Mrs. Grinchley?
"The most horrific," says Landry. "I fail to call her a human being. She's a thing. She's, like, don't flush [your toilet] for three years and you might get a picture of her. She even drove the Grinch to his grave. She's the greediest, most rotten, vile thing that ever lived. Even at the end, I don't want to spoil things, but she decides to bring Teeny Tiny Tim under her wing and then she brings him outside and tries to sell him for $5. She's really pretty hateful."
"She's the kind of villain you really love to hate," adds Landry. "At the same time you can't help but admire her honesty."
For this year's show, Landry was toying with putting up a musical he's written, "Jerusalem Park" — "It's about a theater company that goes to Bethlehem to do the Nativity play and they run into some dinosaurs and other problems" — but he opted to make a switch.
"I decided I'm going to do that next year because I wanted to bring something classic back," Landry says. "The show is new, but the character, people who have come to my shows for years, know who she is. I just needed to feel comfortable with everything. [The COVID-19 lockdown] threw so many people's lives into total chaos."
"The particular challenge with this one is re-entering theater after two years off," says director Samko. "Managing energy and stamina, keeping everyone safe and healthy as we figure out how to produce in this landscape. The world is bleaker when we don't have live performance; gathering in a space to tell a story and to entertain adds so much richness."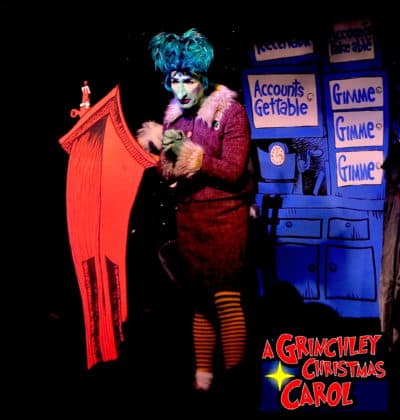 When we spoke in early November, Landry was in the midst of the first week of rehearsal. "It feels fantastic," he says. "I've done it for 40-some years and I don't feel comfortable when I'm not doing it. Already we've sold 1,700 tickets, so I know it's going to be a hit. Things like that make me feel I don't have to pull my hair out like the old days — 'What am I gonna do?!' Now, I can just really concentrate on giving them the best show possible without all the worry and fretting."
Landry has a solid core of actors in his company, many with him for a dozen years or so. "Most of them are old timers who've been with me for a while so they all know the drill," Landry says. His husband, Scott Martino, who plays "a drunken Mrs. Cratchit," goes back 25 years; the newest cast member, Gina Carmela, is "a young girl I met in Provincetown who'd been coming to the shows and asked to get involved and she is. I really like her. She's the Little Match Girl."
Samko considers working with Landry to be like taking a master class in comedy. "You get all the insight into the science of the script and the architecture of the world of the play," she says. "I ask everyone [in the cast] to come in with an idea about their characters and to be confident in their choices, but also ready to pivot on a dime in a new direction if their idea isn't working and to be equally confident in the new direction. At our core, we're playing and I think all of the actors have fun trying new things and making discoveries."
As this is a musical, you'll hear genres ranging from Broadway belters to jazz standards to vintage rock and soul. Songs include bits of traditional Christmas carols and originals like "I've Got My Muff to Keep Me Warm" and "I Like My Balls Hanging Low."
Considering the material, what ages might this show be right for?
"Seven-year-olds watch 'South Park' and that's pretty filthy and I love that," says Landry. But for "Grinchley," he posits that it's best "probably if they're over 13 or 14. The jokes come so fast. I don't want some kid in the audience who doesn't know what's going on and it's over their head."
---
To attend, all audience members must provide either proof of vaccination or a negative COVID-19 test taken within the last 72 hours. The production will be following all city and state guidelines as they pertain to masking indoors.