In A Year Of Social Distancing, Veteran Playwright-Actor Ryan Landry Turns To The Canvas
It used to be as reliable a Boston tradition as "The Nutcracker" at the Boch Center's Wang Theatre and the Holiday Pops at Symphony Hall.
When the holidays approached, fans of outré theater, camp, drag and salacious parody could always look forward to a tart little production from veteran writer-actor Ryan Landry. Since 1995, he's been cooking up comic and caustic genre mash-ups like "All About Christmas Eve," "Nightmare on Elf Street" and "Christmas on the Pole" with his troupe, the Gold Dust Orphans. Last year, they staged "Christmas on Uranus" at the South Boston Lithuanian Citizens' Association Iron Wolf Theatre.
"The things I do in the theater are basically based on things that I can't get enough of," Landry says. "The Bible means everything to a lot of people and to me the films of Joan Crawford and Bette Davis are holy relics."
Nothing's happening this year, for pretty obvious reasons.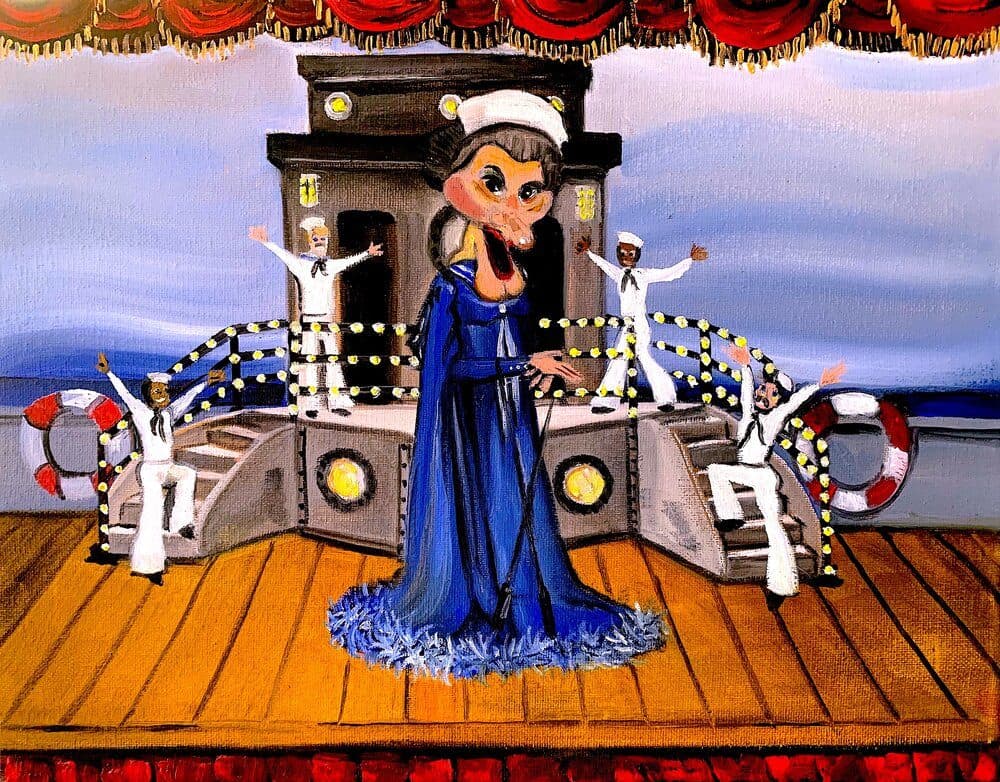 "I just had lunch with a couple of Orphans and we were talking about the fact that it feels so strange not being onstage," says Landry, on the phone from the Provincetown home he shares with his husband, actor/artist Scott Martino, and their two dogs.
They'd been working on "Little Shop of Christmas Tree Horrors" before the pandemic shutdown. "We had been in heavy rehearsals every single day," says Landry, "and right now, the actors are all waking up in the middle of the night with anxiety thinking, 'I don't know my lines!' and then they realize we're not doing it."
Landry, who won an Elliot Norton Prize for Sustained Excellence in Theater in 2015, has written 79 plays. This year's play goes on the shelf — the actors weren't available to do it next year — and the play now gestating for 2021 is "Jerusalem Park." That plot, of course, has to do with the Nativity scene being ravaged by a Tyrannosaurus.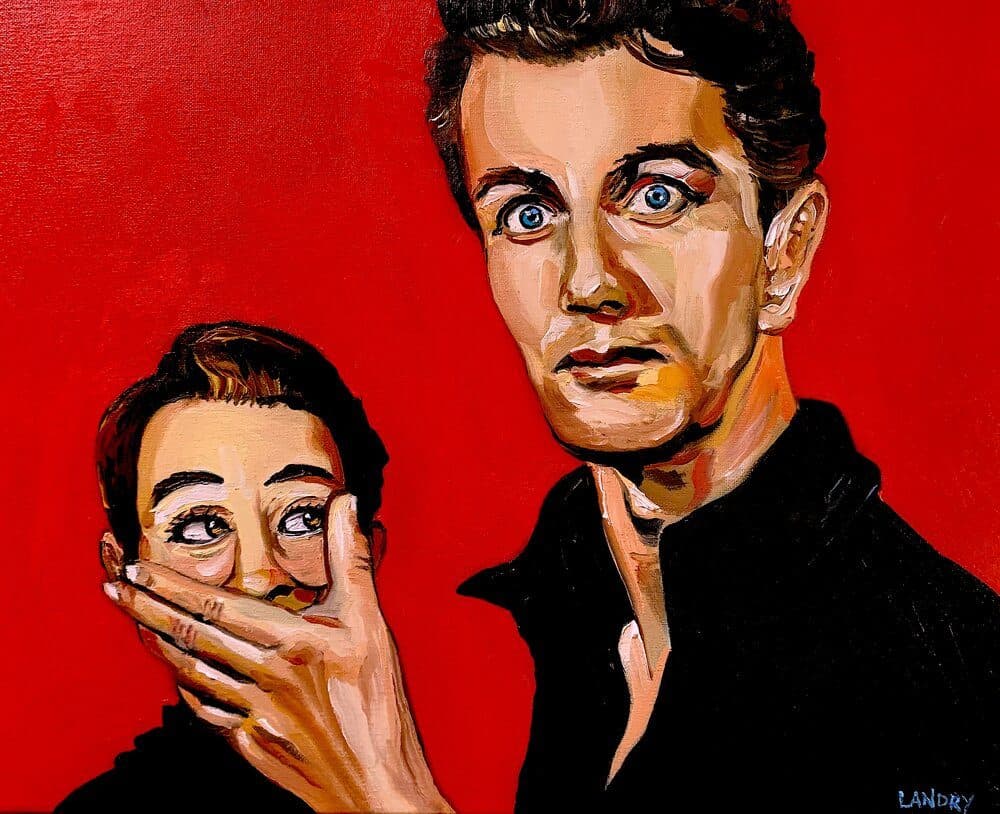 Shortly after the pandemic hit, Landry, 59, had to figure out a plan B. He studied visual arts as a teenager and much later in life took several adult education art classes. And so, he shifted from the world of frenzied collaboration to solitary art. He spends his days crafting oil-and-water pop art-style paintings in his home studio.
Painting, Landry says, was always on the back burner. "I kept saying 'When I get old, I'm going to paint. I don't have to babysit actors, I just paint.' Well, be careful what you wish for, but it's all come true. But I don't feel that old yet and I don't want to give up the stage. Still, there was nothing else to do. Because of what we're going through now, the solitary is forced on you, easel or not. I had to do something or I'd lose my f---ing mind."
He started painting on April Fools' Day and has knocked out 195 works since, some ideas coming from his mind, others generated by purchasing parties.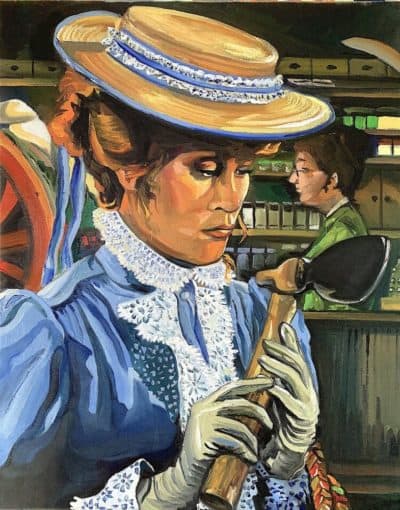 His day starts at 9 a.m. and ends at 7 p.m. "I just sit staring at the f---ing easel," Landry says. "I haven't been downtown more than four times since I got back [from New Orleans] in June. I stay home and sit by the easel because I have this problem with HIV and depression. Scott does all the shopping. There's nothing I can do but work, stay busy.
"I'm trying to kill time because I really don't know who I am off the stage. I know I'm a good person for the most part. I have a temper, I have a foul mouth, I'm fiercely loyal. I can be very inappropriate and say the total wrong thing more often than not, but I mean, other than that, I don't know what else I do but write jokes, rehearse them and then perform them."
He's done as many as three paintings a day, or sometimes, as with the more detailed painting of Lizzie Borden cradling an ax in a hardware store, three days on one. To me, it looks like Borden's contemplating whether she should kill her parents. "No," Landry avers, "I think she's basically made up her mind and the only thing she's mulling over is 'Can I get this ax a little cheaper across the street?' and 'Maybe I can sell it later on eBay.'"
Twenty-five of his paintings will be on exhibit, Dec. 5 from 5-7 p.m. in Provincetown at The Commons gallery on Bradford Street. It's called "Do You See What I See?"
Landry's subjects have included, of course, Crawford and Davis. Also: Twiggy, Aretha Franklin, Divine, Kathleen Turner, Cher, Judy Garland, Keith Richards, Dina Martina, Lucille Ball (as a "Star Trek" crew member) and Bonnie and Clyde (as cats).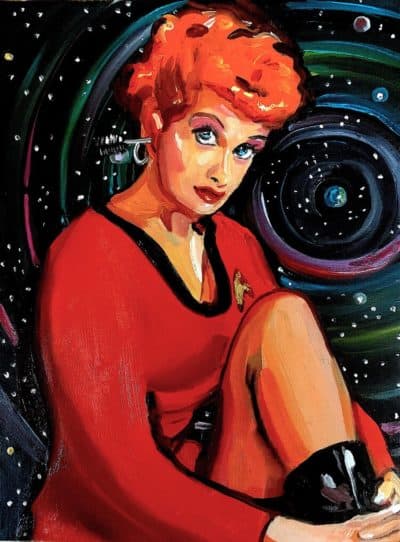 "Some people have put me down for doing pop culture things," Landry says, "but I want to say to them if you look at our history, there are numerous, too-many-to-mention paintings of Jesus and 'Madonna and Child.'" Landry's rendition of the latter showcases the stars of the '60s "Bewitched" TV series, the mother Endora, played by Agnes Moorehead, and the daughter Samantha, played by Elizabeth Montgomery. As to a personal Jesus, Landry says, "I don't believe in my own personal Jesus. I only believe in my own personal pizza."
Other icons of his youth include Paul Lynde and Charles Nelson Reilly. "These people were like gods to me, the comedy people... I loved them all. And that's what I do: I just paint the things I love."
His patrons have included "Hedwig" actor-writer John Cameron Mitchell, Margaret Cho, Parker Posey and Rufus Wainwright, the latter three requesting and receiving portraits. When we spoke in mid-November, he was working on depictions of Roman and Minnie Castevet from "Rosemary's Baby" for Jennifer Coolidge.
A surprise customer was The Chicks' Natalie Maines, whose makeup artist is Landry's old roommate. "She went crazy after seeing my Trump-in-a-coffin painting [called 'Love Saves the Day']," Landry says. "And she just bought 'Back to School' [Jerri Blank from the TV series from 'Strangers with Candy']. I never got into the show, but so many people did, so I did it and she bought it."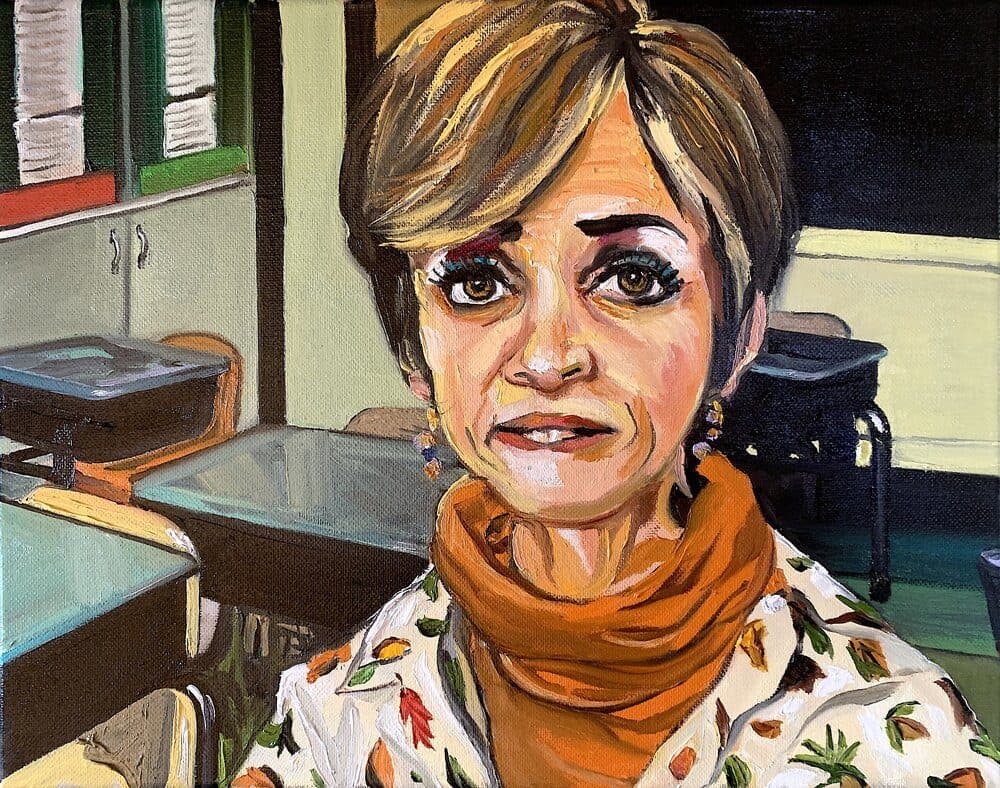 Landry has been co-writing a rock opera — one with lots of puppets — with fellow Orphan Billy Hough based on the 1950s horror film "The Bad Seed." It was to be performed by the New York-based trans activist/singer Justin Vivian Bond, but, Landry says, "we might have to make it a podcast thing because there's no theater to be had. The songs are great, but you can't even begin to hope that theater's going to come back because you don't know. If it comes back and everyone has to sit six feet apart, I don't think that is going to work for comedy."
So, for now, painting it is. He's open to suggestions, posting on his website: "Commission Ryan to paint something you love. Your dog, your cat, your mate, your dream. Or maybe even your nightmare."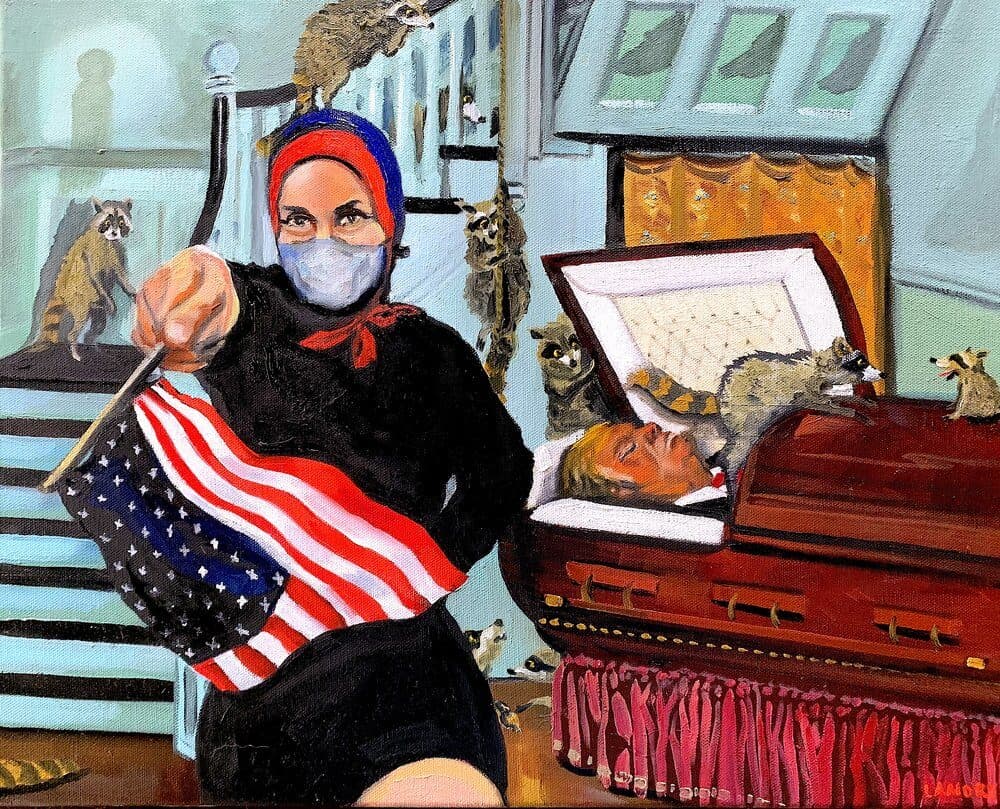 One thing, though — he's done the two Trump paintings, the aforementioned Trump-in-a-coffin and another of Trump being strangled. "There'll be no more," Landry says. "I'm not giving him any more attention, I just wanted him gone."
Then, Landry turns a tad philosophical. "With the Trump bull---- and everything else going on with global warming, you think 'Did I really spend all of that time working when I should have been out sniffing the flowers or playing a mandolin or something?' ...But I'm a scrappy little rascal so I'm going to be OK."
---
Ryan Landry's art exhibition "Do You See What I See?" will be on view Dec. 5 from 5-7 p.m. at The Commons gallery in Provincetown.