In Greater Boston, women earn 70 cents for every dollar men earn
New numbers from the Boston Women's Workforce Council (BWWC) show a 30 cent gap, on average, between men and women in Greater Boston. Researchers analyzed compensation data for 14% of the region's full-time employees. For Black and Hispanic women, the wage gap is more than 50 cents per dollar earned by a white man.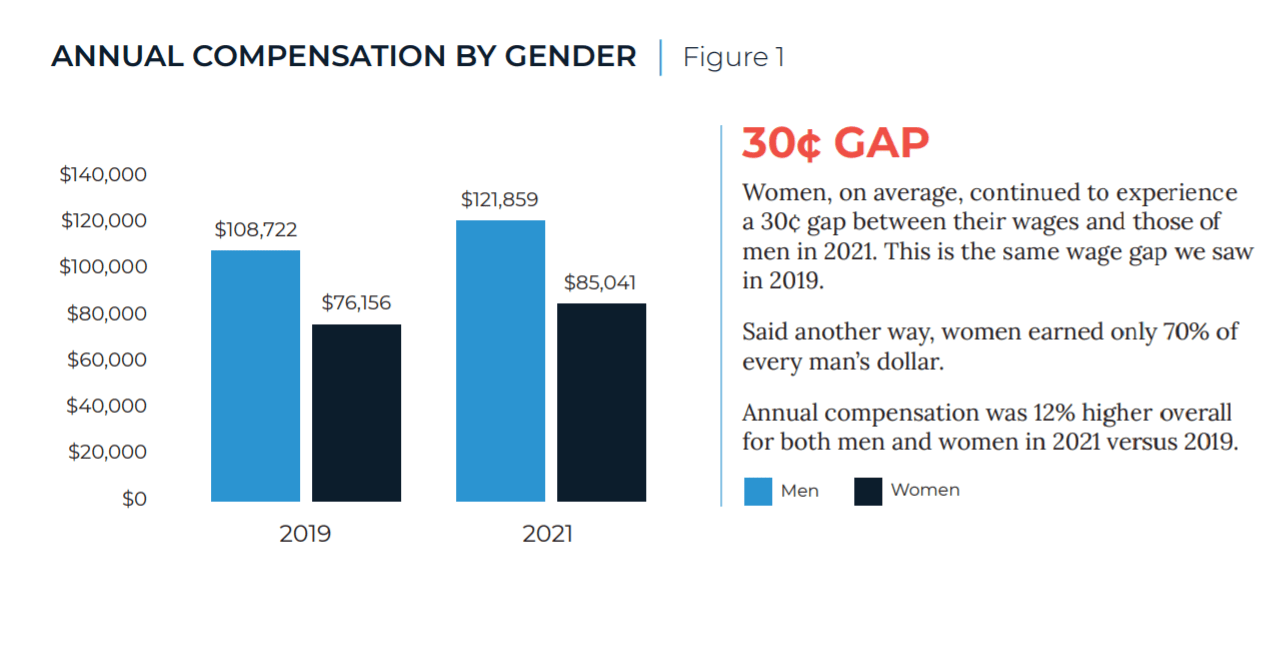 Greater Boston's gender wage gap looks much bigger than the national average of 84 cents per dollar. That's partially because the BWWC obtained anonymized data directly from companies' payrolls, says executive director Kim Borman. Whereas national data is usually based on self-reported information from the U.S. census.
"We think ours is much more correct," Borman said.
The BWWC data also does something few other gender wage gap reports do. They compare raw data across gender and race rather than stratify it by position or years of experience. Looking at the raw data, Borman says, paints a more accurate picture of what she calls the "power gap" within different industries.
"We're never going to be able to change this average between men and women if you're not getting women, and particularly women of color, promoted at the same rate as men," she said.
Companies usually measure wage gaps under the "equal pay for equal work" model, which is required under federal law. But Borman argues that measurement falls short of describing a phenomenon that usually happens at work places. Overtime, men are promoted more frequently and given more responsibilities than their female colleagues. A recent study from researchers at the University of California, Berkeley, found gender biases among MBA graduates. Respondents said they preferred male managers to lead large teams and female managers to lead smaller teams. Those biases, according to the authors, widen the "responsibility gap" and consequently, the compensation gap, over time.
Looking at the gender wage gap through a "power gap" may be a helpful big picture, but it lacks some clarity, says Patricia Cortes, an economist and associate professor at Boston University. Cortes believes accounting for differences in factors such as total hours worked or education level may help us come up with more specific ways to promote pay equity.
"I think most of the gender gap is explained by women choosing different occupations, different different education, different fields working different hours, taking breaks for maternity, et cetera," Cortes said. "But that doesn't mean that there's no problem, right? Because then you have to think why women tend to go to certain occupations and men not."
Cortes also points out that despite women outnumbering men at U.S. colleges, the gender wage gap has worsened over the last 40 years for highly educated workers compared to workers with a high school education or less. She says discovering these trends requires a closer look at the data.
The BWWC report found that the nonprofit sector in Greater Boston (excluding hospitals) had the highest gender wage gap at 39 cents, despite having one of the highest ratio of female workers. Manufacturing, construction, and utilities had the lowest gap at 19 cents.