After a COVID-fueled closure, Cambridge's Cantab Lounge returns
Play
This article is more than 1 year old.
On Tuesday night, the Cantab Lounge in Cambridge was packed for a donor event for Big Brothers, Big Sisters of Eastern Massachusetts. As the classic rock cover band French Lick prepared to play, its lead singer, Jordan Siegel, surveyed the room.
"It looks like the Cantab, but it doesn't smell like the Cantab," he remarked.
The place certainly looked different than it had nearly two years ago, when the pandemic forced it to shutter. Gone was the grime that once stained its walls, replaced with a fresh coat of paint. There were new laminate floors and a shiny granite countertop on the bar. The rafters were strung with tiny colorful lights.
Tim Dibble, the Cantab's new owner, was a little worried the place might actually be too clean.
"I love the way it looks, but I'd love to see what the old-timers and the longtime fans of the Cantab think," he said. "Hopefully it's nice without being too nice."
It's been a bumpy ride for anyone following news of the Cantab Lounge. Last year, the beloved Central Square dive bar seemed set to become another pandemic casualty when its longtime owner put it up for sale. Then, a pair of deep-pocketed patrons (Dibble and his wife, Maureen) swept in to save the club—only to face months of delays. This week, the Cantab re-opened at long last, under the shadow of another COVID surge.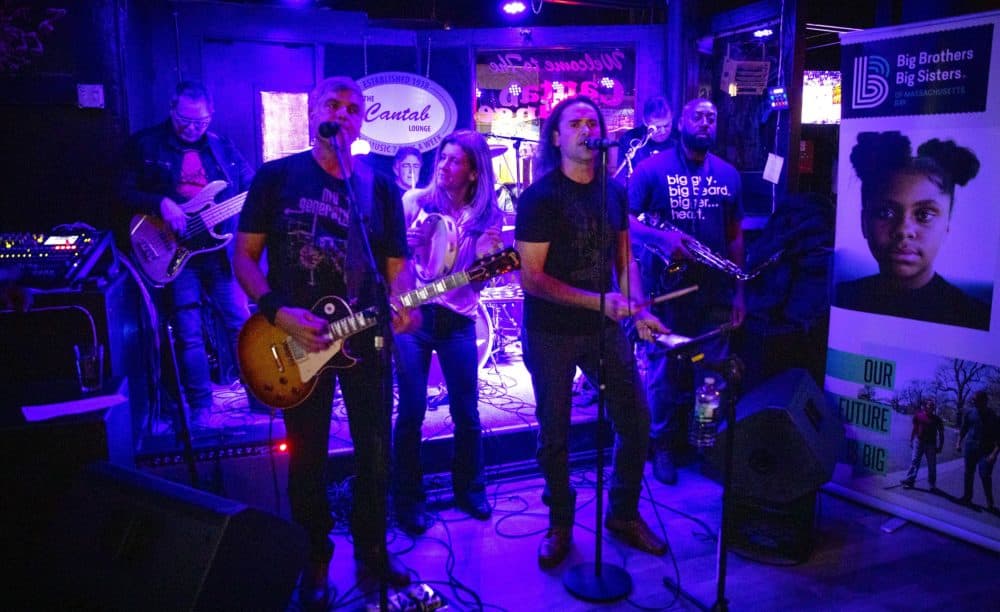 "The whole process definitely took much longer than I thought," Dibble said in a mid-November interview at the bar, as workers hurried to finish renovations in time for the December opening. "I haven't done this before. Not sure I'd totally do it again," he added with a wry laugh.
When the sale of the Cantab was announced, Dibble was adamant that he would retain as much of the venue's scrappy charm as possible, a mantra he held fast to throughout the reopening saga. "We just want to keep what was great about this place, and what was unique about the Cantab," he said.
Standing in the club's basement bar, their voices pitched above the intermittent whine of a power drill, Dibble and the Cantab's general manager, Michael Cronin, explained some of the hiccups they encountered in the pursuit of that goal. "We would take a fixture out, and we would find that there was a leak in the wall," Cronin said. "Now the wall is open. Now you see that there's all PVC piping in the bathrooms. And that's not to code for commercial space." So, they overhauled the plumbing, an unexpected expense. They encountered similar problems with the Cantab's electrical wiring, which also required an update.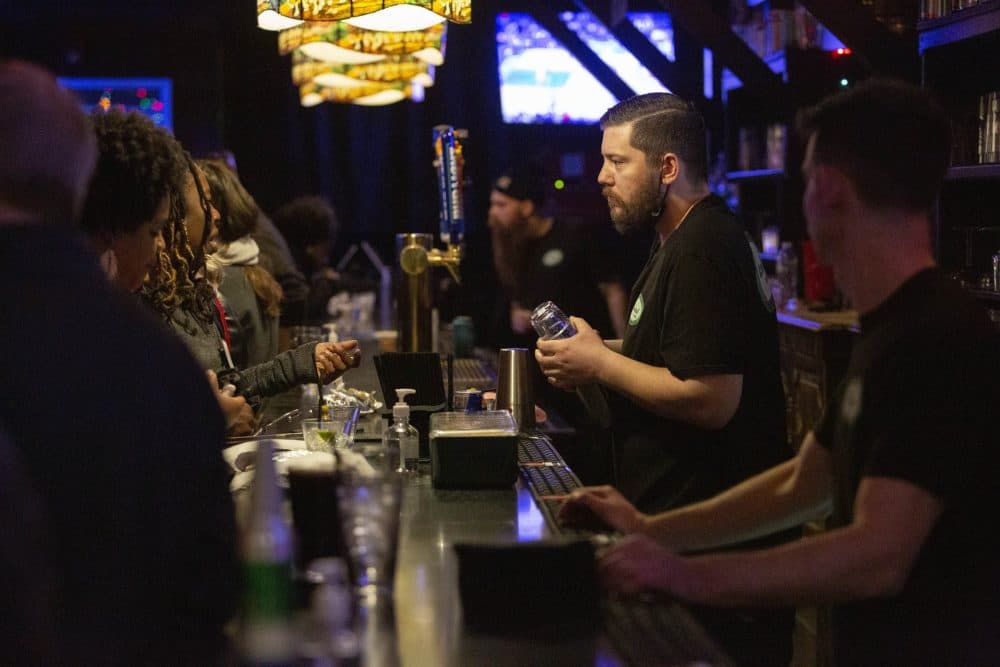 Upstairs, Dibble and Cronin proudly showed off two wheelchair accessible bathrooms, an update that they said brought the street level into ADA compliance. The basement bar, however, remains only accessible by stairs—another source of delay. Back in April, Dibble submitted paperwork to the state's Architectural Access Board seeking relief from certain accessibility regulations, such as installing an elevator to the lower level, which he called "massively cost prohibitive." It proved to be a much slower process than he anticipated. The summer passed without a follow-up hearing, which was eventually scheduled for mid-September. By then, though, Dibble had pulled his application, deciding to go "a different route in terms of spending and design," he said. (AAB jurisdiction only applies to projects above a certain cost.)
Still, much of the planned renovations went forward. There are now six all-gender bathrooms, all refurbished and clean—no more sticky floors, or that smell. There is a proper draft beer system, with 10 taps—gone are the days of the fraternity-style kegerator. Upstairs, there is a brand new sound system, so that bands no longer have to lug their own equipment. "We actually have the capability now to mix any of the bands from an iPad because we have a wireless board," Cronin said proudly.
Dibble and Cronin said they are paying a higher-than-minimum wage for tipped workers, and a $15 hourly wage for bar staff working the slower daytime shifts. They also plan to offer health insurance to full-time employees and are exploring a profit-sharing model – although, of course, "we don't know if there will be profits," Dibble said with a laugh.
"We're not here to make money," Cronin explained. "That's not the point of it. The point of it is to continue to provide an institution, in my mind, to everybody that wants it to come back." That philosophy, he said, made it easier to fully staff the bar in time for opening, an achievement in today's labor-short hospitality industry.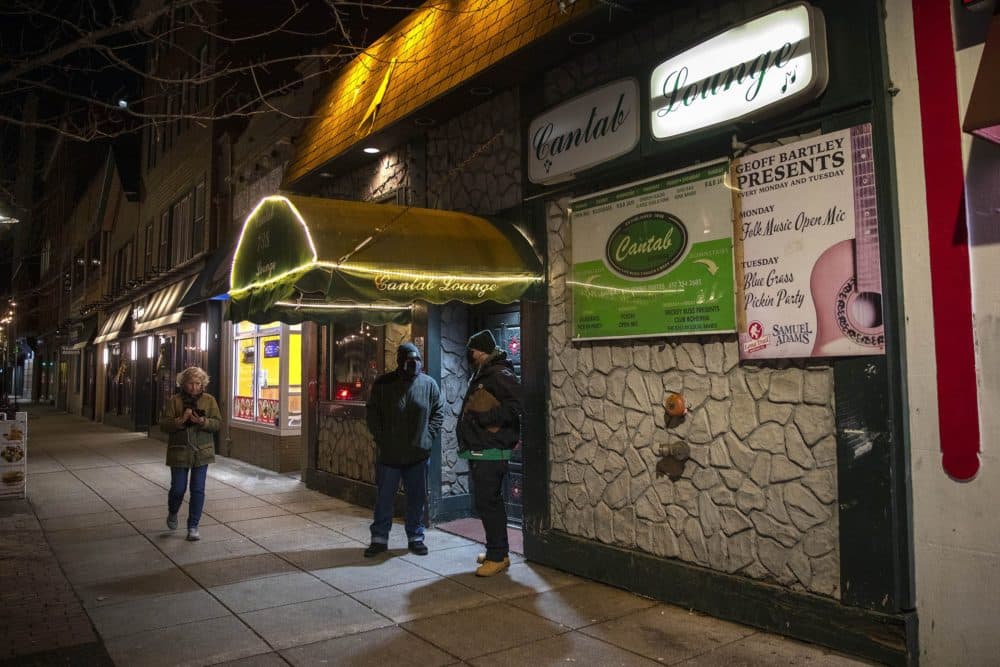 Beyond those changes—the new floors, the improved bathrooms, the higher wages – the Cantab is sticking with its tried-and-true format. The popular Tuesday bluegrass night has been resurrected, along with the long-running Wednesday poetry slam, which is slated to return in January. As in the past, rock and R&B will grace the upstairs stage, while the scrappy Club Bohemia returns to the basement bar with its lineup of (literally) underground rock bands.
In November, Cronin was sure he would open in early December. But a last-minute delay on the final permits forced him to push the schedule back—again. On the eve of the grand public debut, he was more than ready to open. "We're ready for everybody," he said. "We're ready to throw a party again."
Even the new omicron COVID variant couldn't phase him. "As long as we follow all the protocols that are in place with the city, I think we'll be fine," Cronin said.
The crowd seemed to share his optimism. People were eating, drinking, laughing—almost like no time had passed at all.
As the band struck up, the audience started to drift toward the open floor in front of the stage. It was time to dance.
This segment aired on December 15, 2021.