Experts see 'bright spots' for the Massachusetts economy in 2022, despite uncertainty
There are many reasons to feel good about the Massachusetts economy heading into 2022, experts say. Employers are continuing to hire, investments in the commonwealth's high-tech and biotech sectors are breaking records, and the state has billions of dollars in federal money to spend on things like infrastructure and workforce development.
"We have had, on the economy side of things in recent months, a lot of bright spots," said Jeffrey Thompson, the director of the Federal Reserve Bank of Boston's New England Public Policy Center. "There are a lot of firms out there trying to hire."
That sunny outlook comes with an obvious caveat as an omicron surge forces new restrictions in some parts of the world, adding to uncertainty about the coronavirus pandemic. Hospitalizations have spiked in Massachusetts as well as nationwide. Although the commonwealth has one of the highest vaccination rates in the country, it remains unclear how this new wave of infections might impact hospitals, residents, workers and businesses.
As we head into the new year, WBUR spoke to several experts about the economic trends they've been following in Massachusetts and their predictions for 2022.
Massachusetts Employers Are Still Feeling Optimistic
According to The Associated Industries of Massachusetts, employers are more confident than they were a year ago. Business confidence was at 57.9 in November 2021 compared to 49.3 for the same period in 2020. AIM's measurement is based on a 100-point scale. Anything above 50 is considered optimistic.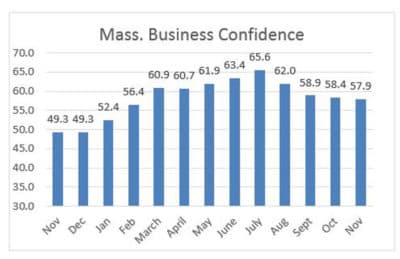 Still, COVID fears, supply chain issues and inflation have tempered that optimism since the summer.
"That's important because confident employers hire people," said Chris Geehern, executive vice president of public affairs at AIM. "Confident employers invest in expanding their plants or offices or facilities, and generally fuel economic growth."
Geehern expects to see continued growth in sectors such as software, biopharmaceuticals, and advanced manufacturing. Construction will likely have a good year, he says, thanks to an anticipated $9 billion infusion of federal infrastructure money. Geehern also thinks 2022 will be a better year for retailers, which are expecting an 11.5% increase in holiday sales.
But industries that rely on in-person contact are likely heading for another tough year. That includes restaurants, hotels, gyms and performing arts centers. Although attendance at some of these establishments is slowly rising, it's still not at pre-pandemic levels.
There Are Concerns About A Shrinking Workforce
Most of the people who left the workforce during the pandemic have returned, making the state's recovery relatively quick compared to the rest of the country. But Massachusetts is still about 6,800 people short of its pre-pandemic workforce. A smaller workforce and high demand from employers mean we're likely to see a lot of hiring in 2022.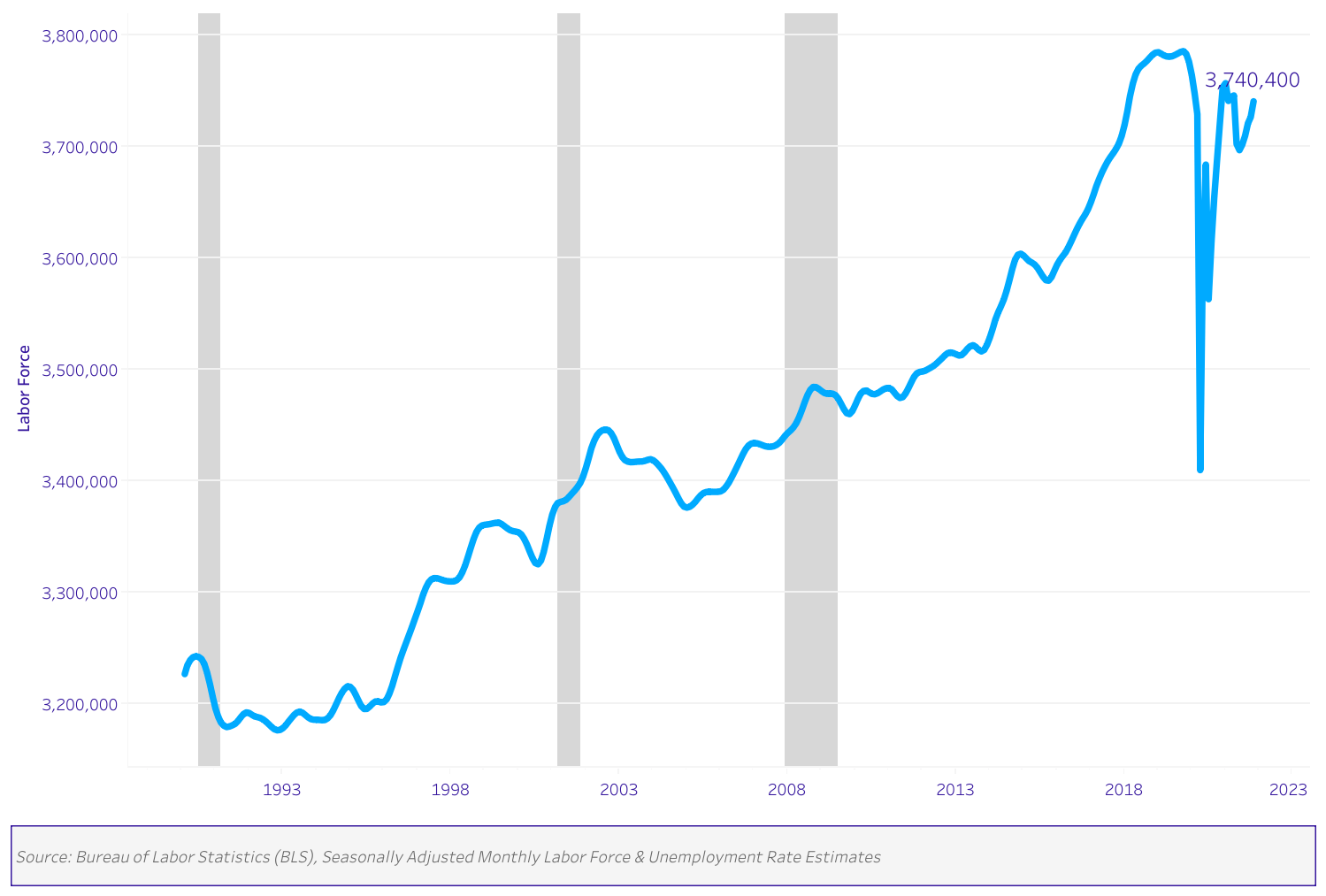 Nationally, the U.S. has only gained about half of the workers it lost during the pandemic, according to the Federal Reserve Bank of Boston.
The state's workforce shortage hasn't reached crisis levels, but it's going to take some work to keep it that way, according to Mark Melnik, the director of economic and public policy research at the University of Massachusetts' Donahue Institute.
Melnik says there's a significant re-alignment happening in the Massachusetts workforce right now, especially among low-wage workers.
"Folks are saying, 'This job isn't worth this hassle that I'm getting right now, and somebody else may be willing to pay me more,' " Melnik said.
Labor force participation is a key factor in predicting future economic growth. The pandemic accelerated early retirement among older and more educated workers, but there were signs of a workforce shrinkage even before that. Massachusetts has been gaining fewer foreign-born workers, who accounted for 80% of labor force growth in the state since 1990. Net migration has slowed in the last five years due to immigration policies during the Trump administration, followed by pandemic lockdowns.
Given those challenges, Massachusetts has an opportunity to build a new labor force, says Karen Wallace, who heads marketing at AIM.
"Businesses are going to need to do a better job of hiring people who don't necessarily look like them in order to move the economy forward," Wallace said.
They may also need to look in different places for talent. One example of how to do this: train and recruit more workers in parts of the state with relatively low graduation rates.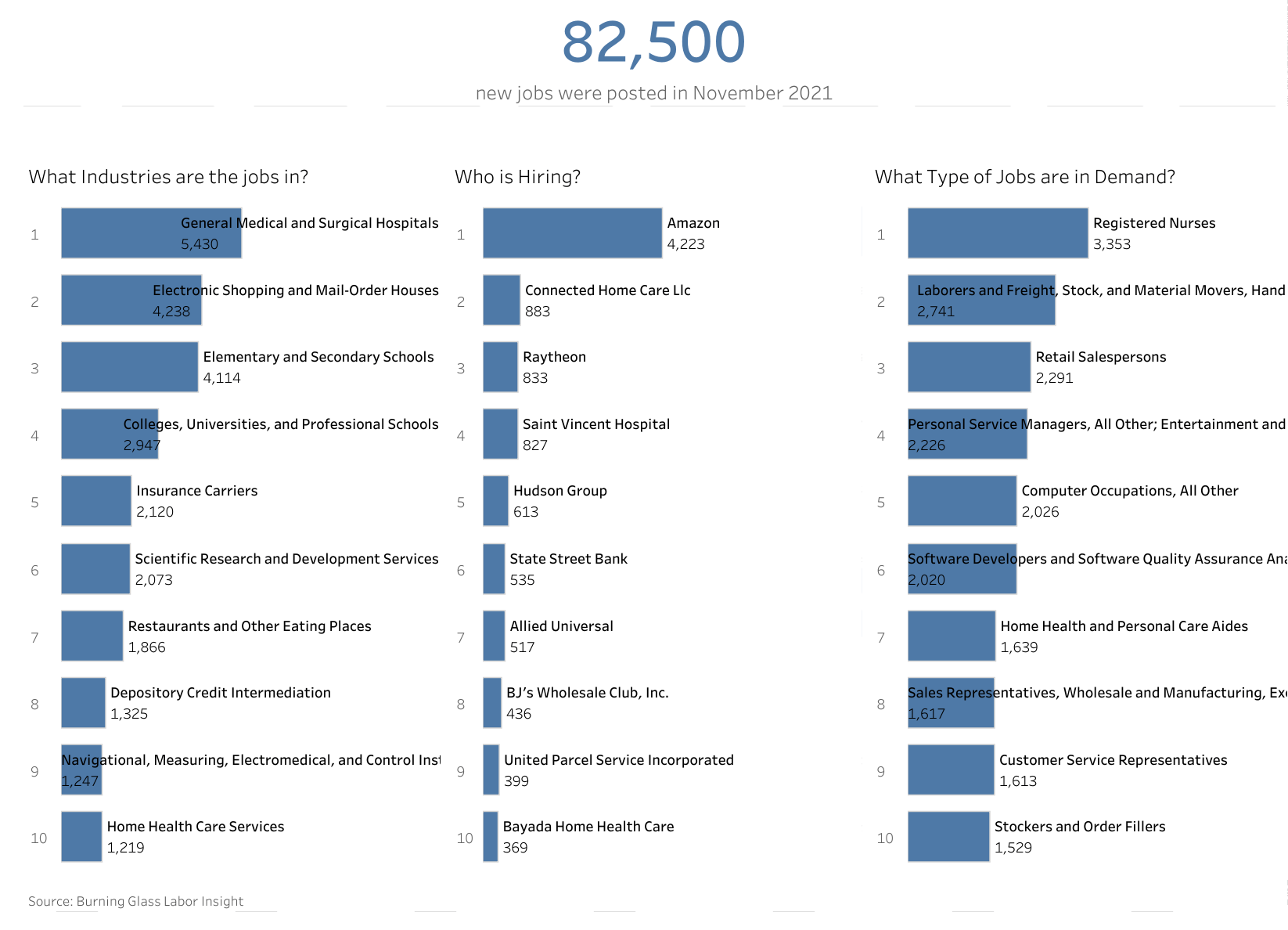 Massachusetts Will Need A Lot Of 'Upskilling' Or 'Re-Skilling' 
The World Economic Forum estimates that half of all workers in the world will need some sort of retraining or "upskilling" to keep up with a quickly changing economy. The same can be said for Massachusetts, where nearly 40% of jobs are in the so-called "innovation economy," according to the state agency MassTech.
"We feel more confident than other parts of the of the economy," said Patrick Larkin, deputy director of MassTech.
That confidence is unlikely to slow down. In 2021, local biotech companies are set to break their 2020 investment record of $5.8 billion, according to MassBio. That is expected to translate to nearly 40,000 local jobs over the next four years.
While the astounding growth in the innovation sector is certainly something to celebrate, it leaves large segments of the population behind. That includes many people of color, people without college degrees and residents of rural areas outside of Greater Boston.
Larkin says the Baker administration has plans to beef up the state's workforce redevelopment and training using federal pandemic relief money.
"They've got an aggressive push and are working very closely with us to try to identify what the needs might be in the technology sectors," Larkin said.
2022 Could Be A Big Year For Labor Unions
There's a lot of movement on the labor front. According to Gallup, 65% of Americans approve of labor unions. Steven Tolman, president of the Massachusetts AFL-CIO, says he's seeing encouraging signs from the Biden administration.
"Life changed for us with the new president and the new administration," Tolman said.
Tolman points to workers' efforts to unionize at big companies like Starbucks and Amazon as evidence for a more energized labor movement. He's also holding out hope that the U.S. Senate will pass one of the most important pieces of legislation for labor in recent memory, the "Protecting the Right to Organize Act," or PRO Act. Among other things, it would make organizing easier and levy tougher penalties on employers who disrupt that process.
In Massachusetts, voters will also have an opportunity to help shape labor and the gig economy in 2022. A proposed statewide ballot question would ask voters whether ride-hailing and delivery drivers should be classified as independent contractors or employees. The initiative is similar to Proposition 22 in California, which allowed companies such as Uber and Lyft to classify their workers as independent contractors.
"They're trying to Uberize everything and create a lower stratum of worker," said Beth Griffith, who leads the Boston Independent Driver's Guild, a group that opposes the measure.
Griffith says what voters decide in Massachusetts could have major consequences for gig workers in the rest of the country.
Supporters of the measure — including the companies DoorDash, Instacart, Lyft and Uber — argue that classifying workers as independent contractors gives them more flexibility and more control over things like scheduling and hours.