While talks for more COVID testing sites continue, Boston tries to make existing sites more efficient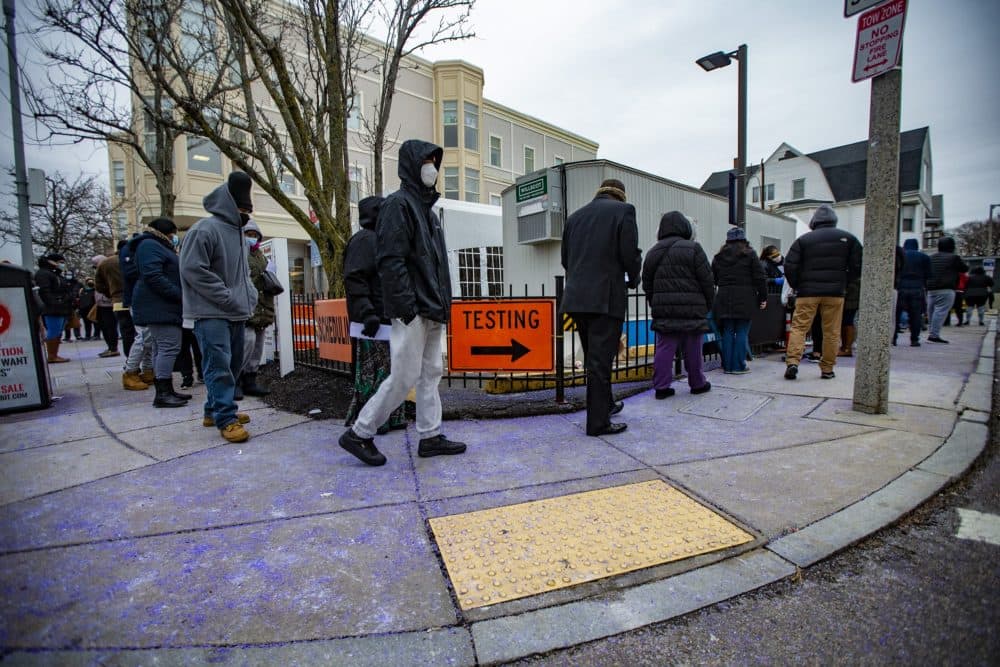 The city of Boston says it is working to meet the demand for testing as COVID cases reach new daily highs amid the omicron surge.
Residents have reported waiting in lines at walk-in testing locations for hours over the past few weeks. Boston Mayor Michelle Wu has said the lines are "absolutely unacceptable" and that her administration would work to find a solution.
Last month, Boston officials said they plan to open at least three new COVID-19 testing sites by mid-January.
A new testing location at the West End House in Allston opened Monday and will offer walk-in testing six days a week, according to Wu.
City leaders now say they are also exploring an additional higher-capacity location at the Reggie Lewis Center in Roxbury that could administer both tests and vaccines. The site was used as a mass vaccination center last year.
"We're into some discussions with sites like Reggie Lewis to see if we could open up a place that would be easily accessible to multiple neighborhoods and people who are more vulnerable and neighborhoods where there's higher positivity rates," said Dr. Bisola Ojikutu, the executive director for the Boston Public Health Commission.
It's unclear how much help testing sites opening up later this month would be for the current demand for tests. Some public health experts have noted that we could expect cases here to begin to decline by mid-January if the omicron surge follows similar trajectories to its paths in South Africa and other countries.
In the more immediate future, Ojikutu said the city is working to reduce stress and boost efficiency at existing test sites struggling with capacity or staffing woes.
"We're getting out there, and we're doing as much as we can," Ojikutu said. "Today, we're looking at how to manage that better — whether we're talking about diverting people to open slots that are at nearby community health centers, putting out a tent or multiple tents so that people are not there in inclement weather."
Ojikutu said it's "possible" that Boston would team up with the Baker administration for a higher-capacity test site and that discussions are ongoing.
Earlier this week, nearby Cambridge moved to extend hours at testing sites and will now keep them open seven days a week.
With reporting by the WBUR newsroom and State House News Service's Chris Lisinski