City Councilor Edwards wins Senate seat as 1st woman and 1st person of color to represent district
04:49
Play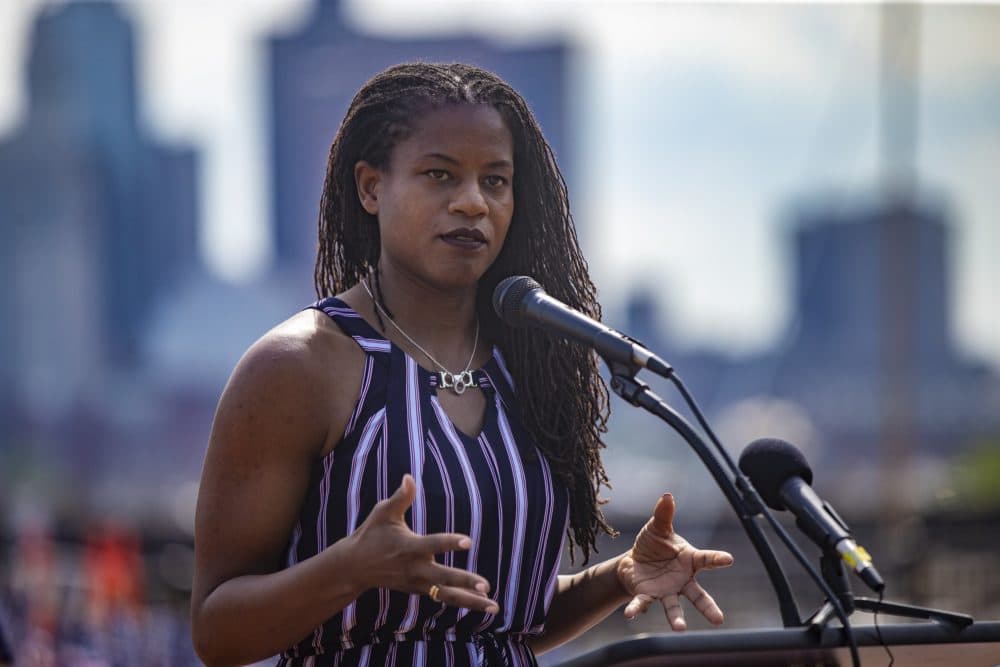 Amid the bitter cold earlier this week, fewer than 2,000 voters turned out for a special election to fill a state Senate seat. But it was enough for Boston City Councilor Lydia Edwards to win.
Edwards will now move on to Beacon Hill, representing a district that includes several Boston neighborhoods.
She is the first woman and first person of color to represent the district. When she takes office, Edwards will be the only Black woman in the state Senate, and one of three people of color. She says a more diverse Senate offers an opportunity.
"What I hope it does is it just assures that there's conversations about race, and I also think that it allows for us as a state, as a body in the Senate to speak with more certainty and authority when it comes to racial justice because we have more people of color in the body," Edwards said. "It's really hard to talk about us being in a racial awakening in the state and not having African-Americans in the room or Zoom, you know, to bring a perspective."
Edwards joined WBUR's Morning Edition host Rupa Shenoy to discuss further.
Highlights from this interview have been lightly edited for clarity.
Interview Highlights
On the symbolism of representing a district with a deep history of our country's founding
I would represent Faneuil Hall. I would be representing the area where Crispus Attucks was murdered. I'd be representing East Boston, where the first slave ships came in the North End — which was, traditionally, a place for Black people to live in ... the 1800s. Yeah, I do think about that.
You know, it's coming in waves sometimes ... what we got done. There's a picture I posted recently, of me and the senators — my predecessors now. And it just really was stark, in contrast, how much of a glass ceiling we busted through.
On her frustrations with the way the Legislature operates
I was speaking ... from a municipal perspective. Some of the tools in the toolbox that cities need, that they have to go to the state to ask for them consistently and constantly is frustrating.
I can speak to my election right now. The state allowed for us to have mail-in ballots and early ballots, but only until December 15. My general election didn't have either of those, and it was one of the coldest days. And so people had to physically go and vote for me for the most part, unless they knew to get an absentee ballot. A lot of people thought their ballots were coming in the mail again.
Home rule petitions, lifting the ban on rent control — all of these different things, they have to go to the State House to allow for municipalities to deal with the everyday concerns in this housing crisis and in this pandemic. And I think sometimes that is frustrating.
In terms of how it operates in the building, I haven't been there yet ... I'm there to learn the first several months, at least, about how the rhythms of that building and the hearts and minds of my colleagues and to work with them as soon as possible.
On voting rights
I think more access to voting is key. Our elections departments should be promoting elections all year round, making sure that its elections aren't seen as one special moment to elect one person — instead seeing it as part of the democracy and part of what we do every day as Americans. And I think if people saw it that way instead of as just one shot and done. Everything we have — our democracy, our friendships, our money — everything is on the line every other November, every four years, I think that could possibly reduce some of the tension. Because people would feel that there's access points to democracy and points of power and being able to get things done in their neighborhoods.
If we were constantly promoting the town selectman, the library trustees, groundwater trustees, the award committees — there's so many different pipelines to democracy. And I think if we started promoting more of that locally, people might be inclined to calm down.
This article was originally published on January 14, 2022.
This segment aired on January 14, 2022.