Screaming their heads off, moms let it all out at Charlestown High
Moms are fed up. Not tired, not overwhelmed, not upset — but fed up. Done. Crispier than a slice of burned toast.
Kids are sent home from school or daycare because of COVID cases. Work/life "balance" becomes impossible when you're trying to listen in on a Zoom call while your toddler is crying or the baby needs a diaper change. And with the stress and worry that comes with having kids who aren't old enough to be vaccinated, it's no wonder some moms just want to scream their heads off.
On Thursday night, that's exactly what they did.
Led by Sarah Harmon of Charlestown, a therapist who runs the health and wellness site The School of MOM, about 20 women gathered on the track at Charlestown High School to sound their barbaric yawp.
"This is exactly what I need," said Ashley Jones, who lives in Charlestown and has a 3-year-old son.
"It's a safe place to be to with other people feeling the same thing with having a kid who can't be vaccinated," she said.
This is the second time Harmon has led a group screaming — the first time was in March 2021.
"It was an Arctic night but people came out anyway and we just screamed at the top of our lungs and then we hugged and went on our merry way and it was quite healing," said Harmon.
"I'm hearing my moms and my clients talk about their struggles... it's culminating in just this intense rage, and they have nowhere to put it."
Being a mom — especially a new mom — can be difficult even in normal times, and the importance of having a community makes it even harder now, said Harmon, since gathering in person isn't always safe.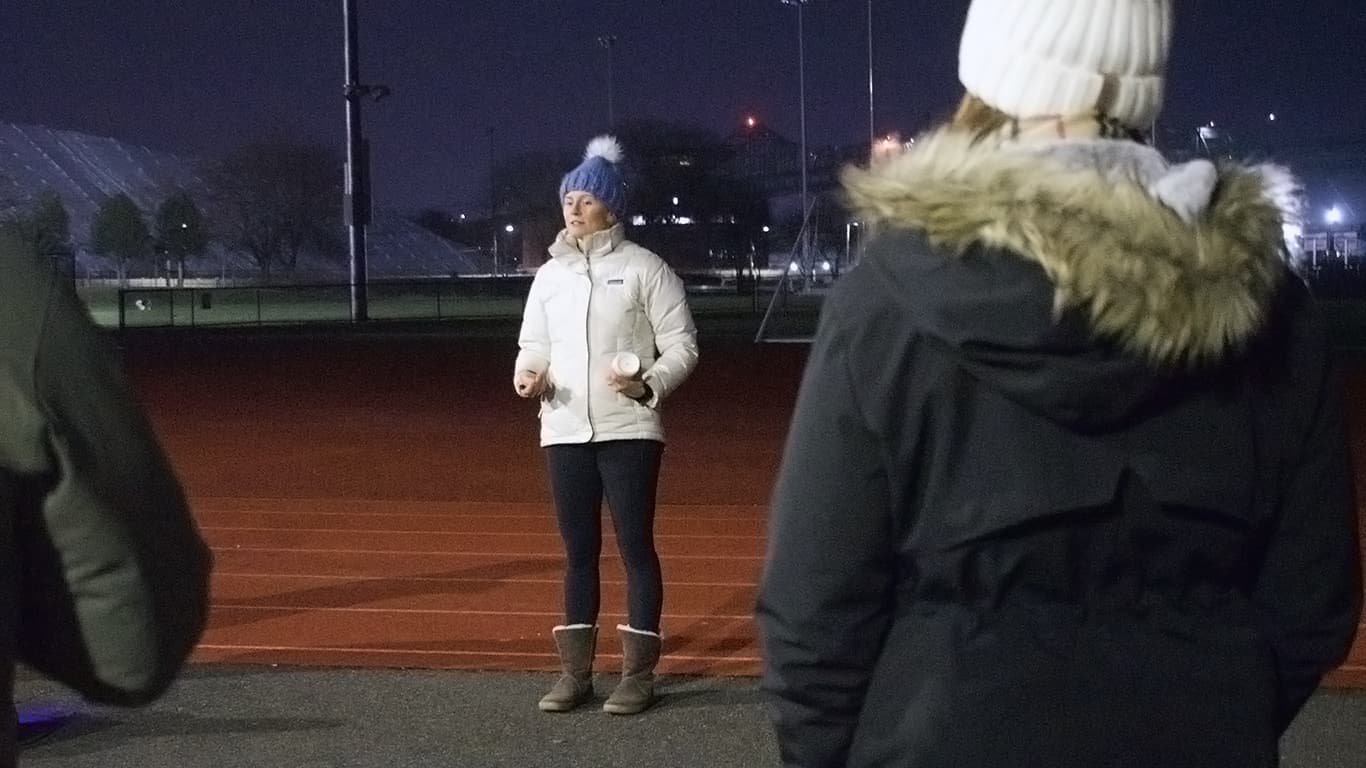 As she addressed the group, Harmon said a lot of moms are feeling rage, and also "all of these emotions that we have been feeling so acutely for almost two years." The other women called out what they're feeling, too: sadness, resentment, isolation, loneliness, anxiety and loss of spontaneity.
After grabbing some light up props, Harmon guided the group to the middle of the field, where they stood in a circle. She had everyone take a deep breath and then just let it out — first just screams and then any curse words that came to mind.
The last round of screaming was a mini "contest" to see who could keep screaming the longest, the honor of which went to Jessica Buckley, who also lives in Charlestown.
For Buckley, screaming felt cathartic. "I felt like it was less into the void and more [together] as a community," she said.
Having two children who aren't old enough to be vaccinated themselves has been frustrating, she said.
"I feel like we've just felt very forgotten in all of this, with our kids not being able to even be vaccinated... it's so frustrating and we don't have any end in sight" as the timeline for the vaccine keeps getting pushed back.
After the women screamed into the night, they gathered for a group photo, and then hugged and laughed with each other before heading home. For a brief moment, it gave them all what maybe a lot of us need right now: community.