Woods Hole report identifies concerns, possible solutions for harmful algae blooms
The summers in Massachusetts have picked up an unsettling routine. Patches of blue-green algae show up in some rivers and ponds, then state and local officials put out a warning: toxic, don't touch.
The blue-green cyanobacteria is one of a few hundred algae species that are considered dangerous to human health. When those species multiply into large masses, they become harmful algae blooms (or HABs).
HABs are a growing problem in the U.S., especially coastal states; a new report from the Woods Hole Oceanographic Institution (WHOI) on Cape Cod identifies several areas of concern and ongoing research to find solutions.
Here are three main takeaways from the report.
HABs are increasing - just not everywhere
Harmful algae blooms are literally a growing problem. Over the past few decades, scientists have identified more species they consider toxic; those species are affecting a wider range of places. However, the increase doesn't appear to be universal, but rather concentrated in specific areas.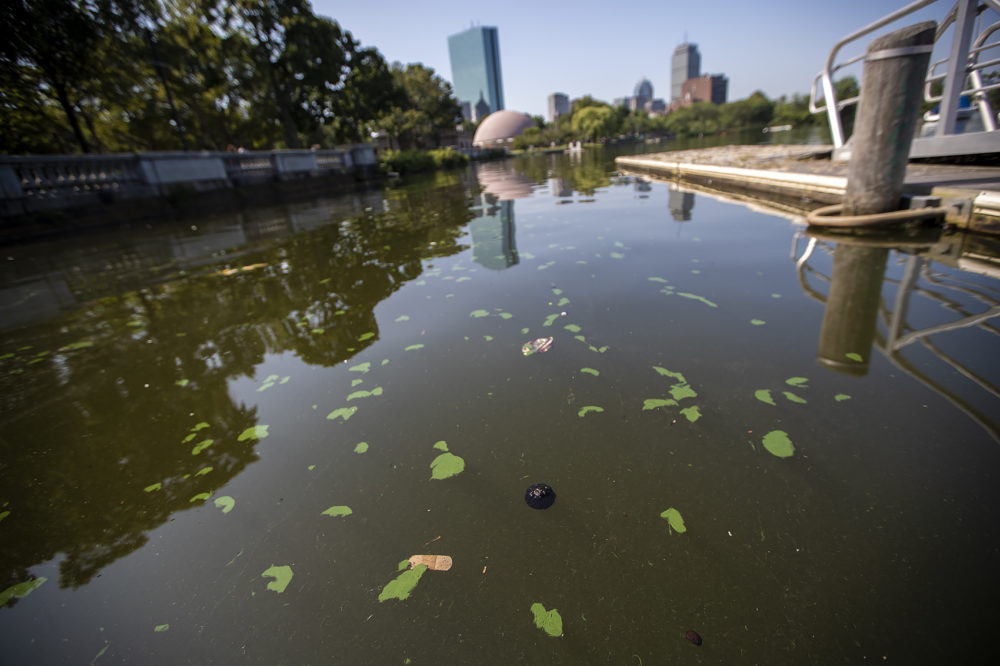 The Woods Hole report identifies coastal states in the U.S. as well as the Great Lakes states as places of particular concern. According to senior scientist Don Anderson, New England in particular is seeing a surge in these blooms. They are happening more frequently and over longer periods of time.
"It becomes very difficult for the state to not only monitor throughout the year," said Anderson," but to monitor for multiple organisms and multiple toxins, and usually with flat budgets."
Anderson and other scientists expect the HABs to continue to shift and move as climate change affects ocean temperatures and circulation.
Algae blooms are bad for budgets
HABs have well documented effects on human health; the toxins emitted by some species can cause gastrointestinal issues, neurological problems, organ damage and in extreme cases, death. They also have ripple effects on ecosystems, disrupting food chains and damaging water quality.
The blooms also carry steep economic costs. Toxic algae blooms often require shutting down fisheries, which in turn can hurt tourism and increase costs for monitoring water quality. The WHOI report found the cumulative economic burden of HABs in the U.S. in 2000 was approximately $78 million — the highest percentage of that cost was the amount spent on public health.
That estimate did not include indirect economic loss, which the report identifies as unharvested shellfish, ongoing medical treatment and a loss of consumer confidence in seafood and recreation.
New mitigation efforts are on the horizon
Scientists want to be able to forecast harmful algae blooms the way we forecast the weather. This would give state and local entities more time to issue warnings and close fisheries as needed. One project the report notes as showing promise is a National HAB Observing Network; this would collect data from multiple regional monitoring systems to develop a forecast model, which over time could predict where a future bloom is likely to occur, as opposed to current systems that detect existing blooms and determine their toxicity.
Researchers are also studying how to reduce the toxins once a bloom occurs. One method is using a form of mineral clay; the clay binds to particles in the water, including the algae.
"It's like a filter or a net that just sweeps the algal cells to the bottom...and kills them," said Anderson. "And we're finding some of these clays can actually sequester the toxin."
WHOI is running two studies testing this method on algae blooms - red tides - in Florida. However, Anderson said that people in New England should not get their hopes up — this method has not been effective in the region. He said while some local projects are in early lab stages, he anticipates it will be several years before there's a major mitigation effort here.