6 music releases to listen to this winter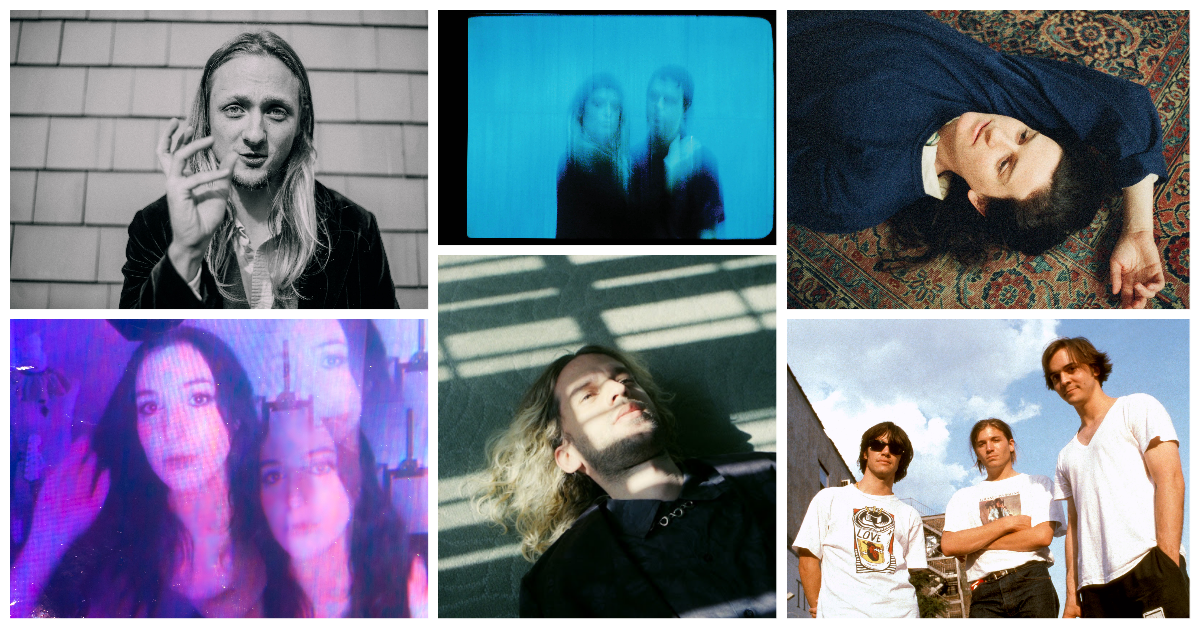 This article is more than 1 year old.
And with the blink of an eye, or what feels like decades to some, here we are in a new year, another quarterly check-in, another opportunity to begin anew. Although, sadly, the last time I wrote a seasonal music roundup, I had never heard of the word "omicron." Since then, only just a few months ago, I suffered a rather nasty breakthrough case and found myself in quarantine for most of December. Yes, my holiday plans were sidelined, but alas, I used my spare time to binge Arnold Schwarzenegger films ("Jingle All The Way" holds up; "Twins" does not) and seek out some compelling new music releases.
We have a special guide this winter. Unlike our previous music roundups, every artist on this list has a direct connection, whether past or present, to Massachusetts. It's a list that showcases the bold artistic range Massachusetts has to offer: Viscid pop-rap, ponderous indie rock, pulsing darkwave and unearthly folk are all accounted for here. And with these new releases, this group of musicians beckons the third year of the pandemic with a mix of tired apathy, hopeful optimism and a sharp bite.
We have a few welcome returns from legacy artists whose careers took off in Boston; we have several artists who returned home to their native Massachusetts during the pandemic to creatively reset; we have a few locals who have risen within their respective music communities. But regardless of their Mass. connection, be sure to support independent artists however you can (it's rough out there for musicians right now). A great way to start is by digging into our winter music guide.
Jan. 1
The spectral range from which Cambridge-based singer-songwriter Justin Nash Fisher pulls his influence isn't only vast, it's also full of all-time greats. Onstage, he roars overtop his power trio, vocals and melody soaring like Jeff Buckley, his guitar chops on par with fusion greats like Jeff Beck and Mike Stern. On record, notably on his latest single "It's Fine," he favors a more foot-dragging, ponderous approach á la Kurt Vile, his fondness of sharp arrangers and songwriters like James Taylor sewn intricately into each verse and chorus with a spry wink. Needless to say, his talent is a marvel.
---
Boy Harsher, 'The Runner (Original Soundtrack)'
Jan. 21
Boy Harsher makes music that feels chasmic and unnerving, like a pulsing score to the underworld. The Northampton-based darkwave duo, made up of Jae Matthews and Augustus Muller, retreated back to Massachusetts during the 2020 pandemic; shortly after, Matthews received a surprise multiple sclerosis diagnosis. The uncertainty the duo faced was enveloping, but it's also where they work best. "The Runner," Boy Harsher's subsequent release, is a nontraditional album, serving as the original soundtrack for a self-produced "meta-style documentary" about the recording process; it's as punchy and sinister as ever, showcasing the pair pounding through adversity.
---
Feb. 4
Following the release of her exquisite ninth solo album, "The Path of the Clouds," last October, Marissa Nadler has returned with a companion piece to the Path-sessions, a brief EP of unreleased tracks and covers titled "The Wrath of the Clouds." Much like its predecessor, water is a major theme here; the album opens with the unearthly "Guns on the Sundeck," a chilling 7-minute odyssey about the haunted Queen Mary ship. "The Wrath of the Clouds" is a welcome addition to Nadler's previous release, a continuation of the fleshy, texturally rich sound she mustered in such an emaciated pandemic span.
---
Feb. 4
The Lemonheads materialized in an era where Boston rock was at its most prolific; the late '80s and early '90s yielded groups like Pixies, The Magnetic Fields, The Breeders, etc. But through all the noise, and through a slew of locally championed albums, the jangly, punk-ish power pop of The Lemonheads broke through the mainstream with "It's A Shame About Ray," spearheaded by the success of their blithely raucous cover of Simon & Garfunkel's "Mrs. Robinson." Thirty years after its release, The Lemonheads' seminal album is being reissued as an expanded set, featuring live sessions, demos, new liner notes and unreleased photos of the band in their undisputed prime. (While the digital album is out Feb. 4, hard copies drop March 4.
---
March 11
Johan Lenox is Boston's best kept secret in the pop-rap community; his influence behind the scenes has led him to work with such heavyweights as Kanye West and Lil Nas X. On his debut album, "WDYWTBWYGU," Lenox reaches beyond the regional stage to a global audience, channeling the likes of Drake and Finneas with his syrupy melodies and lush hip-hop production. Just listen to his newest single, "No One Gets Me" — it's destined for primetime radio play. It's the soundtrack to accompany a rainy midnight drive, the backdrop of a city skyline a reminder that sometimes loneliness is our closest friend.
---
March 25
Just before the pandemic, Massachusetts-native Barrie Lindsay — or simply, Barrie — returned home to spend time with her sick father. As COVID encroached, Barrie's stay extended. It was there, in her childhood bedroom, where she began fleshing out the songs that would constitute her new album "Barbara," a sprawling confluence of synth-driven indie pop and arty, conceptual folk songs. On the album's spirited second single, "Frankie," the bouncy, driven synth bass recalls production-heavy artists like Robyn or Jessy Lanza, while the fine, melodic gossamer is reminiscent of modern pop-folk artists like Maggie Rogers and Phoebe Bridgers. Delicate, but ready to party.