As storm intensifies across Mass., many Cape Cod residents lose power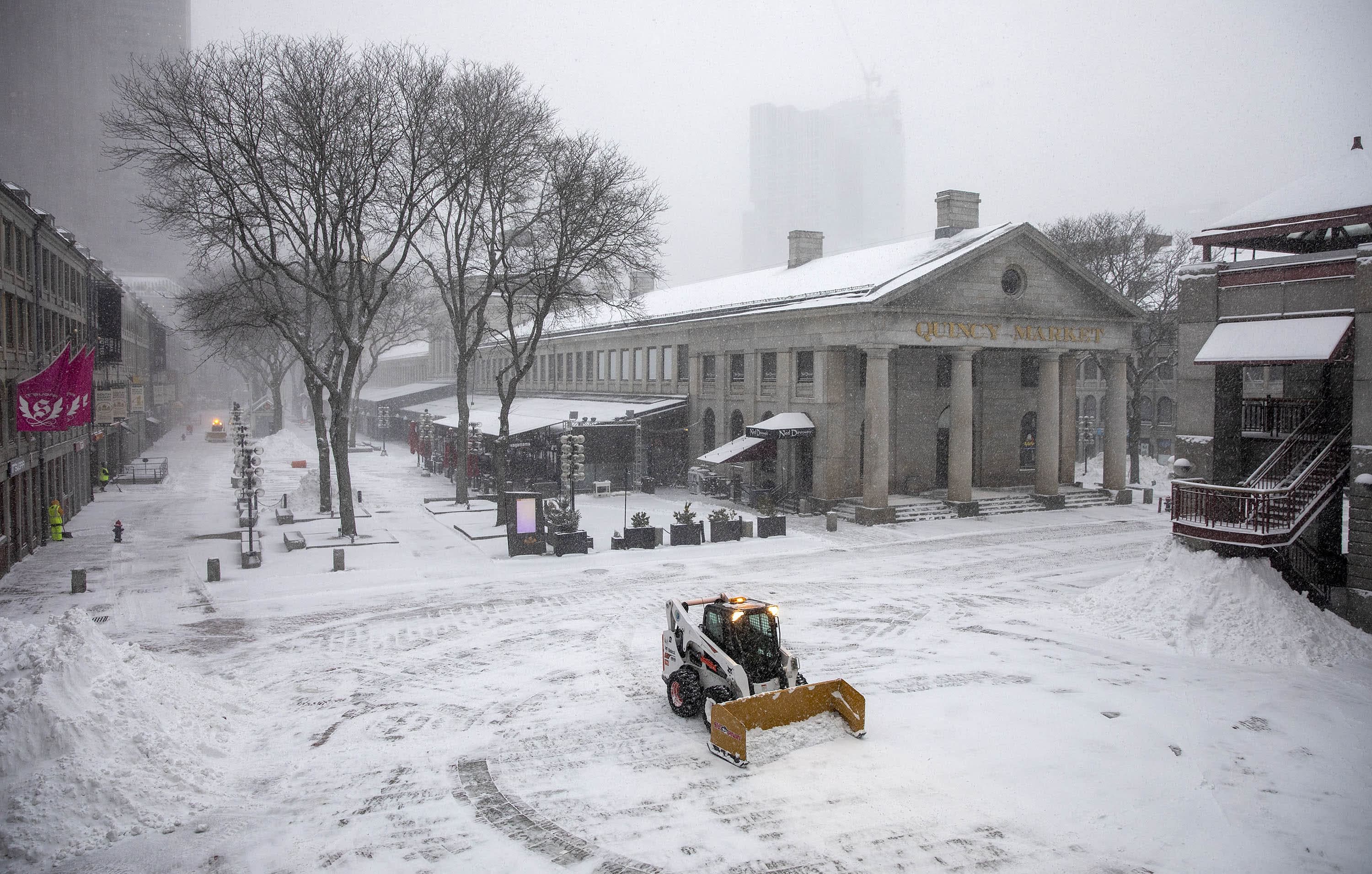 Massachusetts residents woke up Saturday morning to a range of snowstorm impacts, with some seeing only a few inches of snow on the ground, while others saw a half-foot or more accumulation. Wind gusts, however, were widespread across the state, creating blizzard-like conditions in coastal regions and taking out the power in some towns and cities.
The heavy snowfall increase throughout the entire region as the day continued.
Gov. Charlie Baker on Friday urged people to stay home and off the roads, stressing the severity of the storm.
"This is going to be a very big storm, probably one of the biggest we've experienced in the last few years," said Baker in a Friday evening press conference. "Conditions are expected to make travel nearly impossible and we're urging everyone to the extent possible to stay home."
"The rate of snowfall is expected to pick up significantly around 9 or 10 [Saturday] morning. And the National Weather service expects snowfall between 2 to 4 inches per hour, between 10 a.m. to 4 p.m.," continued Baker. "Two to 4 inches an hour is basically white-out conditions, so we especially urge anyone who doesn't have a really good reason to be out, not to be out and on the roads during that period of time."
With that, a travel ban was put into effect until midnight on all Massachusetts highways for tractor-trailer trucks, tandems and special permit haulers. Speed limits on the Massachusetts Turnpike were capped at 40 miles per hour from Palmer to the New York state border.
Travel on public transit was limited due to the conditions early Saturday. The MBTA replaced some areas of trolley service with shuttle services — such as above ground stops on the Green Line's D branch as well as the Mattapan line. Amtrak service between Boston and New York City was canceled.
The storm affected air travel, too, with more than 600 flights canceled out of Logan Airport as of Saturday morning.
As of about 4 p.m. Saturday, Massachusetts had about 106,000 customers without power. The majority of outages were in Plymouth, Bristol, and Barnstable counties.
Towns on Cape Cod also experienced widespread outages. Provincetown was 100% dark and without power Saturday morning, and continued to have no power as of 4 p.m. Other towns on the cape lost power as the storm intensified into the afternoon, with Wellfleet, Chatham, and Eastham all reporting over 85% of customers were dealing with the outages.
Massachusetts was just one of 10 states sitting within the storm's path. By Saturday morning, forecasters reiterated earlier warnings to residents that the snow could pile up, wind speeds could increase and conditions could worsen as the day progresses. Flights were cancelled en masse, with some states restricting all road travel with the exception of emergency vehicles. Coastal states were expected to experience the strongest wind gusts.
Many cities and towns earlier instituted snow emergencies, including the city of Boston.
Boston Mayor Michelle Wu also urged city residents to stay home and stay safe, but did offer advice to those who must travel through the storm.
"If you must travel, please bundle up and dress warmly and take the T if at all possible," said Wu. "If you have to drive, give yourself plenty of time. Keep plenty of room for our crews to be able to maneuver on the roads and keep our streets safe."
As for managing the storm in Boston, Wu acknowledged that clean up would likely be a challenge for workers.
"We know that this is going to be quite a difficult one to manage, and so I'm so thankful to our public works employees, our plow drivers, our first responders who are going to be going all weekend, and our call takers up at the city hotline," said Wu. "So for non-emergency calls or instances, people can call 3-1-1. And if you see someone who is outside who needs help, please call 9-1-1 and we'll get a wellness check out there right away."
Clearing snow in some communities went slowly as they dealt with snow plow driver shortages.
Crews in Melrose, Rowley, Salem and others said they have fewer drivers and equipment than in past storms, but they're making due.
"It's not ideal, but not dire," said Paul Brodeur, mayor of Melrose.
David Knowlton, director of Public Services in Salem, said they're down 10% this storm. It's not enough to cripple the city, he said, it just means it'll take longer to clean roads and sidewalks.
"Typically after a storm, when the snow ends, we'd stay around for 3,4,5 hours, get the streets to bare pavement, and go home, that's not going to happen just because of the amount of snow we're going to get," said Knowlton. "The roads are still going to be white when we leave tonight. But, we'll have the snowbanks pushed back and the roads will be open, but we'll have to some back tomorrow and do some additional plowing."
Knowlton said he's worried about the emotional and mental health of his workforce  long term, particularly when they're putting in 10 to 12 hour days.
Coastal communities along the north shore feared flooding because of the blizzard, but in reality experienced little flooding Saturday morning after the day's first high tide. In Newburyport, Mayor Sean Reardon says most residents on Plum Island and flood prone areas evacuated.
"We were out there yesterday going door to door, and I was pleasantly surprised that a lot of the residents were deciding to leave and and the ones that have decided to stay are, you know, have all the numbers that they need," said Reardon. "So they're keeping me in the loop throughout the day."
In Rockport and Nahant, the storm produced big waves, but no flooding was reported. Ipswich did have some street flooding, but head of Emergency Management for the town Lt. Jonathan Hubbard said the water quickly receded. Hubbard said Ipswich had borrowed a vehicle from the National Guard capable of traveling in the water to use if main roadways were to become flooded at any point.
Officials said their sights were now set on the second high tide of the day, set for around 8 p.m., which could also have the potential for street flooding.
On the south shore in New Bedford, Mayor Jon Mitchell spoke to residents via social media, calling for patience, urging people to take the storm seriously and stay off the streets.
"This is going to be a lot of snow and a lot of it's going to be blown back into the streets after it's plowed because the wind is going to be very high," Mitchell said. "We'll work very hard to make it happen, to get the streets clear, but the reality of it it is it's going to take a little while to do."
New Bedford has been hit especially hard by the storm. About 63% of the city's customers were without power as of around 10:30 Saturday morning. However, crews worked to fix the outages and by about 4 p.m. only 6% of customers were still without power.
High winds wreaked havoc across Cape Cod, and despite less snow accumulation towns experienced a high level of power outages. Numerous crews fortified shorelines and other vulnerable areas of Provincetown with sand to prepare for ocean flooding.
Richard Waldo, director of public works for Provincetown, said he worried about the long-term damage the storm could cause.
"If I had to pinpoint anything that's making me nervous, it is the potential for long-term power outages," he said. "I think given the fact that we might have some heavy wet snow with some high winds, it could cause some infrastructure problems on the utility system."
With reporting from WBUR's Amanda Beland, Hannah Chanatry, Fausto Menard and the WBUR Newscast Unit
This article was originally published on January 29, 2022.