'It's going to be a big one.' Massachusetts readies for major snowstorm and high winds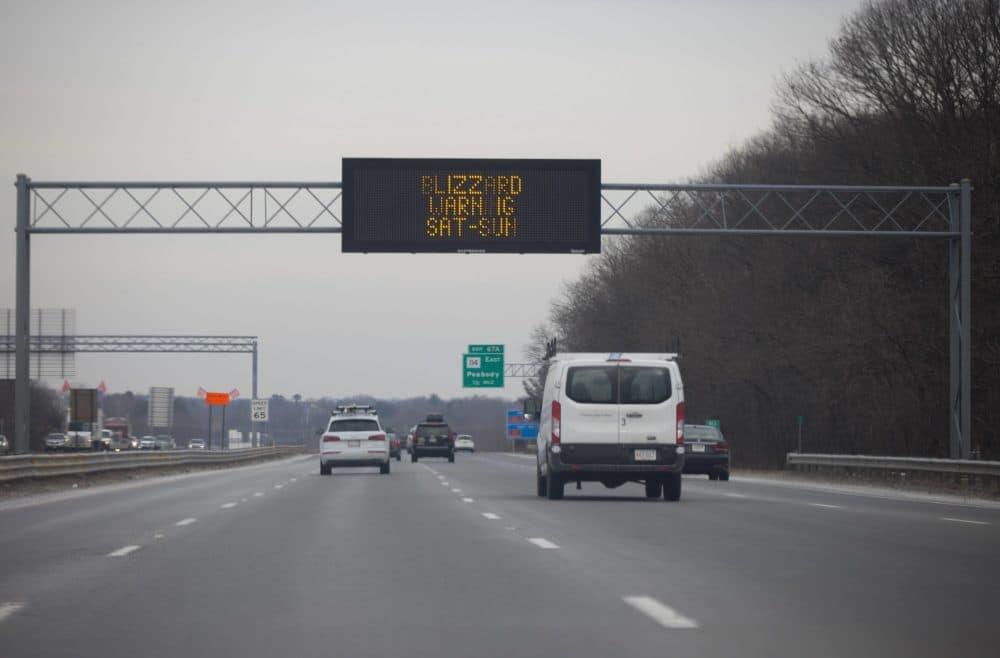 This article is more than 1 year old.
Stay home. Look out for your neighbors. Watch where you park.
Those are the words of caution from city officials as Boston prepares for a blizzard forecasted to dump up to two feet of snow with 40 to 50 mile per hour winds.
"It's going to be a big one," said Mayor Michelle Wu. "This has the potential to be a historic storm. A huge one."
Wu declared a snow emergency for the city of Boston. A parking ban is scheduled to begin at 9 p.m. After that, vehicles parked on main roads and arteries may be towed.
The police will also be paying special attention to parking violations, said Lanita Cullinane, deputy superintendent of the Boston Police Department. Those violations include blocking fire hydrants, parking in fire lanes, double parking and parking within 20 feet of an intersection.
Cullinane also said officers will keep an eye out for businesses in the area to prevent possible vandalism and looting "because of opportunities presented during this emergency."
Officials say the storm will create white out conditions with snowfall rates estimated as high as 2 to 4 inches or more an hour. Residents are encouraged to avoid travel during that time.
"All told this is a blizzard," said Jascha Franklin-Hodge, Boston's chief of streets, "this is not just a big snowstorm, and that comes along with some additional concerns. That's part of why you're hearing a different tone today in terms of the risk and response that we as a city are mounting."
For those who must travel during the storm, Wu encouraged using the MBTA.
The MBTA will suspend service on the Mattapan line Saturday to prevent damage to the trolleys, said T spokesperson Joe Pesaturo. Buses will provide replacement service during the suspension. The MBTA will also suspend ferry service between Charlestown and Long Wharf.
As for bus service, Pesaturo said 60-foot articulated buses will be removed from service to prevent jackknifing. They'll be replaced with 40-foot buses. Also, as conditions worsen, riders could expect bus routes to be rerouted to avoid steep hills, tight corners and narrow streets, and snow plow-equipped trains will operate on subway and commuter rail lines.
For those looking to fly out of the city, 486 Saturday flights have been canceled so far, according to FlightAware. Most of those flights are from JetBlue and American Airlines.
"Our aim is to be prepared to restart flights as early as possible Sunday, though passengers should expect delays and possible cancellations Sunday as well," said Massport spokesperson Jennifer Mehigan in an email. "Passengers should check with their airline for the best information about their flight."
Meanwhile, the state's coastal communities are asking their residents for patience as they prepare for a weather trifecta of snow, high winds and high tides. The city of Salem is down about 10% of its snow plow contractors and several of its public works staff due to COVID.
"It's just going to take time for us to get the streets to the normal condition," said David Knowlton, director of public services in Salem. "We just have to do more with less."
Knowlton says he's expecting the high winds to cause tree damage and possible power outages.
Outages are also a concern for Provincetown, says Richard Waldo, Provincetown's  director of public works.
"If I had to pinpoint anything that's making me nervous, it is the potential for long-term power outages," Waldo said. "Given the fact that we might have some heavy wet snow with some high winds, it could cause some infrastructure problems on the utility system."
Located at the tip of the Cape, Provincetown residents typically wait longer to have their power restored than most communities.
Waldo says the town is well-staffed and prepared to put up a shelter if needed. Teams have fortified shorelines and other vulnerable areas with sand in preparation for the high tide.
The high tide is expected to cause flooding in Scituate.
Scituate Town Administrator James Boudreau is asking residents in traditionally flood-vulnerable areas to wait out the storm elsewhere if they're able to. He's also warning that the 60 mph winds will likely delay snow removal.
Scituate crews are currently putting brine on the roads to prevent the snow from sticking and preparing their high-water vehicles to mobilize when needed.
"If you are in prep mode, you need to gas up your generators, you need to get water, food, things like that ready today. After tonight, it's going to be too bad to go out," Boudreau said.
Boudreau says they are down six snow plow drivers in Scituate this year, which may also contribute to some delays in storm cleanup.
In Lawrence, a landlocked city in the state's northeast, Director of Public Works Jorge Jaime says with the public's help, crews are prepared to have clean streets by Monday morning.
"We need the cooperation of the public: parking properly so that we can clean one side of the street so we can go out tomorrow and clean the other side of the street," Jaime said.
With more than 130 snow plows, Jaime says Lawrence is not facing similar driving shortages as other communities. He credits that to early and frequent outreach through radio and social media.
This article was originally published on January 28, 2022.