Here's when Boston plans to lift its COVID vaccine requirement for certain indoor venues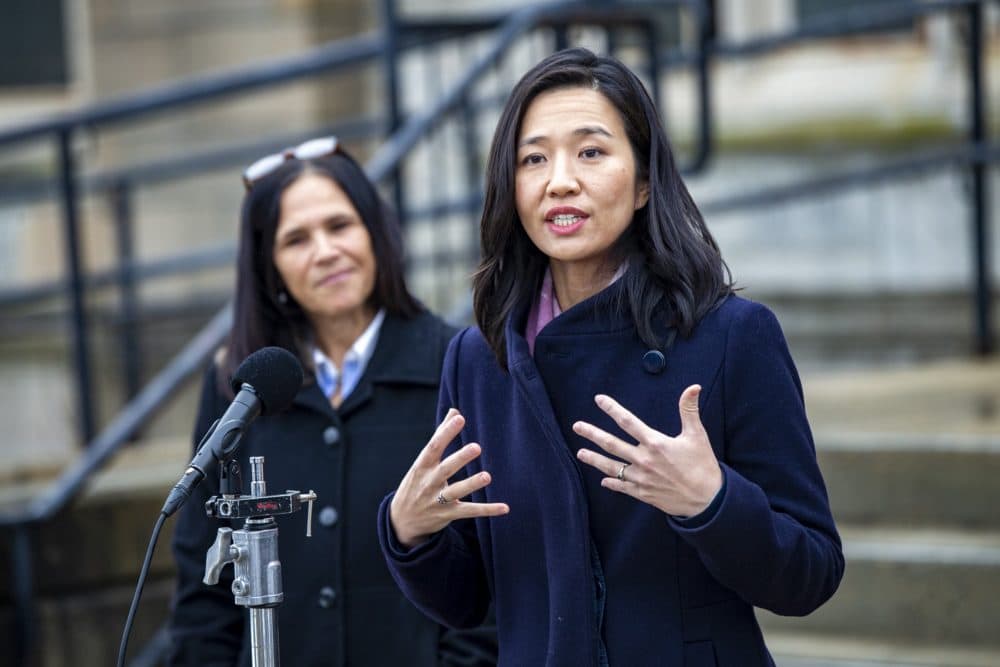 This article is more than 1 year old.
Boston Mayor Michelle Wu has said that her administration's proof of COVID-19 vaccination requirement for indoor venues like restaurants and gyms is a temporary policy.
For the first time Tuesday, she outlined when exactly the city plans to lift the mandate, as the COVID rates continue to fall on the backend of the omicron surge.
Speaking in Brighton on Tuesday, Wu told reporters that the city plans to repeal the requirement once Boston's hospitalization and COVID rates are below three weekly metrics: less than 95% of adult ICU beds occupied, less than 200 daily COVID hospitalizations and less than a 5% citywide test positivity rate (excluding testing on college campuses, which would skew the numbers downward).
Boston is already below one of the metrics, with 91.3% of ICU beds occupied, according to the most recent data posted by city health officials.
The city still has a ways to go to get under the other two thresholds. Wu said Tuesday that, as of this week, the city is averaging 387 daily COVID hospitalizations and that the seven-day positivity rate remains above 7%. However, all three metrics have been trending sharply downward since the peak of the omicron surge in mid-January.
"Once we are under all three of those thresholds, we intend to lift the business proof of vaccination requirement," Wu said Tuesday morning.
In a subsequent press release, Wu pointed to the recent decline in COVID rates as evidence that the city's policies "have been working." The phased-in vaccination requirement, which was announced in December, began to take effect last month, mandating that employees and patrons 12 and up at indoor restaurants, gyms and other entertainment venues provide proof of at least one COVID vaccine dose. The second phase, requiring proof of full vaccination, is scheduled to kick in next Tuesday.
Later phases in March and May would require children aged 5 to 11 to show proof of vaccination, too. But given the current trends, it's possible they won't ever take effect.
"I'm encouraged by the current trends and grateful to the Boston Public Health Commission and all our partners for strong leadership to keep us heading in the right direction," Wu said in a statement Tuesday afternoon. "The fastest way to help ensure we are relieving pressure on hospital capacity and driving down community positivity is to keep closing gaps with vaccination and boosters."
The mayor's office also noted the Boston Public Health Commission will have the ability to restore the vaccination requirement in the event of future surges, based on "COVID-19 metrics and other emerging public health information."
The announcement comes as many fellow Democratic officials in neighboring cities and states move to relax COVID restrictions, with the omicron variant in retreat.
Health officials in Salem — which was one of two Massachusetts communities to follow Boston's lead implementing a vaccine requirement for certain indoor venues — also plan to revisit the policy during a meeting Tuesday, as well as the city's indoor mask mandate.
Worcester, the second largest city in Massachusetts, will also lift its mask mandate for indoor public places (except schools) on Feb. 18, following in the footsteps of a growing number of Bay State communities, including Canton, Lowell and Malden.
The governors of Connecticut and New Jersey announced Monday that they will lift their statewide school mask mandates on Feb. 28 and March 7, respectively. And in Massachusetts, Gov. Charlie Baker hinted that his administration may let the statewide school mask mandate expire on Feb. 28 as well.
Of course, cities and towns still have the option of keeping tighter restrictions in place.
Wu did not provide any thresholds for when Boston plans to lift its mask mandates for schools and indoor public places Tuesday, saying only that "we are not yet there."