You'll need a vaccine to go inside Boston restaurants, entertainment venues and gyms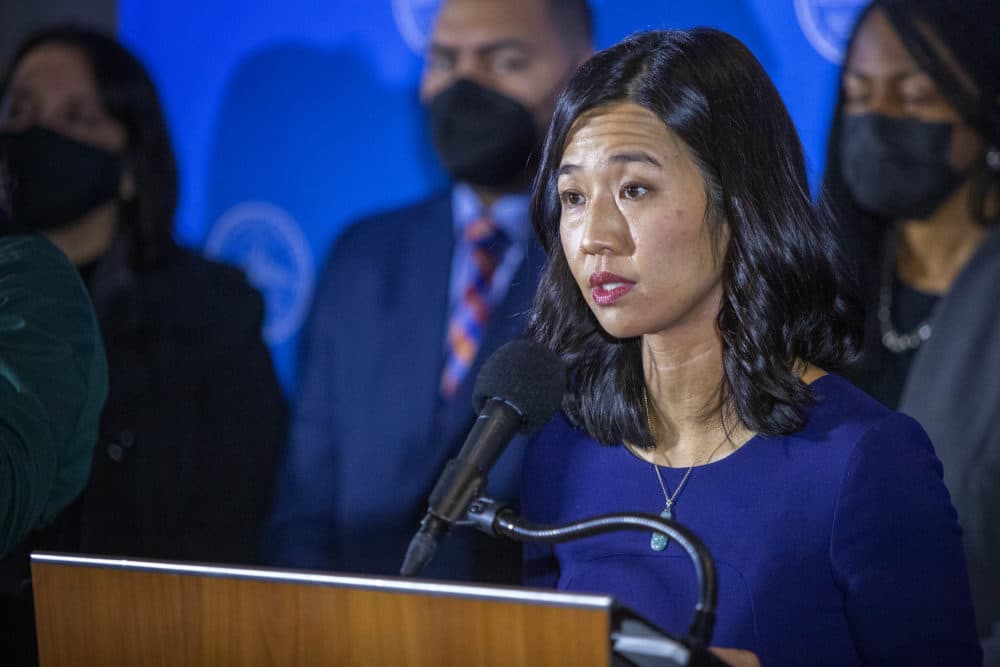 This article is more than 1 year old.
If you want to go to places in Boston like a restaurant, a gym, a sports venue or a museum, you'll soon need to have show proof of vaccination against COVID-19.
Boston Mayor Michelle Wu announced the vaccine requirement, dubbed the "B Together" initiative, on Monday as cases spike in Massachusetts and around the country.
It will be phased in starting on Jan. 15. On that day, patrons and employees ages 12 and up will have to show proof of one shot. Starting Feb. 15, people will need to show proof of two shots. Children younger than 12 will need to show proof of vaccination starting in March. This plan does not currently include booster shots.
"Today we are facing another winter surge with the omicron variant, but there is a key difference between last winter and today," Wu said Monday. "Vaccines."
"Vaccines are the most powerful tool we have to fight this pandemic."
Among those who are hospitalized with COVID-19 in Boston, two-thirds are unvaccinated, according to Bisola Ojikutu, executive director of the Boston Public Health Commission.
"We expect case numbers to rise significantly in January," Ojikutu said Monday. "The sheer number of cases will have an impact on our health care system."
Wu said the city's vaccine passport initiative will help ease the burden on the health care system this winter, as hospitals brace for cases to keep rising this holiday season.
The requirement will apply to three categories of businesses: indoor dining (including bars and restaurants), indoor fitness; and indoor entertainment and event venues (including sports arenas, theaters, museums).
The order is for all employees, including part-time workers, interns or volunteers, of the venues. However, there are exemptions, including performing artists who are not "regularly employed" by a venue and professional athletes or sports team who enter an arena "as part of their regular employment for the purposes of competing." The order specifies that those individuals must wear a face mask at all times.
According to the city, different ways to show proof of vaccination include:
A CDC vaccination card (the paper copy, or a digital image)
An image of any official immunization record
A city of Boston app or any other COVID vaccine verification app
Wu also announced that all city employees will need to be vaccinated along the same timeline: one dose by Jan. 15, two doses by Feb. 15. The mayor said there will no longer be a weekly testing alternative to vaccinations. Currently, she said, 90% of city employees are vaccinated.
"This is a response rooted in science and public health," she said. "We need to take every available action to protect our residents."
Protesters at City Hall were audible during the press conference. Wu acknowledged them at one point, welcoming them to what she called "the people's house." The protesters at one point sang the national anthem, and chanted, "Shame on Wu."

Wu noted that New York City implemented a vaccine passport program months ago, and that some businesses in Boston have required vaccination for entry.
"Many have taken on the burden of asking vaccine proof on their own," she said. "It's time to ease that burden."
Planned support for businesses affected include a series of webinars starting Tuesday.
Wu says that "down the road" enforcement will involve penalties such as fines.
Wu said this is "one step in an aggressive approach" the city will ramp up in the next few days. "We're ready to take this step forward to protect our residents and are prepared to help our businesses, too."