Boston City Councilor Ricardo Arroyo is running for Suffolk County DA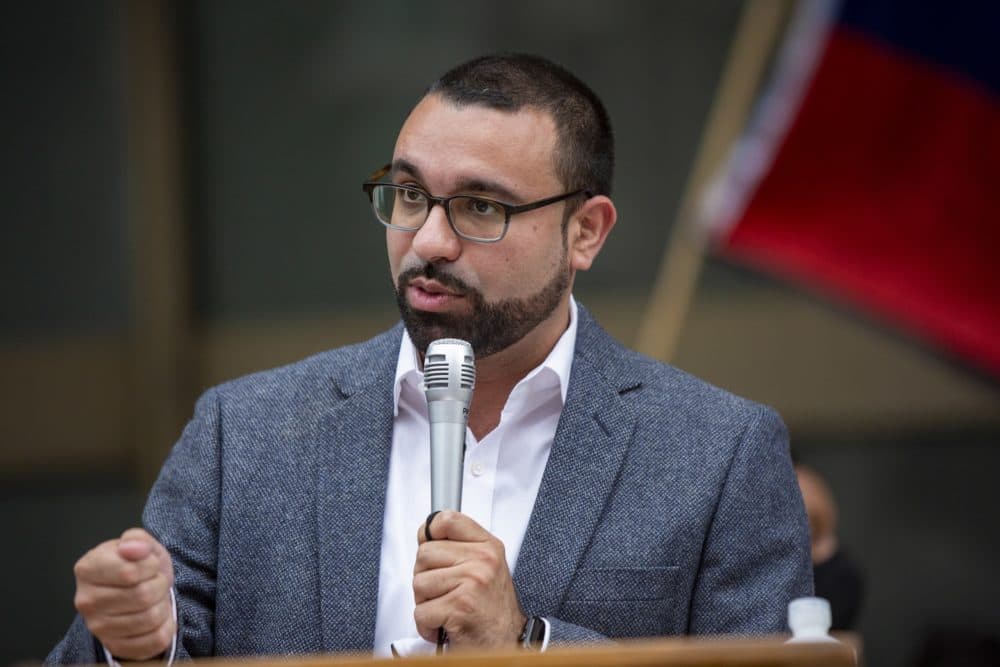 Boston City Councilor Ricardo Arroyo is running for Suffolk County district attorney.
Arroyo will formally announce his candidacy Tuesday morning in Roslindale, following reports in recent weeks he had been eyeing a bid for the office. He will be the first officially declared candidate in the race to replace Rachael Rollins, who vacated the position last month to become Massachusetts U.S. attorney.
Gov. Charlie Baker tapped attorney Kevin Hayden, former chair of the state's Sex Offender Registry Board, to replace Rollins as interim Suffolk DA through the November election. Hayden has said he is still weighing whether or not to run, but indicated he likely will. State campaign records show Hayden has formed an official election committee.
Arroyo was elected to city council in 2019 as part of a historically diverse group of new councilors. He became the first person of color to represent District 5, which includes Hyde Park, Roslindale, Readville and Mattapan.
Arroyo sits on the council's civil rights and public safety and criminal justice committees, among others. He previously worked as a public defender with the Committee for Public Counsel Services, the state's public defender agency.
The Hyde Park resident has been outspoken on racial justice and equity issues. In March 2020, Arroyo called on then-Mayor Marty Walsh to declare racism a public health crisis in the city. Walsh issued that declaration in June after the murder of George Floyd in Minneapolis and subsequent protests against police brutality in Boston.
"There's a heartbreaking reality to being a person of color in America in understanding that race matters every day," Arroyo told WBUR at the time.
More recently, Arroyo co-sponsored an order for a hearing on the Boston Police Department's purchase of controversial spy technology, uncovered in a WBUR and ProPublica investigation.
Arroyo's father Felix D. Arroyo currently serves as register of the Suffolk Probate and Family Court, which handles matters like divorce, child support and wills.
The Suffolk DA oversees a staff of about 270 people, including 160 lawyers. The office handles more than 25,000 criminal cases a year.
With reporting from WBUR's Deborah Becker