Sci-fi film 'Strawberry Mansion' paints a future where dreams are taxed
In the future, they'll even find a way to tax your dreams. So goes the premise of Albert Birney and Kentucker Audley's "Strawberry Mansion," a beguilingly handcrafted sci-fi adventure opening this week at the Brattle Theatre. Something like a cross between Wes Anderson and Philip K. Dick, but with a wistful, romantic sensibility all its own, the film stars co-director Audley as James Preble, a mild-mannered auditor from the IRS assigned to inspect dream recordings and assess unpaid taxes from those who haven't upgraded to the latest automated software. On a routine audit, he accidentally uncovers a far-reaching conspiracy to sell advertising space inside people's subconscious — which might explain the overly friendly guy in a Hawaiian shirt who keeps interrupting Preble's dreams with pitches for pest control products and soda — and he also finds himself falling for a free-spirited blonde who keeps popping up in his work. Poor guy just met the girl of his dreams in somebody else's.
What an odd and unique movie this is, full of child-like whimsy and wonder. Filmmakers Birney and Audley previously teamed for 2017's "Sylvio," the charming tale of a depressed gorilla working as a debt collector and talk show sidekick who yearns to express himself artistically. It's a silly story that's somehow strangely touching and relatable, despite the protagonist being played by Birney in a costume-shop ape mask. These guys have a real thing for actors wearing animal masks and people clothes. (They've made "Sylvio" available for free on YouTube for a limited time to promote the new picture.)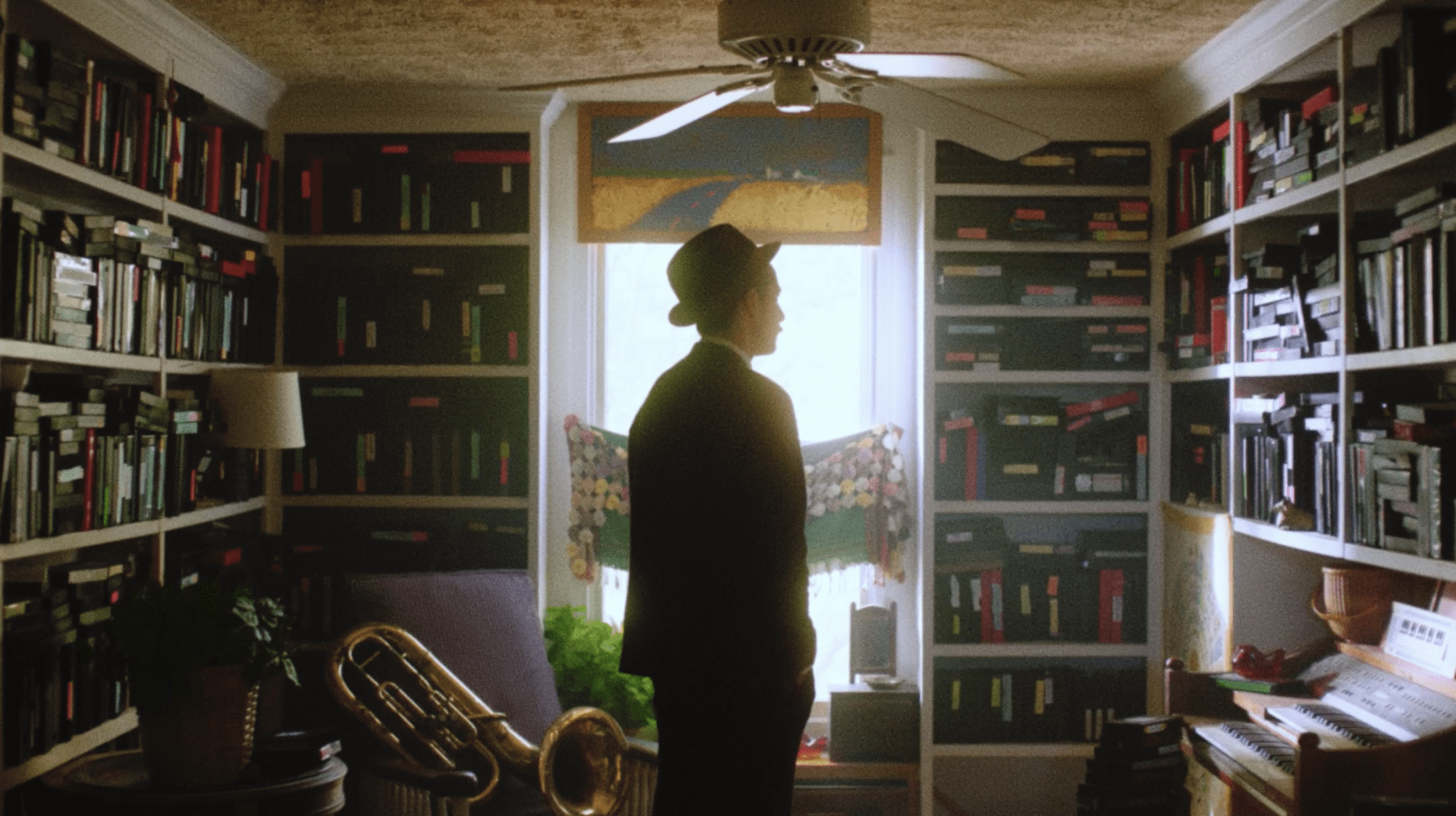 "Strawberry Mansion" is more strikingly ambitious, if just as gentle-spirited. Inspecting the dreams of an eccentric senior citizen — played by "All the President's Men" scene-stealer Penny Fuller — in a remote, red house from which the film takes its title, Preble is confronted with a backlog of over 2,000 VHS tapes. To audit them, he must wear an amusing-looking contraption that looks like a refrigerator box adorned with vacuum cleaner parts, beaming himself like a glowing blue Force ghost into decades of her dreams. The old gal never converted to digital, and in a lot of ways neither did her directors.
Birney and Audley are analog filmmakers at heart, and the dazzling dreamscapes of "Strawberry Mansion" are conjured out of papier mâché, puppets, miniatures, stop-motion animation and primitive cinematic sleight-of-hand dating back to the silent era. It's a movie where men dress like 1940s private eyes and drive giant, 1960s gas-guzzling sedans. The cutting-edge technology is retrofitted from old, top-loading VCRs and 8-bit graphic display screens. They shot on video but transferred it to 16 mm film to get just the right grainy texture, adding little vinyl hisses and pops to the soundtrack. The result feels endearingly handmade and tactile; the kind of movie it feels like you could put in your pocket, or keep close to your heart.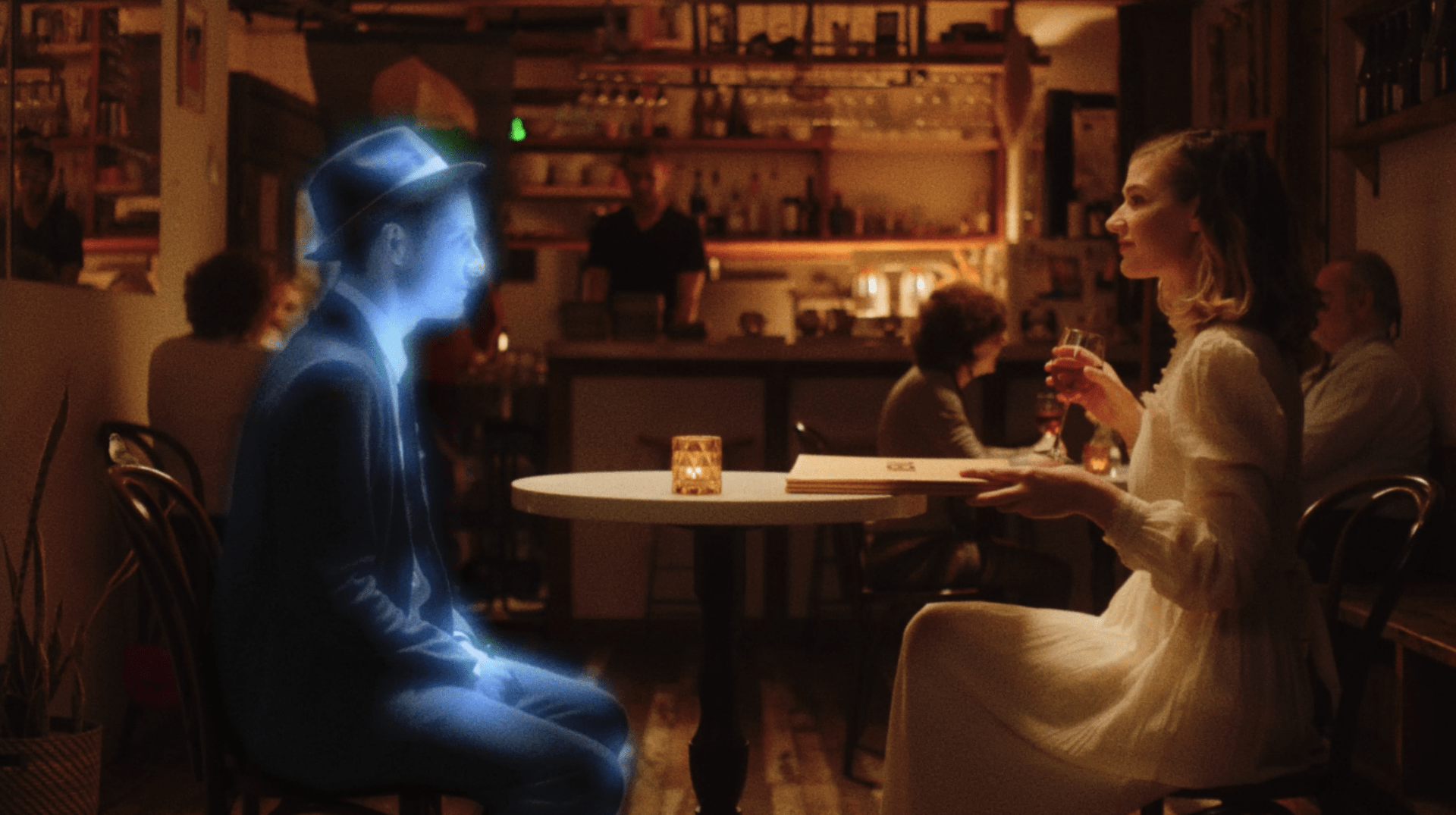 This thrift shop "Inception" plot sends Preble and Bella (Grace Glowicki, displaying the coltish charisma of a young Laura Dern) on a mad chase through their mixed-up subconsciouses, after he gets clobbered over the head with a bowling pin while wearing that auditing device. The second half of "Strawberry Mansion" is a swooningly romantic, psychedelic pursuit that adheres only to the logic of dreams. Preble steps through a door and finds himself captain of a ship crewed by rats (more actors in the filmmakers' precious animal masks) and 10 seconds later it's been seven years and he boasts a very long beard. Audley's droll voice-over narration explains it all as matter-of-factly as possible. "For a while we became beets," he says, before cutting to a shot of the actors dressed as vegetables on an oversized plate.
Without putting too fine a point on it, the artisanal, homemade quality of these images feels itself like an act of rebellion against an increasingly crass corporate culture. The disgusting fast-food products that keep getting pitched into Preble's dreams — like an especially icky sounding fried-chicken-and-gravy shake I'm surprised isn't available already — pollute the characters' most private moments. It's no accident that Bella's dreams are stored on VHS tapes, her den lined with shelves and looking like a funky old video store from the days before Blockbuster homogenized the entire experience. "Strawberry Mansion" reminds us that the best movies feel like shared dreams, and that their only limits are those of our imaginations.
---
"Strawberry Mansion" runs at the Brattle Theatre from Friday, Feb 18 through Thursday, Feb 24.
Watch Sean Burns' Q&A with writer-directors Albert Birney and Kentucker Audley from the 2021 Independent Film Festival Boston here.