Boston may not be requiring masks anymore, but many say they'll keep them on for now
Resume
Ken Gloss is hopeful for the future.
"It's sort of the light at the end of the tunnel, and hopefully that tunnel is getting very short," said Gloss.
Gloss is the proprietor of Boston's Brattle Book Shop, a used and antique bookstore that's been in his family since 1949. But in recent times, he and his staff have also taken on the role of the "mask police," stopping any uncovered face that walked through their doors. Some people had simply forgot to put it on and did so when asked. Others, not so much.
"The mental stress just on the staff asking people to put on masks was a lot harder than the worry [of the virus]," said Gloss.
But Gloss says those days are done — for now. That's because the Brattle Book Shop is among the thousands of businesses in the city who, starting Saturday, will not be required to mandate customers wear masks to shop, eat, or play in their establishments.
This after Mayor Michelle Wu and the city's Public Health Commission lifted the mask requirement this week. The mandate had been in place since August 27, 2021 - when then Acting Mayor Kim Janey implemented it.
Wu cited improving public health — the same data that she used to lift the city's vaccine mandate for businesses late last month.
"I'm grateful that our city is ready to take this step in our recovery thanks to the hard work and commitment of residents keeping our communities safe over many, many months," said Mayor Wu in a statement posted to Boston.gov.
Communities like Cambridge and Worcester have already dropped their mask mandates, or have plans to. And even cities like New York City and Los Angeles are reconsidering their own mandates as the omicron surge seemingly subsides.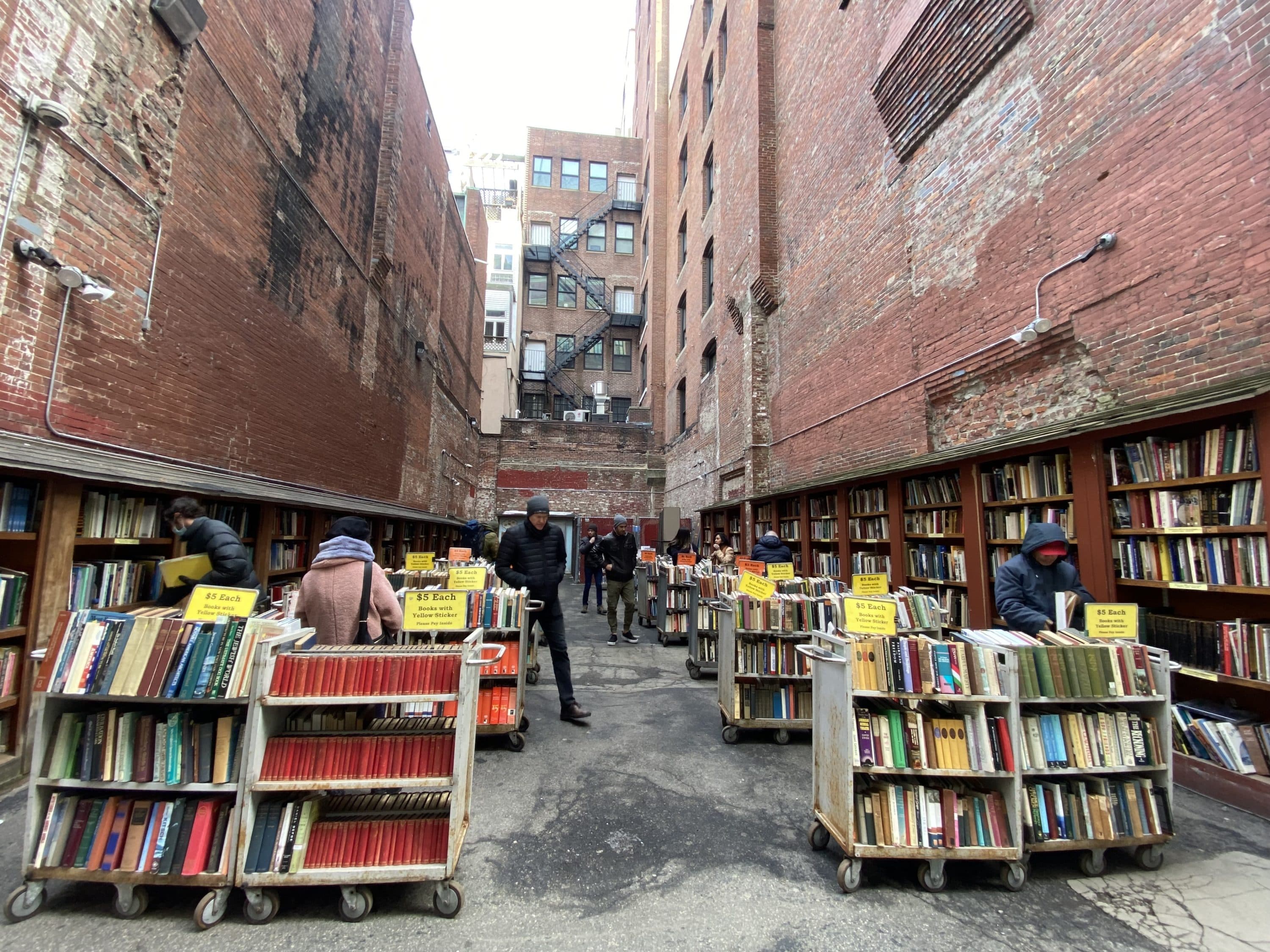 Tim Bergey was visiting the city from Philadelphia for work. He says he plans to wear his mask indoors in Boston and indoors back home because he feels it's the responsible thing to do.
"Not everyone has that luxury to be safe, have the same kind of access to medical care, support systems, things of that nature," said Bergey. "And my wearing a mask is taking into consideration everybody. Just because hospitalizations are down, cases are less severe, doesn't mean that it's magically gone."
Residents and visitors are still required to wear masks on public transit, in healthcare and congregate care facilities, among others. Individual businesses can implement their own mandates, says the city.
On Saturday morning at the Brattle Book Shop, it was a mix of masked and unmasked faces looking through the stacks. Customers and staff alike can go mask-free in the shop, but Ken Gloss still expects most of his staff to keep their masks on.
Rory Pryor, an employee at the Brattle Book Shop, is one of those staff members. They say because they interact with so many people in a given day, they're choosing to stay masked. They said they would consider removing it once masks are not required on public transit and in healthcare facilities.
"That means someone is still being very cautious and I'd like to be as cautious as them," said Pryor.
Over at Audubon Boston, a bar and restaurant right outside of Kenmore Square, managing partner J Bellao says patrons can go mask free, but staff will be required to keep their masks on for the next few weeks. He says he's hopeful, but what's happening right now feels a little like déjà vu.
"Last summer, we kept our masks on our faces for a couple extra weeks and actually everything ticked up, and I think we only had masks off for about a week and half or so before everyone said 'yes your masks back on your faces again,'" said Bellao. "We just feel like it's been two years and it really doesn't bother us all that much anymore."
Bellao is talking about the delta surge last summer that was the impetus for the mandate in the first place.
"Not everyone has that luxury to be safe, have the same kind of access to medical care, support systems, things of that nature."

Tim Bergey
Harvard epidemiologist William 'Bill' Hanage says that concern is real — and the threat of a new variant is always omnipresent. But because omicron causes milder illness in vaccinated people then the delta variant, a potential surge in cases would hit different than it did in the past.
"We're going to see more infections than you would have, had the mask mandates been in place," said Hanage, "but those infections are not severe, they're likely to be not as consequential as they were earlier on in the pandemic."
Hanage says it's likely that mask mandates will return at some point if cases do rise significantly enough — some, including Mayor Wu, have said this may be the case in the fall.
Joisah 'Joe' Spaulding Jr., CEO of the Boch Center, which manages the Wang and Shubert Theaters, says the Boch supports the city's decision making.
Spaulding says customers and the majority of staff will not need to wear masks. He says the only time masks and vaccinations will be mandated is if a show or performance requires it.
"We were the last industry to reopen, and we were the first industry to close and so today, I'm extremely hopeful," said Spaulding. "I'm extremely excited about that we're getting back to normal."
Spaulding says from August to December, more than 125,000 people attended shows at the Boch, even with the mask and vaccine mandates. In that time, he says patrons could take their masks down if they were eating or drinking — and many of them did.
"I think that they knew that the Boch Center was as safe as it could possibly be, and it will remain that way," said Spaulding.
The Museum of Science is among the majority of major museums in the city who are following the city's lead and dropping their mandates. Others include the Museum of Fine Arts and the New England Aquarium.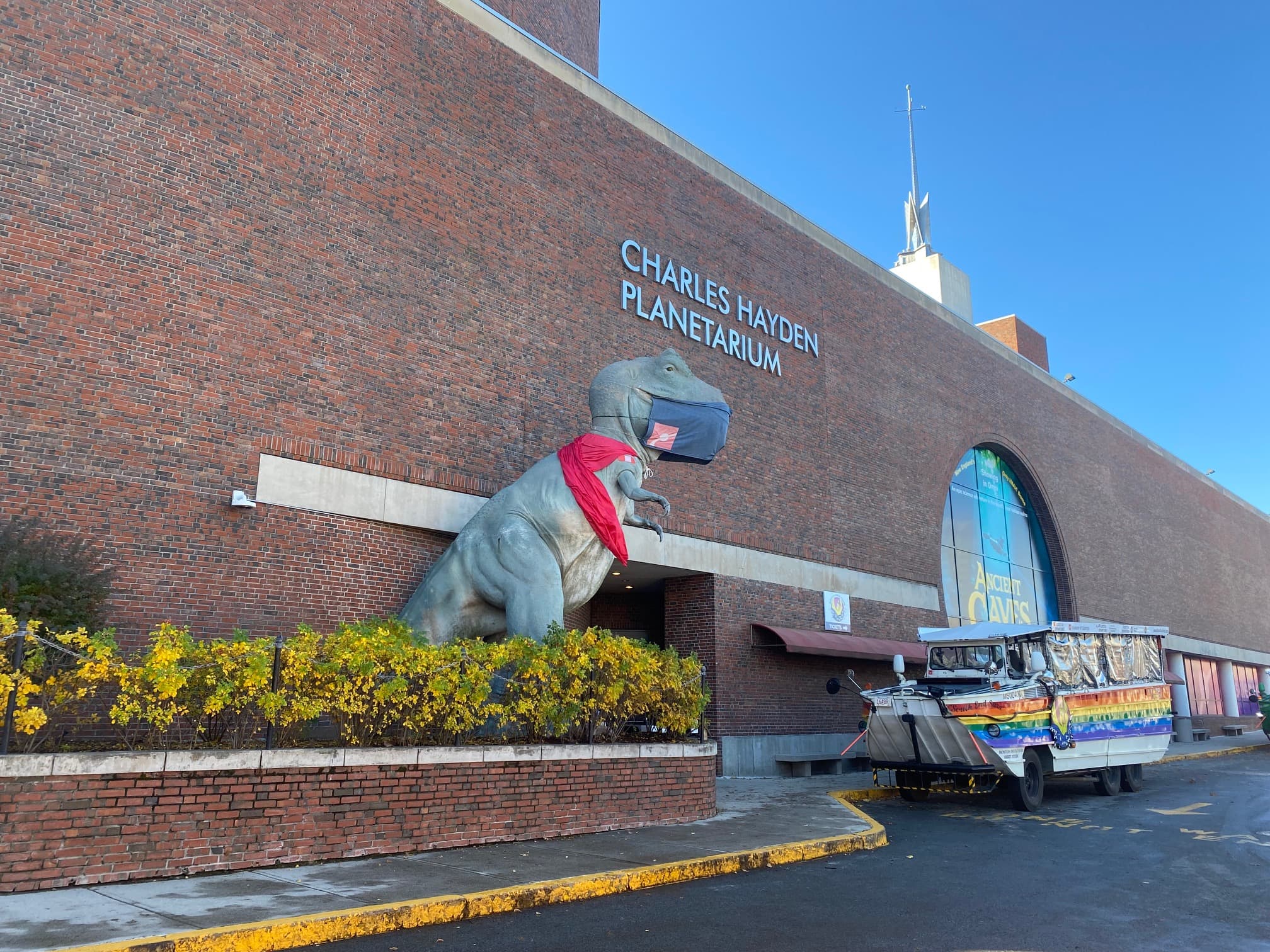 The Museum of Science is located both in Boston and Cambridge, which means they follow whichever city's rules are more strict. With that, the museum is still requiring masks until March 13, when Cambridge's mandate is slated to end.
According to Museum of Science President Tim Ritchie, the transmission rate in Suffolk County — where the museum is located — is still high enough where the museum is recommending guests still wear masks inside their exhibit halls, even without the mandate. Ritchie says he'll be wearing a mask inside the museum too until those numbers go down a bit more.
"I am really looking forward to the healing that will come when things move from mandates to individual choices," said Ritchie. "I am hopeful ... that we can talk with each other about what a reasonable person would do without that third factor being people's attitude toward government and the politicization of this whole thing that is really ripped us apart as as a nation. And I think needlessly so. And the consequence has been over 900,000 people are dead as a result of this, and many of those deaths were avoidable if we could have avoided some of the acrimony."
"We were the last industry to reopen, and we were the first industry to close and so today, I'm extremely hopeful. I'm extremely excited about that we're getting back to normal."

Joisah 'Joe' Spaulding Jr., CEO of the Boch Center
Ken Gloss, with Brattle Book Shop, says he'll also be wearing his mask at work for the time being, but for a different reason. At the end of the month, he's taking a trip and it's one he can't miss.
"For the first time in two years, I'm gonna get on a plane and fly to Africa to see my new grandson," said Gloss. "Before the pandemic, we used to be on a plane five, six, seven, eight times a year, and we haven't been on since. I can't imagine that everybody's not hopeful."
This segment aired on March 6, 2022.