Janey Orders Indoor Mask Mandate For Boston And Its Schools To Mitigate Delta Variant's Spread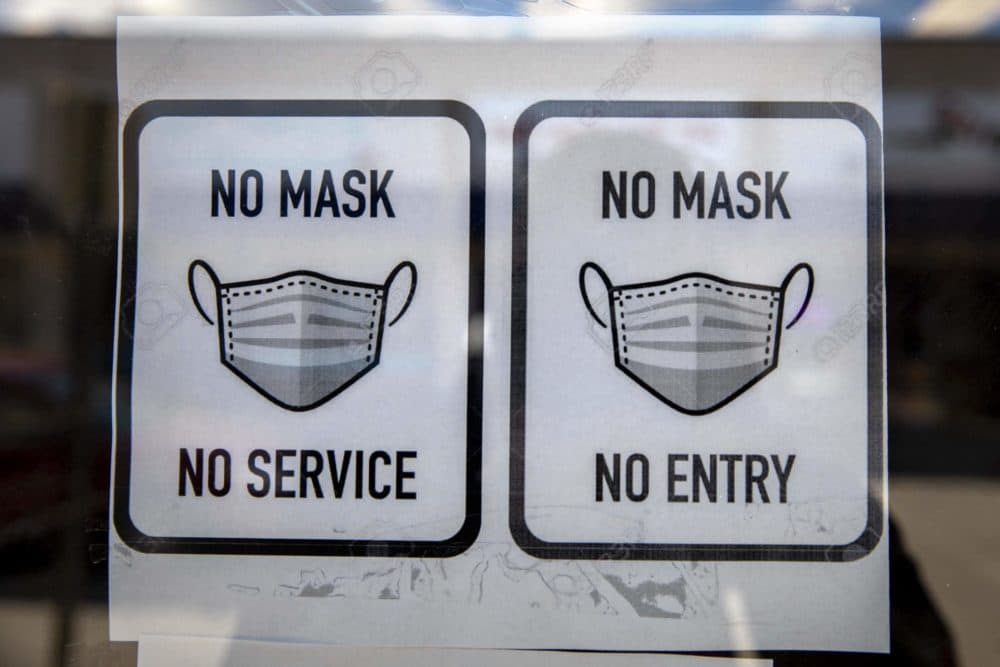 This article is more than 1 year old.
Face masks will be required in all of Boston's indoor public settings starting in a week, Acting Mayor Kim Janey announced Friday.
The public health order takes effect at 8 a.m. on Friday, Aug. 27, and is aimed at combatting the spread of the coronavirus delta variant, Janey said in a statement.
Janey also announced that students in Boston Public Schools will be required to wear masks. She and city health officials cited the upcoming arrival of tens of thousands of college students and the return of public school students to in-person learning as part of the rationale for the restored mandate.
"Wearing a mask indoors along with getting more people vaccinated will offer more protection to all our residents, including children under 12 and those who are not able to get vaccinated," Rita Nieves, interim executive director of the Boston Public Health Commission, said in a statement.
The order applies to all people over age 2 inside any business in the city, including bars, restaurants and clubs. However, patrons at eateries and bars will be allowed to remove their masks when actively eating or drinking. Masks must be worn at all other times, including when ordering at the bar or dancing.
"There is nothing more important than Boston's safe recovery, reopening, and renewal from the ongoing COVID-19 pandemic," Janey said in the statement. "We know that masks work best when everyone wears one. Requiring masks indoors is a proactive public health measure to limit transmission of the Delta variant, boost the public confidence in our businesses and venues, and protect the residents of our city who are too young for vaccination."
The city said its plan to combat the highly contagious variant also includes increasing vaccine and booster access, mandating vaccines for city employees and investing in HVAC upgrades for schools.
Some teachers in the Boston Public Schools system welcomed the new mask policy, including Yesenia Arango, a math teacher at the Mario Umana Academy, which educates kindergarteners through eighth graders. She told WBUR she's been busy carefully setting up her classroom to allow returning students to keep physically distanced as much as possible, and that the mask rule adds "that extra layer of protection" and will help her feel safer.
Arango said that "any necessary steps" to ensure her students' safety should be taken, adding that "thinking about the age group that I'm teaching, a lot of them haven't turned 12 yet and haven't even been able to get the vaccine, even if their families have wanted them to."
Though Gov. Charlie Baker has repeatedly said he does not plan to issue a statewide mask mandate for schools, a recent MassINC Polling Group survey found that such a measure would have broad support. Of those surveyed, 81% said they would back a mask requirement for school buildings.
With additional reporting from WBUR's Magdiela Matta