Boston Announces Vaccine Mandate For City Workers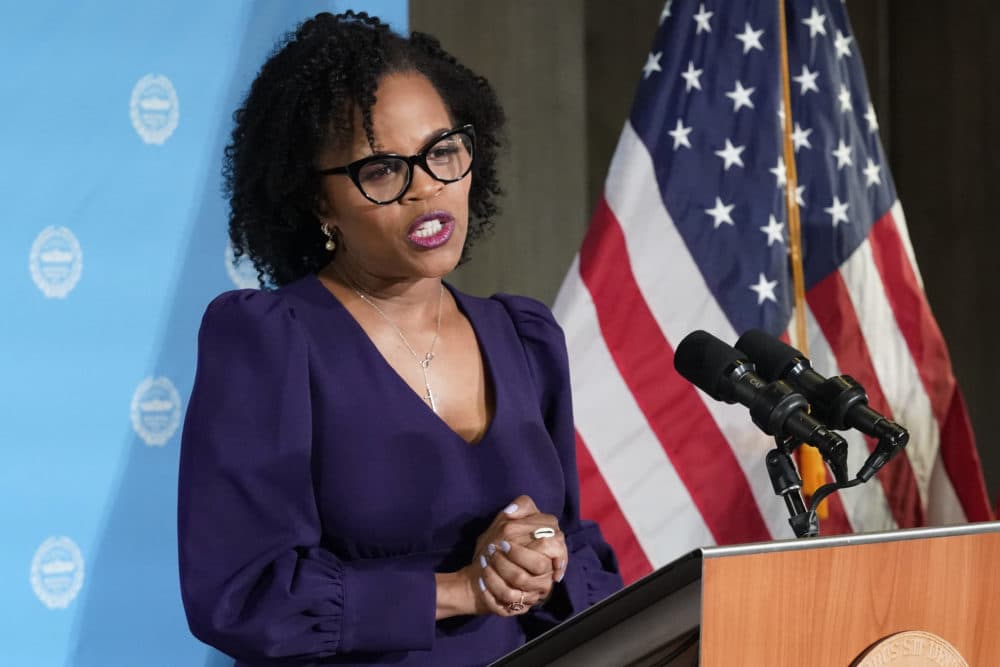 This article is more than 1 year old.
Boston Acting Mayor Kim Janey said Thursday that city workers must get vaccinated or submit to regular testing by mid-October, becoming one of the few cities in Massachusetts to implement a vaccine measure.
With the delta variant causing infections to rise again, Janey said the mandate will apply to all 18,000 city employees.
"As the CEO of the largest employer in Boston...we have to do all we can to protect ourselves, our families and the residents we serve," Janey said at a news conference at City Hall.
The new policy will affect "all City of Boston employees, onsite contractors and volunteers who provide services onsite at City worksites, including all full-time, part-time, seasonal, emergency and probationary workers," according to a statement from Janey's office.
New Bedford and Aquinnah have also recently imposed vaccine mandates for their workers.
Janey said the new policy is being worked out with city cabinet heads and members of the city's public employee unions. Jessica Tang, president of the Boston Teachers Union, expressed support in a statement provided by Janey's office and said she looks forwarding to working out the details for "accommodations and exemptions for those who need them."
City Councilor Annissa Essaibi George, who is running against Janey in the mayoral election, agreed with the move. "The City of Boston should lead the way and ensure all employees are vaccinated or face weekly testing," she said in a statement.
John Barros, another mayoral candidate, called the announcement "overdue." He said he called for a similar policy two weeks ago.
"This should have been implemented last month when Acting Mayor Janey required employees to come back to City Hall full time," Barros said in a statement.
Councilor and mayoral candidate Andrea Campbell issued a similar statement, noting she also recommended a vaccine mandate two weeks ago.
"It's about time," Campbell said. She said it is "the type of decision that should take hours or days — not weeks."
Michelle Wu, another city councilor running for mayor, said Janey's announcement did not go far enough.
"I'm glad the Administration has finally answered the call to mandate vaccines for city workers" Wu said in a statement. "But with the delta variant surging, we need more than half measures. City Hall must set out regulations on vaccination for high-risk indoor spaces like gyms, salons, and restaurants to ensure protections for all our communities."
---
More from WBUR
---
Wu and fellow city councilor, Andrea Campbell, who is also a candidate for mayor, have supported vaccine passports — which would require customers of restaurants and other businesses to show proof they're vaccinated.
But on Thursday, Janey said that would be unfair to neighborhoods of color where vaccination rates are lower.
"To suggest that half of Black residents couldn't go to a grocery story [if they weren't vaccinated], I think is insane," Janey said on Thursday.
Pressed by a reporter if she would consider a version of vaccine passports that would apply to larger venues, such as theaters and stadiums, Janey said: "Should we get to the point where we need to do that... then I will absolutely do that."
But for now, Janey said she is focused on getting as many Bostonians vaccinated as possible.