Special exhibit 'Immersive Shevchenko' opens in Boston, offering window into 'the Ukrainian soul'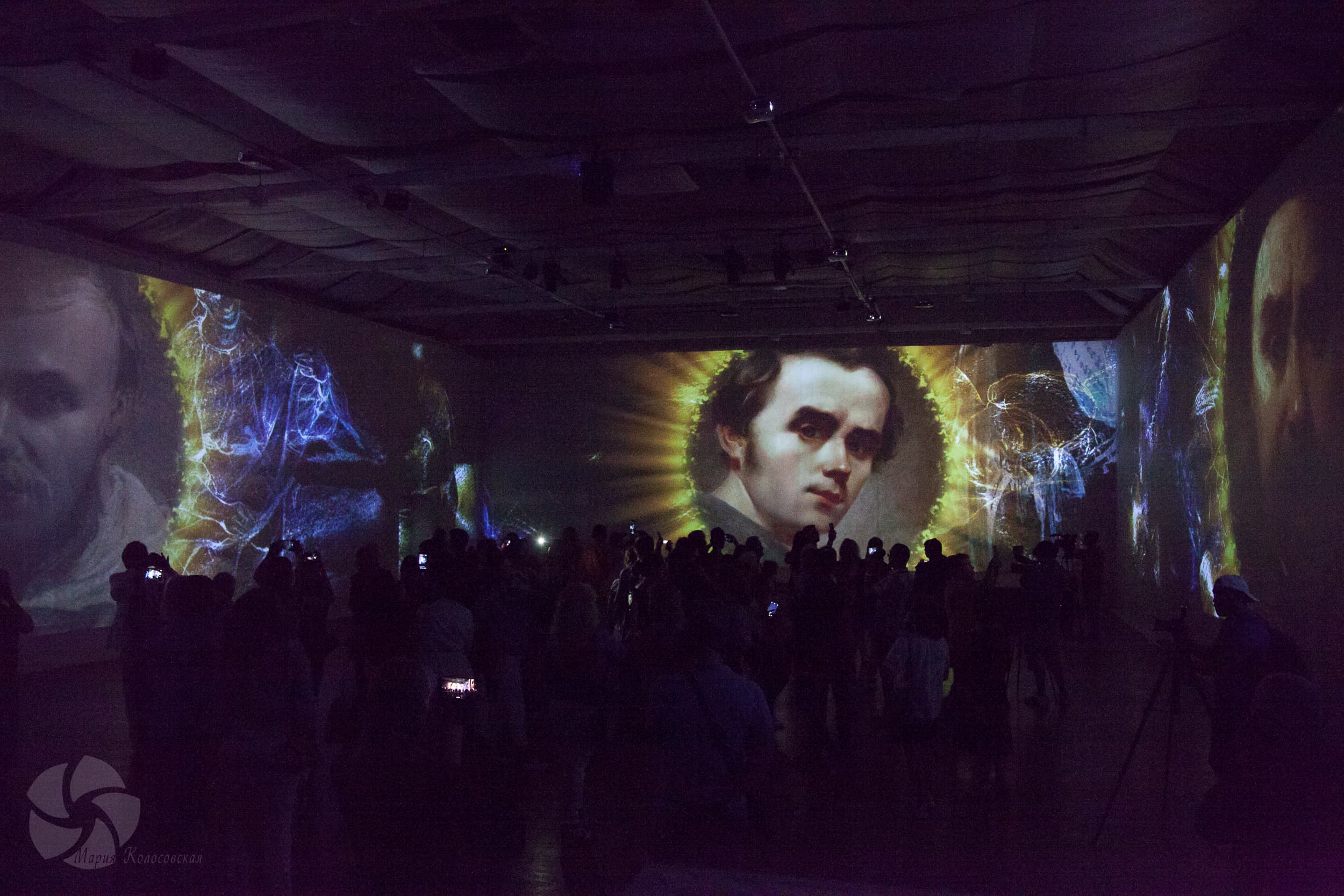 As Russia's invasion of Ukraine intensifies, a new virtual exhibit opened a special one-day Boston screening Tuesday featuring works by the iconic 19th-century Ukrainian poet and artist Taras Shevchenko.
The company Lighthouse Immersive is putting on "Immersive Shevchenko," which also features an original score. (If the name sounds familiar, that's because it's the same production house behind "Frida: Immersive Dream," which opened in Boston in February.)
All proceeds will go to Red Cross humanitarian relief and a fund set up by the National Bank of Ukraine to support the country's armed forces, the company said. Ticket buyers will have a choice of where to direct their money.
Exhibit producer Valeriy Kostyuk calls Shevchenko a "trailblazer" who fought for Ukrainian identity.
"This exhibit is an opportunity to not just experience Ukraine and Ukrainian people as a country on a map. You will be able to experience the Ukrainian soul," Kostyuk said, adding the exhibit was produced by an all-Ukrainian team. "It's relevant like never before."
"The constant struggle for freedom, for his own culture, is something that is very close to Ukrainians right now."

Valeriy Kostyuk, on the legacy of poet and artist Taras Shevchenko
Shevchenko's presence is felt throughout modern Ukrainian life, Kostyuk said. There are monuments commemorating him; schools hang his portrait above the blackboard.
"He's very much like Shakespeare to the English. However, maybe a little bit even more significant, considering that he had this nationwide impact — not in a specific field," he said.
Born in 1814 in a village south of Kyiv in what was then the Russian Empire, Shevchenko wrote poetry in the Ukrainian language at a time when it was banned by the tsar, Kostyuk said. He was eventually sentenced to more than a decade in exile. He was specifically barred from having the materials needed to write or paint.
"The constant struggle for freedom, for his own culture, is something that is very close to Ukrainians right now," Kostyuk said.
"Immersive Shevchenko" also has a living link to Ukraine's current crisis: President Volodymyr Zelenskyy, who attended the exhibit's opening in the city of Kaniv before the war.
There was, however, concern that "Immersive Shevchenko" wouldn't reach American audiences at all. The digital files that power the exhibit's large-scale projections had to be adapted by a team still in Ukraine. The group coped with Russian bombardments, slow internet and few resources, Kostyuk said.
"We were really worried that if, God forbid, something happened in Kyiv and we lose the servers, we wouldn't be able to get it to the United States," he said.
Massachusetts residents able to make it to the exhibit Tuesday will leave with a better understanding of the Ukrainian people and their character, Kostyuk said.
"You will feel and you will understand why Ukrainians are demonstrating the resilience that they are demonstrating right now against the Russian aggression. Which is all done in order to protect Ukrainian culture," he said. "A lot of Shevchenko's work represents exactly this."
"Immersive Shevchenko" also opened Tuesday in Chicago, Denver, Los Angeles, Toronto and San Francisco. There's a virtual option for those unable to attend in person.
The war means the exhibit is going before U.S. audiences earlier than anticipated, Kostyuk said.
"We thought that this would be the time to do it — and there's absolutely no time that we can waste," he said.