How one Mass. school board got caught in the culture wars
Play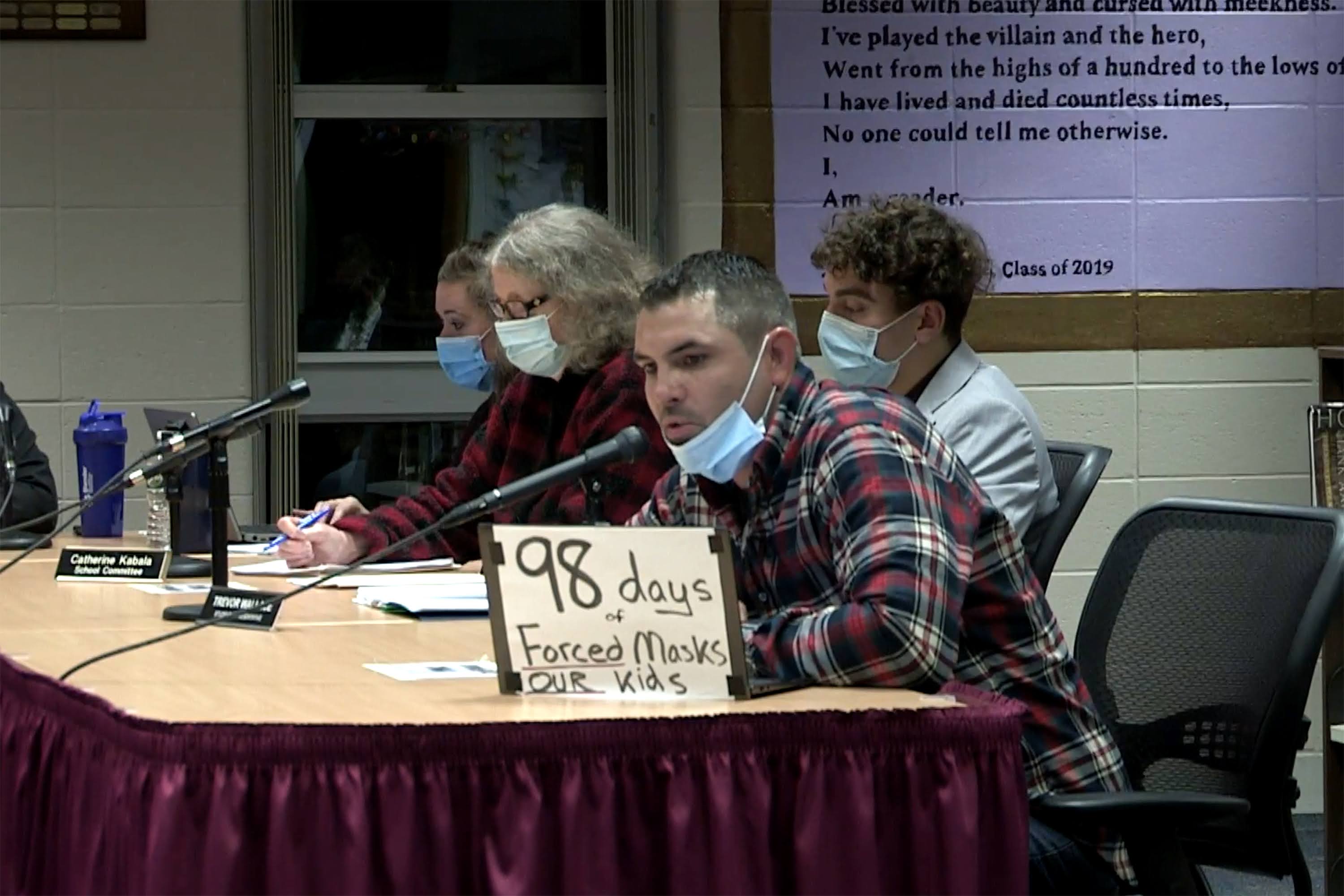 All Kenneth Laferriere wanted to do was adjourn a school committee meeting in a small district in central Massachusetts.
But the Dudley-Charlton committee member found even that impossible after 90 minutes of jeering that was sometimes laced with profanity.
"We're trying to have a business meeting," Laferriere pleaded with the audience, banging his microphone on the table.
"Yelling at us is not getting us anywhere," added committee vice chair Jamie Terry, raising her own voice, as the board wrapped up debate on COVID protocols.
Finally, committee members asked the Dudley police officer present to clear the room, so they could finish the meeting.
School boards across the country have been facing recalls and angry questions about everything from COVID restrictions to the way schools teach children about racism.
That's true even in Massachusetts, which has a reputation as one of the most liberal states in the nation. But the reality in many communities is considerably more complex.
A WBUR review discovered people have challenged mask mandates in at least one-third of all school districts across the state since last summer. And WBUR found dozens of districts have faced criticism over how teachers discuss race and diversity in the classroom, as well as sex education.
Dudley and Charlton are two small towns that share a school district and a high school.
For years, local school committee meetings had little drama — focusing on routine items such as staffing and trips by the marching band.
But that all changed last July when dozens of parents and residents packed a committee meeting to protest the school's efforts to combat racism, including the hiring of a new diversity consultant.
Carroll-Sue Rehm, who raised her children in the district but later moved to Florida, was one of the concerned attendees. Her grandchildren are students in the district now. She raised concerns about the consultant, including his work in Wellesley to create opportunities and meeting spaces for students with the same identity — such as Black students or those who are gay — so they can share their experiences; Rehm called that segregation.
"This will lead to the destruction of young hearts and minds, and this will be catastrophic in generations to come," she charged. Others in the audience yelled and applauded as she spoke.

School district officials said the consultant was hired to help the Dudley-Charlton system with diversity, equity and inclusion. The district has since ended its work with the consultant. The superintendent declined to be interviewed for this story.
Rehm said she has flown back dozens of times to attend school committee meetings, and she is one of a dozen people who've regularly attended them since last summer to raise objections about COVID mandates and curriculum.
They also have other concerns, as Rehm explained, after leaving her seat at a recent meeting in the high school library to examine new books on display.
"I'm looking for anti-American books," Rehm said. "I'm also looking specifically for any books that sexualize children."
Jordan Willow Evans, a school committee member and a social worker who's lived in Charlton her whole life, said recent meetings have been consumed by concerns from the group.
Evans said she's also faced verbal harassment and calls to step down from the committee over her work on LGBTQ rights. She called it disheartening, especially because she considers the community part of her extended family.
"It hurts to see people who you knew for many years, suddenly pivot and go down a road you could not have foreseen," she said.
"I'm looking for anti-American books. I'm also looking specifically for any books that sexualize children."

Carroll-Sue Rehm
Another longtime Charlton resident, JoEllen Burlingame, blamed some of the conflict on the rise of Donald Trump and partisan politics.
"It has led to a rise in very vocal concepts of nationalism," said Burlingame, who teaches in Worcester and has a son in eighth grade in Dudley-Charlton. "These views were always here, but unfortunately, they're coming out of the shadows."
Massachusetts generally elects Democrats, but Dudley and Charlton both narrowly went for Trump in 2016 and 2020.
Rehm, the Charlton grandmother, said she is looking forward to elections this year and in 2024. She helped organize a forum for Republican candidates in the neighboring town of Oxford to talk about education.
The room was festooned with signs condemning masking and critical race theory, a framework that suggests racism is embedded in American laws and other institutions. The approach has generated controversy, particularly among Republicans.
"So critical race theory," said former state Rep. Geoff Diehl, who's now running for governor. "Is anybody a fan of that? No!' "

Critical race theory is also popping up in campaigns across the country.
Academics say it's a tool, first developed by legal scholars, for understanding structural racism. But there are wide differences in how people use the term.
Many educators say the framework is generally taught in graduate school — not K-12. But some conservatives use the term as shorthand for a much broader range of instruction on diversity and racism they say is increasingly taught in public schools.
WBUR asked Diehl at the candidate forum whether he thought critical race theory, sex education and COVID mandates would be driving political issues in elections this year.
"That debate is raging right now, and tonight is a perfect example of parents really stepping up," Diehl said. He said he hopes outraged parents will join and help energize his campaign for governor across the state.
"It hurts to see people who you knew for many years, suddenly pivot and go down a road you could not have foreseen."

Jordan Willow evans
Tom Scott, executive director of the Massachusetts Association of School Superintendents, said all the controversy has taken a toll on educators, even as the mask mandates gradually end.
"People are feeling very exhausted," Scott said. "They're feeling very beaten down, defeated, and just sort of the climate that we're facing today is challenging to everybody's mindset."
School committee members are also feeling the pressure.
Some voters unsuccessfully tried to recall two school committee members who supported a vaccine mandate for some students in Belchertown, in western Massachusetts.
In Bourne, a recall failed against a board member who vowed to ensure critical race theory was not being taught in her town.
In the Dudley-Charlton school district, some residents unsuccessfully pushed to recall five school committee members over issues including COVID mask requirements and the hiring of the diversity consultant.
One of the committee members targeted for recall decried the controversy.
"Most of the people that I've talked to feel it's kind of gotten out of hand," said Jeanne Costello, of Charlton. "They feel like it's too partisan politics, happening in a local town where we all know each other."
"It shouldn't kind of devolve to an 'us versus them,' " she said.
The gradual lifting of mask mandates will probably not end the political fight anytime soon.
There is a school committee election scheduled for this spring in Dudley and Charlton. And several committee members are up for reelection.
So local voters will likely get the final say.

---
Correction: An earlier version of this story misspelled Jeanne Costello's first name. The post has been updated. We regret the error.
This segment aired on March 21, 2022.