Hope springs eternal with these 10 New England reads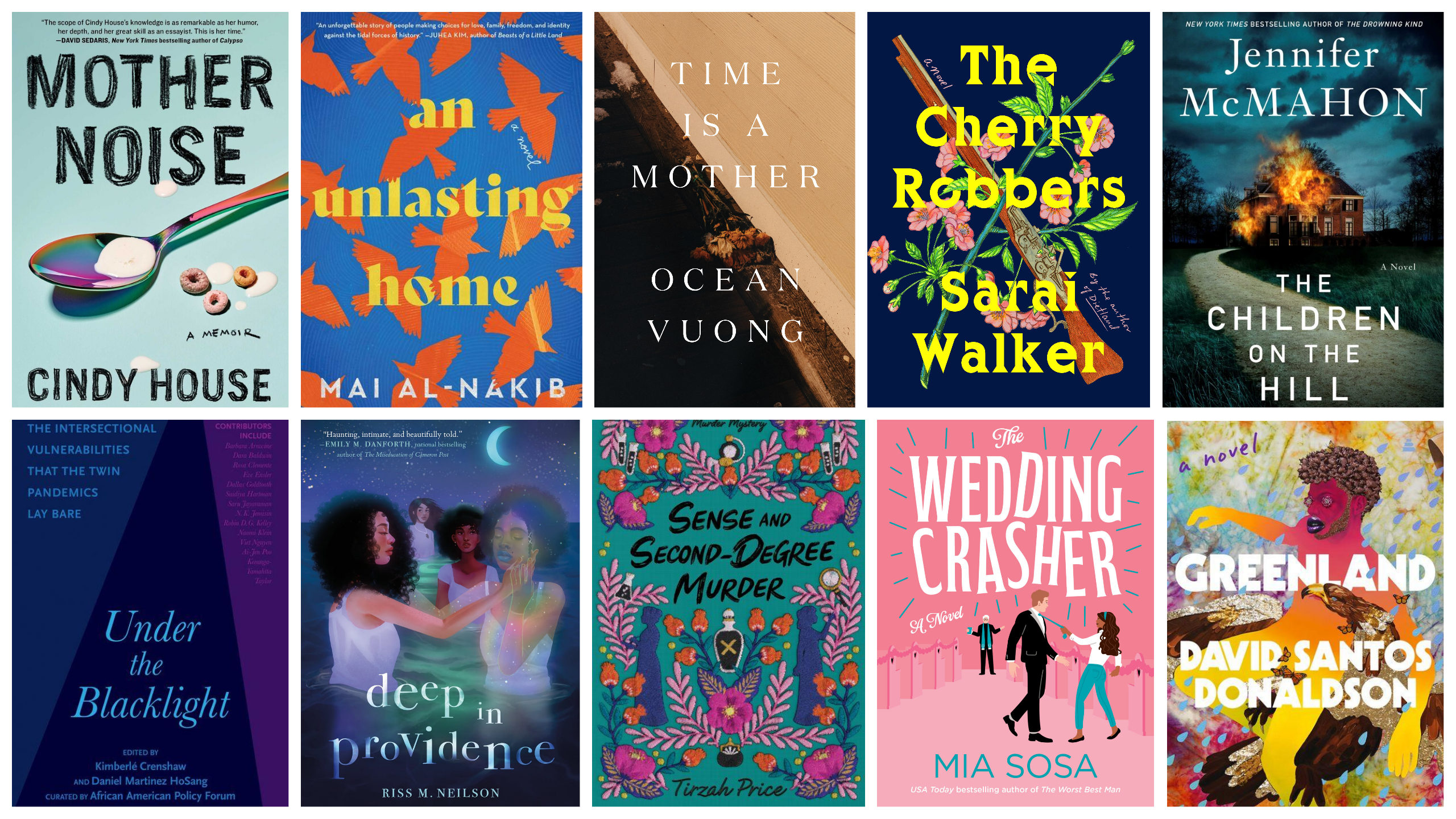 We've all heard it before: Spring is a time for rebirth, a refresh, a reset. During our spring cleaning, we dust off the cobwebs of our minds and open ourselves up to new possibilities. But wherever there's a cliche, there's a kernel of truth, and these New England books and authors are no exception. Select one of these fresh new titles to settle in and read after you open your windows to breathe in that fresh spring air.
April 5
In this highly anticipated second poetry collection, Ocean Vuong grapples with the grief of losing his mother to cancer. Time may heal all wounds but healing isn't linear, and the process has teeth of its own. Vuong drifts between bittersweet memories and intense feelings expressed through desperate longing, dark humor and vicious imagery. His poems create intimate microcosms that pierce the reader with the universality of loneliness. But hope and joy also bubble to the surface, because what is loss but the result of love and human connection? Vuong is an associate professor in the MFA program for poets and writers at UMass Amherst.
---
April 5
When Solange Pereira overhears a bride confessing her love for a man who is not the groom,  Solange takes it upon herself to stop Dean Chapman from making the biggest mistake of his life. After she crashes the wedding, she discovers that this was a marriage of convenience so Dean could make partner at his firm, and now he's back at square one. Feeling guilty about ruining that opportunity for him, Solange agrees to pretend they're in a relationship so Dean can appear dependable to his boss. But as they convince their coworkers and families that they're a real couple, they discover the spark between them is actually real. Will they be able to overlook their different viewpoints on love? There's never a dull moment in this romance from Yale Law School graduate Mia Sosa.
---
April 5
If you ever thought Jane Austen novels could be spiced up with a little murder, this is the book for you. Following in the vein of Tirzah Price's debut novel "Pride and Premeditation," Price reimagines the familiar characters of "Sense and Sensibility" in an 18th-century whodunit. The canonical death of Mr. Henry Dashwood has turned dastardly in a suspected poisoning. The Dashwood women similarly find themselves left out of the will and not-so-gracefully moved out of their home by their step-brother and his callous wife. But sisters Elinor and Marianne Dashwood — who are training to be a scientist and private investigator, respectively — suspect foul play is afoot thanks to the lessons of their late P.I. father. Whether you're reading to discover which of Austen's beloved characters has turned into a killer or tuning into this story for the first time, "Sense and Second-Degree Murder" is a fun romp from Price, who is a graduate of the Vermont College of Fine Arts.
---
April 12
In an alternate reality where blasphemy is a crime punishable by execution in Kuwait, Mai Al-Nakib weaves an intergenerational family saga of women who reckon with history in the making. After living abroad for many years, contemporary protagonist Sara returns to Kuwait to take care of her ailing mother. Yet, even after her mother passes, something possesses Sara to remain there for over a decade, taking a job as a philosophy professor at Kuwait University. Life feels like it's carrying her on some sort of predetermined track. That is, until one day after teaching a lesson about Nietzsche, a student accuses her of blasphemy and everything screeches to a halt. The looming fate of Sara is interspersed between chapters about her mother, her childhood ayah who left her own children to raise Sara, and Sara's grandmothers. All of these women chase promising new lives ahead of them yet find themselves drawn back to their home country time after time. Al-Nakib has a Ph.D. from Brown University.
---
April 26
Alternating between 1978 and 2019, this novel by Jennifer McMahon straddles the line between horror and psychological thriller. Young siblings Violet and Eric are being raised by their grandmother who is a doctor at the nearby psychiatric hospital, the Hillside Inn. Their favorite game to play is "Monster Club," where they imagine how to hunt werewolves, vampires and more in the Vermont wilderness. When Gran brings home one of her patients, Violet and Eric are happy to invite the little girl to join their club and treat her like a sister. But sinister suspicions arise when the story flashes to modern day, where Violet reluctantly heads back to Vermont for work, which she has staunchly avoided since a traumatic incident. In a tightrope's walk of suspense, "The Children on the Hill" asks the reader to consider the precarious nature of memory and the definition of the word "monster."
---
May 17
A modern-day gothic novel about one of the country's most famous, but reclusive, artists who shed her identity to escape the same tragic fate that befell her sisters. In 1950s Abiquiu, New Mexico (translated from Tewa as "wild chokecherry place"), "Sylvia Wren" is able to start fresh in life, love and art. But by 2017, a journalist has connected the dots between the disappearance of Iris Chapel and the emergence of Sylvia, and threatens to make her private life into a public story. Taking inspiration from the amalgamated lives of Georgia O'Keeffe and Sarah Winchester — heiress to a firearms fortune who was said to be haunted by spirits killed by the family's weapons — "The Cherry Robbers" still leaves readers wondering, is Sylvia running on borrowed time? Will the family curse that killed her sisters finally catch up with her? Bennington College graduate Walker's long-anticipated sophomore novel is a spooky departure from the feminist anarchy of "Dietland," but a welcome one that speaks to the author's range.
---
May 17
True friends help you through the dark periods of your life in addition to championing your successes. Cindy House found such a friend in David Sedaris. The pair met in a writing class at the Art Institute of Chicago back when Sedaris was not yet famous. Clinical depression drove House to a seven-year heroin addiction but Sedaris never lost touch with her. In an illustrated memoir of essays about addiction, recovery and motherhood, House reflects on the history she had always planned on shielding from the outside world. Her decision changed in 2017, when she decided she never wanted her son to feel like she was hiding something from him, so she put pen to paper. As someone who started her MFA from Lesley University with a focus in fiction, she never expected to write personal essays, and she didn't expect people to find them funny. But Sedaris asked her to open for some of his events, where he knew his book editor would be in attendance and let House's words speak for themselves. Unflinchingly honest and darkly funny, "Mother Noise" examines addiction and parenthood as two sides of the same coin.
---
May 24
On April 8, 2021, the Centers for Disease Control and Prevention declared racism a serious public health threat. Over a year into the COVID-19 pandemic that disproportionately hurt people of color and 10 months after the murder of George Floyd — not to mention the countless other victims of police violence — the stark ways that Black and brown people are disenfranchised by our social systems were brought to the forefront of the country's attention. This collection of essays from over two dozen contributors dives into what's going on, how we got here, and what to do about it in the future. Essential anti-racist reading. Crenshaw earned her J.D. at Harvard Law School. HoSang teaches at Yale University and helped co-found the Anti-Racist Teaching and Learning Collective in Connecticut.
---
May 31
The idea of "Providence" speaks to both divine guidance and a physical place in this enchanting debut from Rhode Island-born Riss M. Neilson. Grief sweeps through the lives of Milani, Inez and Natalie when their best friend Jasmine is killed by a drunk driver. Gone are the magical nights they would spend in Providence, Rhode Island, laughing in Broad Street bodegas and practicing spellwork on The Hill. Milani, who barely got to examine her romantic feelings for Jasmine before she passed, is desperate to get her back in any way she can. And her friends just so happen to have experience with séances. They manage to bring back Jasmine's spirit but that kind of magic is dark and powerful. Soon the friends' secrets are forced into the daylight as they cope with their grief. Transporting and visceral, raw and tender, bittersweet and empowering, "Deep in Providence" handles life's messy feelings with aplomb.
---
'Greenland'
By David Santos Donaldson
June 7
"Greenland" is a refreshing addition to the age-old canon of "frame stories." In present day New York, protagonist Kip Starling has three weeks to completely rewrite his book about E. M. Forster's romantic relationship with Mohammed el Adl in the perspective of Mohammed if he ever hopes to be a published author. A gun sits beside him as he edits. Kip acts as both window and mirror to his subject — on the surface, they are both queer Black men, but as the novel progresses, the line between Kip's and Mohammed's stories blurs in kaleidoscopic wonder. History, voice and creativity burst off the page in this debut that examines identity and society through the ages. As Kip says in the first pages of the novel, "What else is this mad literary endeavor, if it isn't my attempt at finding my way back to my lost, unadulterated true self?" Donaldson went to Wesleyan University.