Chinatown in 'high exposure zone' for unregulated air pollutants, study shows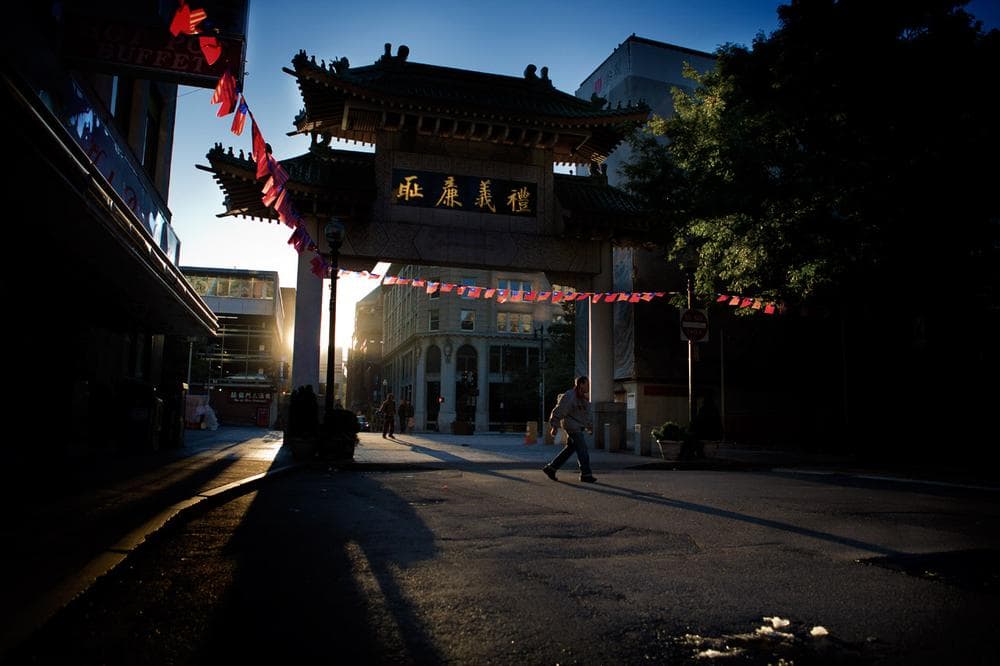 As a neighborhood wedged between two highways, Chinatown has been plagued with poor air quality for years.
But a new study on the smallest known particulates of pollution has helped researchers pinpoint areas of concern to within city blocks, showing that areas with large Asian populations are more exposed to pollutants than predominantly white or non-Asian neighborhoods in Boston.
The study examined ultra fine particles, solid particles or liquid droplets of pollutants suspended in the air along highways, busy roadways and bus routes. They're too tiny to see or smell, and they pose increased health risks of heart disease or respiratory conditions, according to Dr. Christina Fuller of Georgia State University's School of Public Health, the lead author of the paper.
"Their small size allows them to get very deep into the lungs and interact with the lung tissue and then have the association or increased risk for adverse health effects," Fuller said.
From the lungs, these ultra fine pollutants can move to other parts of the body, like the brain. They can also cause inflammation in blood vessels.
Though elevated levels of ultra fine particles were detected across downtown Boston, the highest measurements were taken in Chinatown, home to a large portion of city's Asian and Asian American residents, according to U.S. Census data.
"That's an environmental justice concern because this is a specific racial group who is adversely impacted compared to other racial groups throughout the city," Fuller said.
Air pollution research commonly focuses on fine particles, which is monitored by the federal government. Previous studies have shown elevated pollutants in Chinatown, thanks in large part to its shared borders with interstates 90 and 93. Fuller's research is one of few studies to measure ultra fine particles, which is unregulated by state and federal bodies like the U.S. Environmental Protection Agency. It's also the first to examine how demographic characteristics align with exposure to ultra fine particle concentrations.
"Boston Chinatown is situated in the high exposure zone. That's not terribly surprising," said Dr. Doug Brugge, one of the researchers who took part in the study, and the leader of an umbrella effort of community health studies in the region.
The study, funded by the National Institutes of Health, collected data in various neighborhoods throughout the city for a year. The resulting air pollution model was able to predict concentrations in specific locations in Boston, down to areas smaller than a city block. This data was then overlaid with demographic data from the census.
"The EPA and other agencies don't collect air pollution data in this way because it's very labor intensive, " said Dr. Jon Levy, chair of the Department of Environmental Health at Boston University, who is not affiliated with the study.
"This really represents a best practice in understanding precisely how air pollution is changing on a road by road or block by block basis," Levy said.
Even if similar efforts to measure ultra fine particles are not possible due to labor or cost limitations, Levy said communities can act on existing knowledge about air pollution. That includes taking measures to reduce vehicle emissions and to protect exposed populations by creating physical barriers and planting trees.
Fuller said several cities in the east coast have removed highways altogether and invested in green infrastructure to reduce air pollution.