Chelsea Public Schools Install White Roofs To Reduce Heat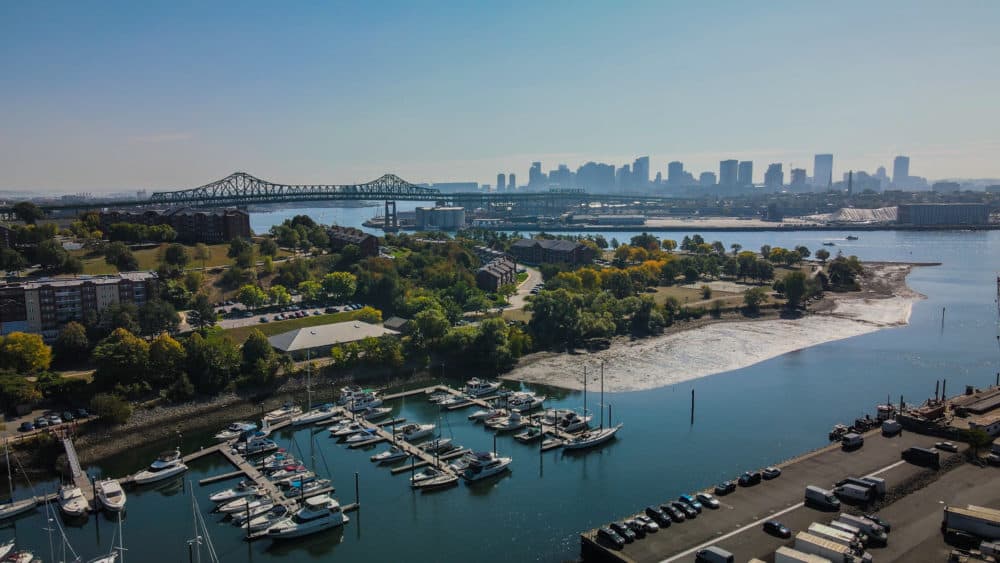 This article is more than 1 year old.
When middle school students in the Chelsea Public School system return to class in the fall, their school building will have a white roof.
Chelsea is one of the hottest cities in Massachusetts, and the new roof is part of an effort to reduce the "urban heat island effect" — when urban areas are hotter than surrounding communities because of dense housing, lots of pavement, and few trees. Climate researchers say that urban heat islands, like much of Chelsea, will bear the brunt of extreme heat events, as climate change pushes temperatures higher and makes heat waves longer and more frequent.
While dark-colored roofs absorb heat, white roofs reflect it, keeping both the building and surrounding area a bit cooler. This spring, workers finished installing a white roof over the complex housing the city's two public middle schools.
"We're gonna be spending less on electricity," said Almi Abeyta, superintendent for Chelsea Public Schools. "We'll be lowering the temperature so the buildings, let's say on a hot day, they won't take as long to cool."
Abeyta said the complex housing the city's elementary schools is next up for a white roof. The city, in partnership with Boston University and the community organization GreenRoots, is already measuring the current temperatures at the building to assess the effectiveness of the current roof, and its effect on energy efficiency.
Ben Cares, a Chelsea city planner with the housing and community development department, said the white roofs are important, but they are not a "silver bullet." City officials are also looking into other heat mitigation efforts, including planting more trees and switching out asphalt for lighter-colored materials. In July, Chelsea ran an online lottery to give low-income residents free air conditioners.
Extreme heat is the leading cause of weather-related deaths nationwide over the past 30 years, according to the National Weather Service.