Study Ranks Boston 6th In Country For Heat Intensity, Tied With Chicago And Miami
A new study puts Boston among the top 10 American cities for "heat intensity," a measure of how much hotter the compact, densely populated parts of a city can be compared to leafier surrounding areas.
The nonprofit research group Climate Central analyzed land cover in 160 cities, looking at things like the amount of pavement versus trees, population density and the heights and types of buildings to give each city a heat "index" or intensity score. Boston ranked sixth, tied with Chicago and Miami.
The top three cities overall were New Orleans, Newark and New York City.
Jen Brady, a senior data analyst with Climate Central, said that scientists' understanding of urban heat has been evolving rapidly, and growing more sophisticated. To crunch the data for this study, she used a formula developed in 2020 that looked at 17 classes of land cover, and weighed certain heat contributors like reflective surface or "albedo" higher than others, like population density.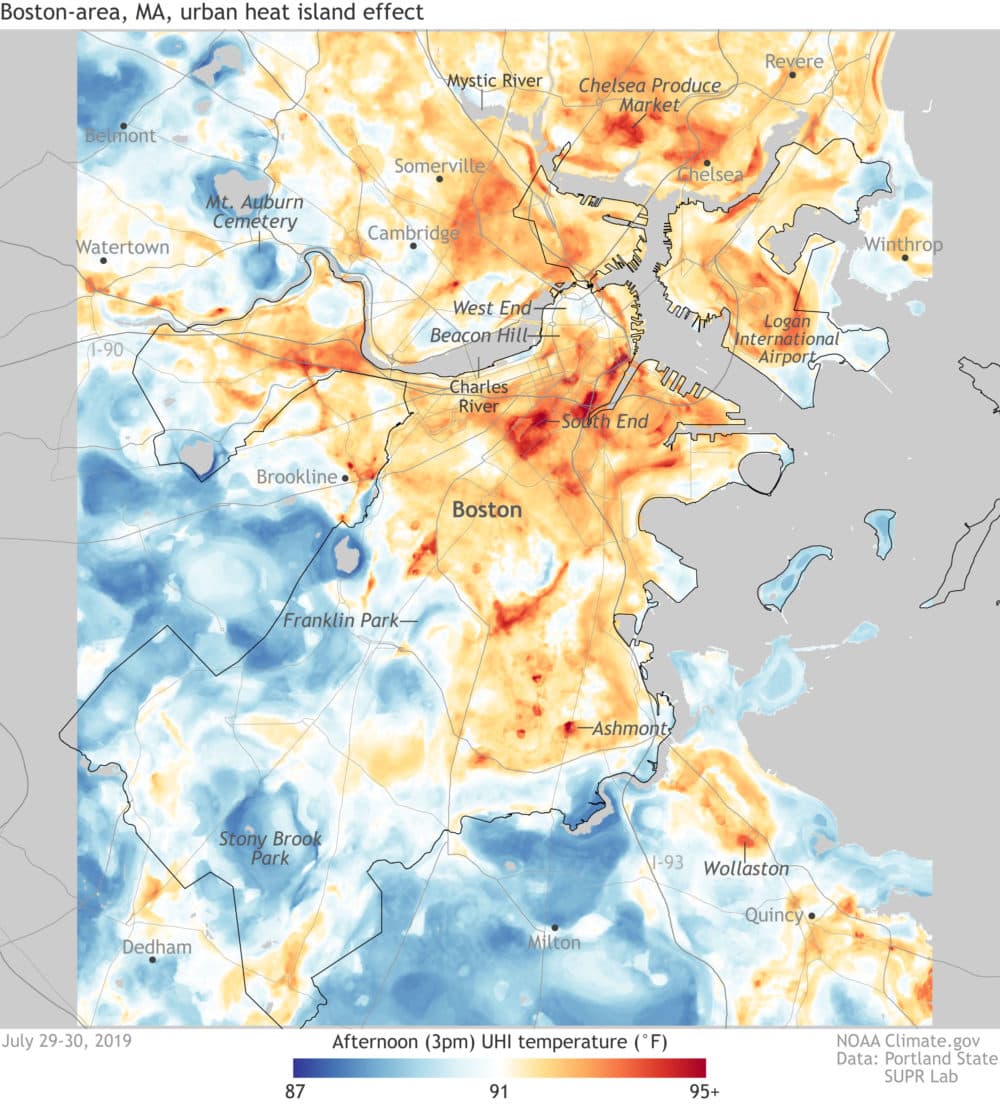 "This is a very useful study," said David Sittenfeld, the manager of forums and national collaborations for the Museum of Science in Boston. Sittenfeld is an expert on urban heat mapping, but was not involved in the current research.
"When you look at what makes one city hotter than another, there's a lot that can be learned there in terms of which resilience strategies are going to be most effective," he said.
This summer, Sittenfeld is spearheading "Wicked Hot Mystic," a heat-mapping project of 21 communities in the Mystic River watershed, which may offer clues for urban planners trying to design heat-resilient cities — and valuable information to people trying to live in those cities.
"We can look at those areas which are quite different in character and find out — what is it that makes this area a little bit cooler and how could that idea be applied to this other place that's a lot hotter and it's only a few miles away?" Sittenfeld said. "So we see it as a really good opportunity to learn about these resilience strategies."
The Climate Central study adds to a growing body of research showing widespread heat disparities that fall along race and class lines in cities and towns across the United States, often a result of historic redlining and chronic underinvestment in communities of color.
Extreme heat is by far the leading cause of weather-related deaths over the past 30 years, according to the National Weather Service. The recent heat wave in the Pacific Northwest is believed to have killed hundred of people.