In 'We're All Going to the World's Fair,' a teen gets ensnared in an online role-playing game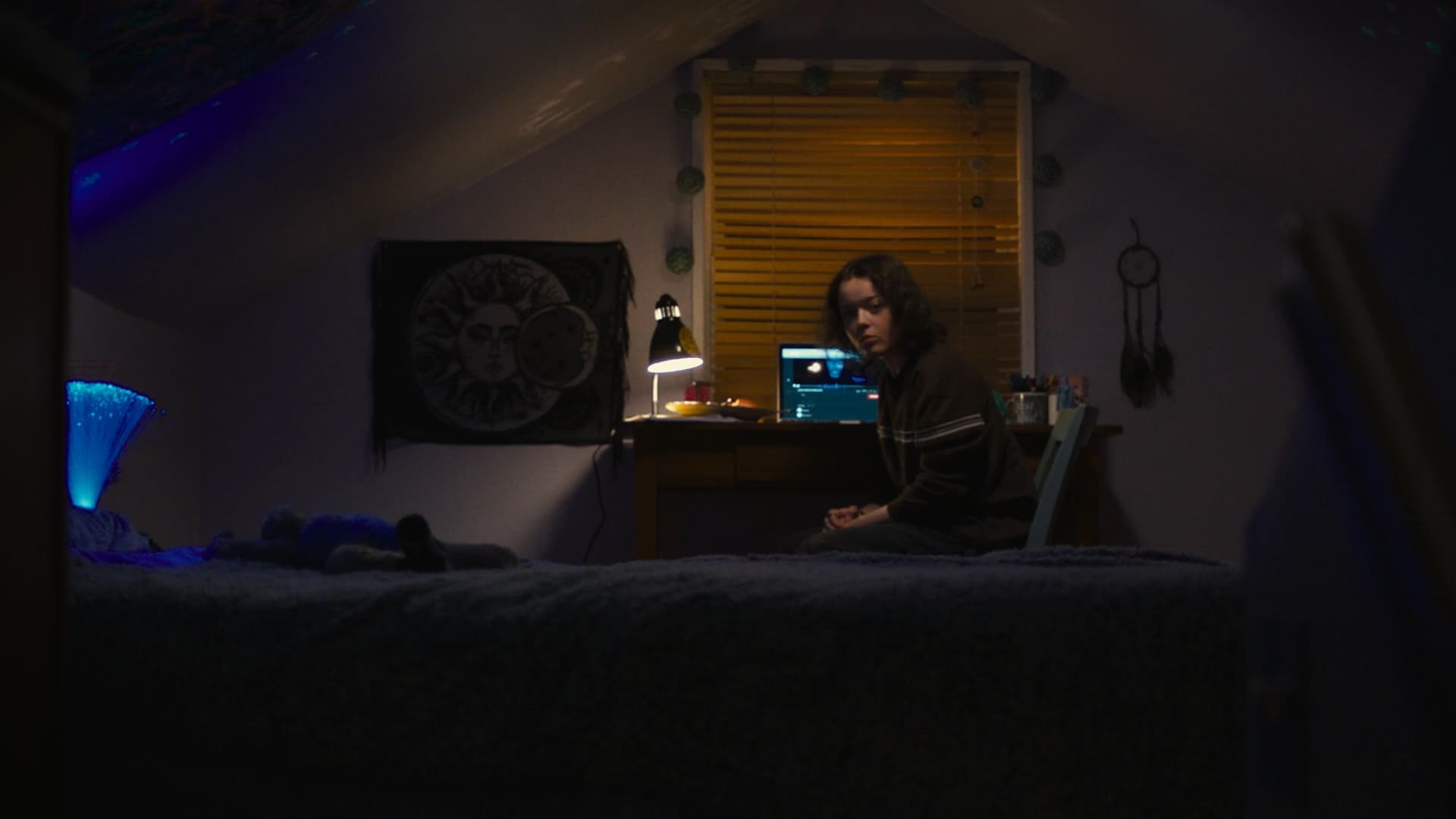 The opening credits of writer-director Jane Schoenbrun's "We're All Going to the World's Fair" present an especially desolate portrait of Nowheresville, U.S.A. We get glimpses of abandoned strip malls, anonymous big box stores and a shuttered Toys "R" Us with an empty parking lot. SUVs barrel by on multilane roads without any accessible sidewalks in this endless suburban sprawl. It's obvious that people live around here, but what do they do? Where's a bright, creative, teenage girl like Casey (Anna Cobb) supposed to go? Online, I guess.
She lives mostly inside her laptop, staying up all hours of the night in her attic bedroom where the sharply canted, A-frame ceilings are dotted with glow-in-the-dark stickers of stars. We don't see her dad at all but we hear from him once in a while, hollering at her to keep it down. She's lonely and sad for a lot of reasons that aren't too difficult to surmise. Lately, Casey's become obsessed with a new viral sensation called "The World's Fair Challenge," from the "creepypasta" corner of the internet, where urban legends mutate into MMORPGs (massively multiplayer online role-playing games) and participants create their own characters as the freeform gameplay organically evolves.

It's okay. I didn't know about any of this stuff, either. And to its credit, Schoenbrun's film doesn't offer a roadmap or a garbled explanation like the one I just tried to provide. Instead, it just tosses us into the deep end with our cryptic teenage protagonist as she joins the game, recording herself during initiation rites that include pricking one's finger with a pin while watching a stroboscopic video. According to the urban legend, a combination of such acts is supposed to instigate physiological changes, which players then document in YouTube videos ranging from the cheesy to the incredibly upsetting. This is all a goof, right? Just a game? So then why does Casey feel herself transforming into somebody — or something — else? Is she really under some sort of spell? Or does she just really want to be?
What gives "We're All Going to the World's Fair" such an electric, unsettling charge is that we're never quite sure what kind of movie we're watching. Is this a film about a fad or is there something supernatural afoot? Schoenbrun gives us very little to go on, strategically limiting most of the picture to the videos uploaded by Casey and others she discovers while scrolling around online. Whenever departing from her webcam's POV, cinematographer Daniel Patrick Carbone shoots Casey from high and behind, like the camera is stalking her, emphasizing the child's vulnerability. This becomes even more disquieting once she strikes up a friendship with fellow player "JLB," an older man with a wheezy voice whose avatar is a toothsome pencil drawing. What are this guy's intentions, exactly?
The movie has a hushed, haunting atmosphere that lingers long after the closing credits roll. "We're All Going to the World's Fair" premiered virtually at the 2021 Sundance Film Festival, and unlike a lot of pictures from that year that were sent straight to streaming, this one was held for a theatrical release. It's finally opening at the Brattle Theatre this weekend and I'll be interested to see what a different experience it is presented on a big screen as a proper movie, rather than this eerie, insanely disturbing thing I watched on my iPad under the covers at one in the morning and then couldn't sleep for the rest of the damn night.

Schoenbrun weaponizes the banality and boredom of suburban life, allowing the film to lull you into a tedium-induced complicity with the creepy proceedings. We come to understand how "The World's Fair Challenge" can serve an outlet of creativity and escape for Casey, if obviously not a very healthy one. For all the horror movie misdirection, the film is most affecting when it's focused on loneliness and isolation, about wanting to be a part of something — however dubious — and how these days our basic human needs for community and kinship can often only be served online. The unfathomably sad centerpiece sequence finds an insomniac Casey seeking solace in an ASMR video recorded by a woman roughly around her missing mother's age, the child soothed to sleep by a surrogate parent on the screen.
This is one of the more thoughtful movies I've seen about the roles such screens play in our daily lives. "We're All Going to the World's Fair" understands that whatever's appearing on our screens isn't nearly so important as what we psychologically project onto them ourselves.
---
"We're All Going to the World's Fair" runs at the Brattle Theatre from Friday, April 22 through Wednesday, Apr 27.