'Everything Everywhere All at Once' is a sci-fi martial arts adventure for the current times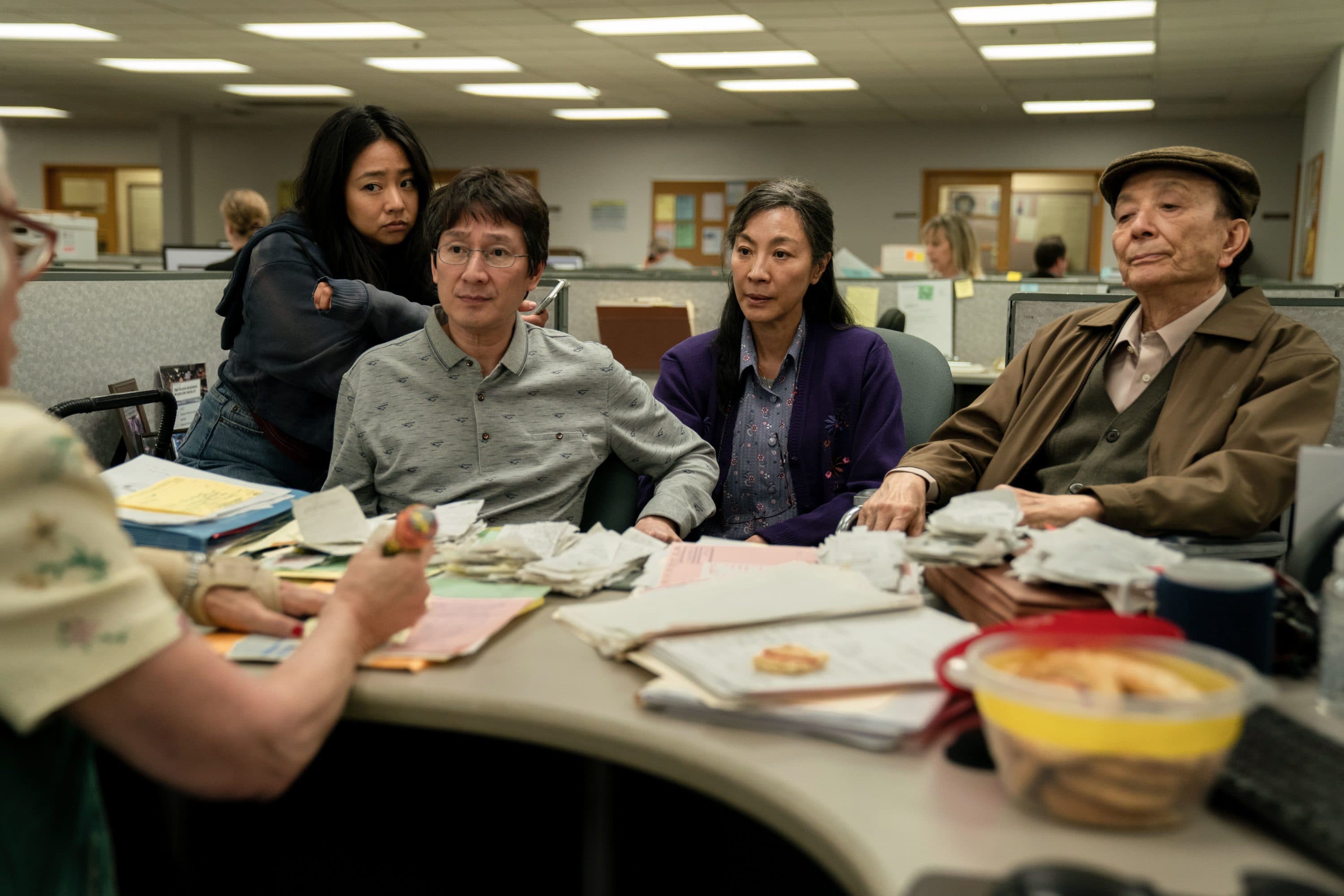 You're not going to find a film more aptly titled than "Everything Everywhere All at Once." This madcap, maximalist opus from writer-directors Daniel Kwan and Daniel Scheinert — who are sometimes credited as Daniels — is an exhilarating, exhausting experience. Frantic, philosophical and seriously silly, it's entirely too much of a movie about how the world can feel like too much. Especially these days. This sci-fi martial arts adventure spans alternate universes all the way back to the dawn of man, yet somehow also remains grounded in the day-to-day doldrums of laundry and taxes. The film is so manic and overstuffed, I had to see it a second time before l felt like I had my head wrapped all the way around it. I'm already looking forward to going back for thirds.
Screen legend Michelle Yeoh stars as Evelyn Wang, the mousy, miserable proprietress of a failing laundromat she runs with her bumbling, ineffectual husband Waymond (Ke Huy Quan) and their morose, 20-something daughter, ironically named Joy (Stephanie Hsu), whose queerness is a secret to be kept from Evelyn's disapproving, old world dad (James Hong). Evelyn's creative accounting has aroused the ire of a crabby, pot-bellied IRS auditor (an up-for-anything Jamie Lee Curtis) and what starts out as a sensitive drama about the financial and cultural struggles of an immigrant family takes a hard left turn into the surreal when a dashingly different Waymond ports in from another universe and fights off an assassination attempt at the Internal Revenue Service office with his fanny pack.

I'll try to explain. It seems that ours is not the only universe but rather just one of infinite variations, and every big decision we make branches off into an alternate timeline, all running parallel in peace and propriety. But alas, a world-warping villain named Jobu Tupaki has created a doomsday device out of an everything bagel (don't ask) and is poised to wipe out all of existence everywhere. The suave Waymond from someplace called the alpha-verse has been auditioning endless Evelyns in every timeline to join the fight, and it seems our surly laundress from this especially mundane reality just might be the chosen one.
Did you get all that? Well, in any case, Evelyn is preternaturally adept at what the film calls "verse-jumping," via which she can access all the skills and perspectives of her possible pasts, and thus "Everything Everywhere All At Once" toggles through timelines and destinies with astounding fluidity, Yeoh playing the same-but-different character while battling Jobu Tupaki's minions in wildly different movies and moods shot in varying cinematic styles and aspect ratios, all telling the same story. It is an astonishing feat of editing — the sole credited cutter is named Paul Rogers and he deserves some sort of medal — hurtling across universes with great clarity and purpose. (I promise that the film is easier to follow than this review.)

The stroke of genius here is casting Yeoh — an impossibly glamourous, poised ballet dancer and martial arts master we've been watching in movies for more than three decades — as a frumpy, greying grouch suddenly stunned to discover that she knows kung fu. The filmmakers keep throwing her seemingly impossible challenges and, much like our Evelyn, she handles them all with aplomb, seamlessly shifting gears between the movie's raunchy, cartoon-violent whimsy (the buttplug battle is a bit much) and some surprisingly heavy emotional lifting about poor parenting and diminished expectations.
She's matched at every moment by Quan, giving one of the great comeback performances in movie history. You might remember him as Indiana Jones' wisecracking kid sidekick Short Round, or Data from "The Goonies." After 40 years or so working behind the scenes, he's finally back in front of the camera, and there's still nobody better at sarcastically saying "very funny." He gets to show off all sorts of skill sets as the various Waymonds — one of the more melancholy timelines mimics a Wong Kar Wai movie, complete with him and Yeoh dreamily decked out like Tony Leung Chiu-Wai and Maggie Cheung in "In the Mood for Love" — but Quan's most appealing incarnation is as the gallantly goofy husband of our own beleaguered universe, whose relentlessly sunny disposition seems dippy and dull-witted at first, but is revealed to be an act of defiance against the gloom-and-doom of a grindingly downbeat world. Kindness and optimism are Waymond's ways of rebelling.

After an advance screening at the Coolidge Corner Theatre in late March, co-director Kwan said the movie was inspired by the emotional whiplash of scrolling through Twitter in 2016, with goofy jokes and cat videos buffeted up against Nazi tirades and celebrity nudes and incoherent rants from the president, all cascading down the same feed with the same importance. In its own fantastical way, "Everything Everywhere All at Once" understands how we live and absorb information right now better than any recent film I can think of. Watching it gives you the same charge you got from seeing "The Matrix" or "Eternal Sunshine of the Spotless Mind" for the first time, like you're watching a movie do stuff you didn't know movies were allowed to do.
I was not a fan at all of Daniels' first film, the 2016 Sundance sensation "Swiss Army Man," a buddy comedy about Paul Dano becoming imaginary friends with Daniel Radcliffe's flatulent cadaver. (Scheinert's profoundly tasteless 2019 solo effort "The Death of Dick Long" was far more to my liking.) But "Everything Everywhere All at Once" presents a real refinement of their creatively cluttered sensibility, in which anything goes in a far more focused fashion. They may take us to worlds where people have hot dogs for fingers and lovers smear mustard in each other's mouths, or spin an entire timeline out of Evelyn misremembering the plot of Pixar's "Ratatouille," but this big-hearted movie is ultimately about the fundamental choice we all have to make every day between feeling too much or not feeling anything at all. Jobu Tupaki's multiverse-annihilating bagel offers the solace of silence in a deafening world, the temptations of nihilism made manifest. "Everything Everywhere All at Once" chooses life, and all the messy, overbearing chaos it entails.
---
"Everything Everywhere All at Once" is now playing in theaters.